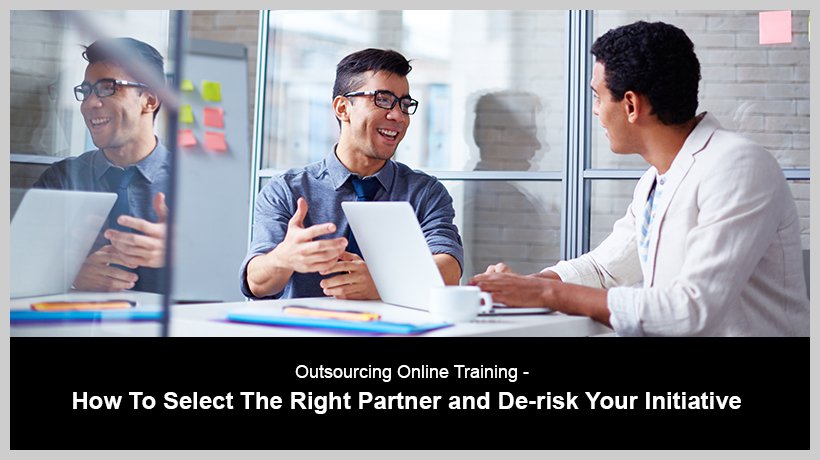 Although outsourcing of online training has significant benefits, it does have inherent risks. This article outlines how you can mitigate these risks by selecting the right partner and create a successful outsourcing strategy.

How To Select The Right Partner And De-risk Your Initiative When Outsourcing Online Training
We, at EI have had the privilege of being a strategic outsourcing partner for several global organizations. We have seen one-off engagements turning into long-term relationships involving multi-year contracts.
We know that outsourcing custom or bespoke content development is not devoid of challenges. However, we do know by experience that these can be effectively mitigated using the right framework to evaluate the partner. If you get this right, you're well on your way to achieve your goal of working with the partner that suits you best.
In this article, I outline several pointers that can be used during the evaluation of potential partner(s) and can substantially de-risk the challenges associated with your outsourcing initiative. Furthermore, these will also help you build for success and see your outsourcing gains multiply over time.
Is Outsourcing Your Online Training (Custom Or Bespoke Content Development) Right For You?
To begin with, you need to be certain about why you want to outsource. As a first step, you need to identify if your outsourcing requirement is strategic or opportunistic. The focus then shifts to the gains that you are eyeing from the outsourcing initiative.
Some of the factors that suggest you should opt for outsourcing are:
Scalability (to take up work in greater volumes).
A reduction in time to deliver/time to market.
Cutting costs.
Accessing talent that you do not have.
Enhancing your portfolio with newer, better, and more innovative solutions.
What Are The Reasons Why Outsourcing Online Training (Custom Or Bespoke Content Development) Helps Every Business?
Here is my list of 8 reasons why outsourcing custom or bespoke content development helps every business.
1. Reduction In Costs.
Ask anyone why they are looking to outsource and the most obvious response would be cost-cutting. Outsourcing allows you to get your work done in lesser time, lesser price, and with the desired level of quality.
2. Flexibility To Scale The Team Up And Down.
Business requirements keep varying but you can't alter the size of your internal team every single time. With outsourcing, you can address this challenge as you get the flexibility to get more (or less) heads and hands to ensure the project sees the light of the day with minimal fuss.
3. Access To New Skill Sets And More Varied Talent In A Given Domain.
Tools and technology keep changing and at the pace at which they do, it becomes difficult to possess the skills and expertise to address the varied requirements. With outsourcing, you can bridge this gap and use the skills and expertise that your partner brings to the table.
4. Reduction In Development Time Leading To A Faster Turnaround Time.
One of the advantages that most outsourcing partners offer to provide is a short turnaround time to complete the work you assign them. They do this with a dedicated team aligned to work for you and take care of the minutest of details pertaining to your requirement.
5. Access To Best Practices Leading To Optimization Of Your Development Practices.
If you're in the learning business, you know that there's a lot of learning that happens with and from others. The same applies to adopting newer, better development practices. If your outsourcing partner has worked with a variety of global organizations, they're likely to have several effective development practices. You can also get a peek into these and adopt a few in your organization yourself.
6. Addition Of More Innovative Solutions To Your Portfolio.
Working with an outsourcing partner gives you exposure to the different kinds of solutions that they offer. You can make the best of this opportunity and enrich your own solution portfolio with cues from your partner's offerings.
7. Enhanced Focus On Your Customers.
When you have a partner taking care of a portion of your work, a lot of burden is off your shoulders allowing you to focus on your customers (internal or external). This way, you can better your chances of achieving customer delight and offer better service or open up newer avenues of business and revenue.
8. Channelize Your Resources To Strategic Activities.
By delegating certain portions of your work to an outsourcing partner, you can let your team spend more time and energy on the strategic side of your business.
How Should You Begin The Exercise Of Outsourcing Online Training?
Once you're certain about why you want to outsource, you need to turn your attention to evaluating the options, wherein you need to consider whether you want to go with:
1. An Onshore Partner Or An Offshore Partner?
Here too, there are advantages and disadvantages. An onshore partner will provide you with access to more talent and help you enhance your existing portfolio but you might want to keep an eye on the weighing scale in terms of the cost and profitability for your business. An offshore partner on the other hand will be comparatively lighter on your pocket and provide you with other gains but you would need to factor for challenges such as time zone differences, communication, and cultural differences.
2. Single Or Multiple Partners?
Most organizations tend to play safe and opt for multiple partners rather than relying on one partner. I personally recommend going with one partner if you have a robust evaluation process in place and can test waters with your partner with pilot projects, thereby getting a complete view of what lies ahead before you get your partner to sign the dotted line.
That said, there are certain risks/challenges that you need to take care of before you get down to evaluate a partner.
What Are The Challenges In Outsourcing Your eLearning Content Development?
To make sure that there are no hiccups in your outsourcing venture, you need to watch out for:
1. Hidden Costs.
You may have factored for the outsourcing cost and allocated the time and budget to your Project Managers accordingly. However, if your partner doesn't get your brief right, it may lead to reworks and multiple iterations/reviews. This can play a spoilsport in terms of cost and the project schedule.
2. Aspects That You Can Identify Only After You Begin Outsourcing.
Your outsourcing partner may have put their best talent on the job during the pilot stage to grab your attention and convince you to hand over the contract to them. You will have to ensure that there are no surprises as you actually begin working with your partner and interact with a completely different team that may not live up to your expectations.
3. Inconsistency In Performance And Quality Standards.
Closely linked to the challenge outlined above, you might get to see variations in the output and inconsistency in its quality. This will also have a bearing on the cost and project schedule.
4. Inability Of Your Partner To Adapt And Align Effectively To Changing Dynamics.
The learning industry is very dynamic and changes are taking place at all fronts, including tools and technology. You need to make sure that your partner is in sync with the changing dynamics and aligned to your future goals.
5. Challenges Intrinsic To Globally Distributed Development.
When you work with offshore partners, you have to deal with challenges such as time zone differences and interacting with team members who come from different geographies. This may have an impact on effective collaboration and if you don't get it right, it may result in additional costs and unpleasant experiences.
How To Build For Success – What Are The Attributes Of A Partner That Will Help You Get Outsourcing Of Your Online Training Right?
Building an outsourcing strategy that works and delivers the required value needs the selection of the right partner who can understand the complexity involved in design, development and implementation of varied online training solutions.
The foundation.
To begin with, they need to understand the business objectives, learner profiles, their proficiency, expected gains and should be able to suggest options featuring different learning strategies. Capability to consult and architect the right strategy is paramount.
The engagement model.
Then the focus shifts to the engagement model that facilitates collaboration between distributed teams and provides an effective and transparent communication.
Access to the right talent pool.
Finally, the development model needs to factor for processing of the brief effectively and be supported by strong Instructional Design, Visual Design, Technology, and Quality Assurance teams.
Building for success.
Collaboration, flexibility and agility are three important aspects that make or break a successful partnership.
Easier said than done? Here is my list of 10 parameters that you can use to find the right partner.
Each of these parameters actually helps you de-risk or mitigate the risks inherent with outsourcing. Once you have the right partner, you will be able to to see successful outsourcing of your online training.
Expertise and relevant experience (but do verify references).
Focus on Innovation so that their solutions keep you ahead of the curve.
Maturity of processes and development methodology: The maturity of the processes has a direct bearing on quality and predictability. The development methodology needs to factor for distributed development and must provide for collaboration and ease of working across teams/across time zones.
Project management: You need to ascertain how it is aligned to collaboration, communication, and needs for globally distributed development.
Solution Architecting capability: Check whether it is aligned to meet diverse training needs and whether it encompasses new or upcoming approaches.
Talent pool: The partner you're looking for must have the right capabilities in Account Management, Delivery (Project Management), Instructional Design, Visual Design, Technology, and Quality Assurance.
Capability to scale: At short notice, they should have access to the right profile of resources that can be scaled to meet your burst mode requirements.
Infrastructure and measures to protect your Intellectual Property (IP).
Sound understanding of Authoring Tools and Technology.
Strong Risk Management practices.
You can also take a look at this video to know how you can opt for the right outsourcing partner and get your outsourcing strategy right.
Like any initiative, outsourcing of online training also has its risks. In this article, I have outlined how you can reduce or offset most of these inherent risks. Most of these aspects are from my own experience over the last 15 years and they really work.
The biggest success factor is to have a focus on building a long-term partnership. Both sides must look beyond the transactions and establish a framework that will create success – blips and occasional misses notwithstanding.
If you have any specific queries on this, do contact me at apandey@eidesign.net.
Also read:
Related Insights