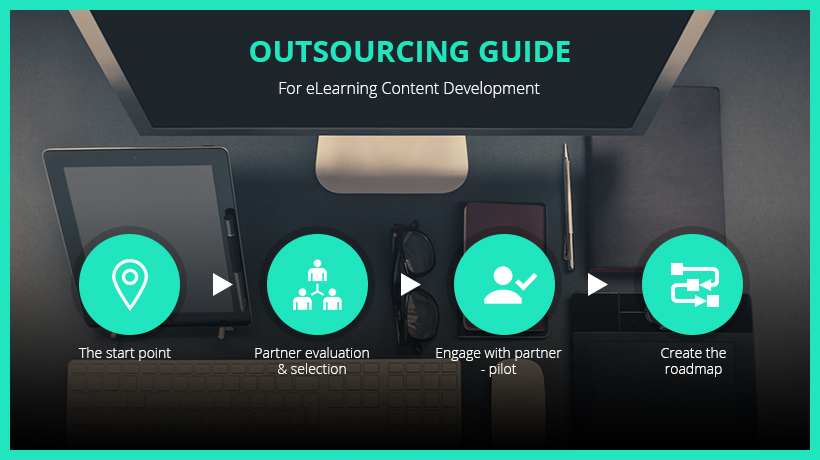 Before you begin your outsourcing initiative, you need to watch out for several factors that can impact its success. In this article, I will share a step-by-step outsourcing guide based on my 14 year experience of providing offshore eLearning content development services to customers worldwide.
eLearning Content Development: A Step-By-Step Outsourcing Guide
Background: This step-by-step outsourcing guide is an outcome of my own practical experience over last 14 years. My company EI has been providing offshore custom eLearning content development services to our customers across the globe.
As you embark on the journey to outsource eLearning content development, you can use the following pointers mapping to 4 key steps:

Step 1: The Start Point
Begin the exercise by setting up a team to deliberate on:
Why do you want to outsource?
What are the expected gains (over what period of time)?
What are the possible options to outsource?
What should be your outsourcing strategy?
Outcomes: At this stage, you should be able to identify:
1. Why Outsource And Expected Gains.
This exercise should help you quantify the triggers that are prompting you to evaluate outsourcing. These could range from scaling, higher profitability, enhancing your portfolio of services, access to a specific talent pool, and so on. These would have a bearing on the profile of the partner you should seek and the evaluation criteria.
2. Outsourcing Strategy.
Once you have done this and arrived at one or more reasons why you should outsource, the focus shifts to evaluating the options:
Onshore vs. offshore.
Selection of an onshore partner has a bearing on the cost (and your profitability) but has advantages in terms of access to additional talent, enhancement of your existing portfolio, and so on. The offshore partner will have cost advantage, plus the other gains, but you will need to plan for related risks of time zones, communication, and cultural differences.
Single vs. multiple partners.
In my experience, I see that several organizations prefer to begin with multiple partners to offset the perceived risk (do not put all eggs in one basket). However, my personal assessment is to adopt a more rigorous evaluation process, pick pilot projects that give you a 360 degree view of the interaction but go with one partner.

Step 2: Partner Evaluation And Selection Process
At this stage, you need to extend the core team that you had set up to carry out the evaluation and selection process. Also, ensure that your Project Management team is now part of the team. Then:
Draw up the criteria for evaluation.
Create frameworks to review and analyze the information you receive from potential partners.
Decide on the weightage of the evaluation criteria and create a scorecard that will enable you to compare and select.
Identify the list of potential partners (that map to the value proposition you are seeking).
Outcomes: At this stage, you should be able to:
Create a target list of partners.
Put together criteria for evaluation.
Establish how to rank the partners.
Create comparative scorecards and select a partner (or a maximum of 2-3 partners) to initiate a pilot project.

Step 3: Engage With The Selected Partner Or Shortlisted Potential Partners For The Pilot Phase
At this stage, re-look at your team composition and identify the team members who need to undertake the critical phase of pilot initiation. Prior to the pilot roll-out:
Validate your assumptions (collated during the evaluation process).
Review the success factors that you had identified and if they still look feasible.
Identify the risk areas and mitigation plans.
Outcomes: At this stage, you should be able to:
1. Initiate A Pilot Project.
Do ensure that the length of the project will enable you to evaluate the engagement model, processes, and communication capabilities of the potential partner. Check for ease of collaboration, the way the brief is being processed, whether they are asking the right set of questions, and so on.
2. Identify Other Costs You Will Incur.
Besides the quality of the product and if it was delivered on time (as per the agreed upon schedule), quantify the time your team took to:
Handle the partner team during the pilot project's execution.
Review updates and various builds.
3. Arrive At The Total Cost Of Outsourcing (TCO).
The aforementioned pointers will help you determine the TCO that includes the costs you have to budget over and above the project outsourcing cost.

Step 4: Create The Road Map Of The Engagement
At this stage, you should have successfully completed the pilot project and you should be able to select a partner (onshore or offshore) or multiple partners.
At this stage:
Do go back to where you started and relook at the expected gains and create a framework for on-going check-pointing against the required success factors.
Create a road map on how you will outsource, how you will scale, and most significantly, how you will track your progress.
I hope this outsourcing guide adds value to your initiative to outsource your eLearning content development. If you have any questions or need any specific assistance in your outsourcing initiative, do contact me.
For more insights on outsourcing eLearning content development, its benefits, the related challenges, and evaluating and selecting a potential outsourcing partner, you can go through my eBooks:
Related Insights