Using gamification for serious learning is a hot topic right now. Organization heads and Learning and Development heads are keen to explore this and enrich their existing learning strategy. However, they have several questions that range from true benefits of gamification to ascertaining if it indeed improves the effectiveness of learning.
5 Facts About Gamification For Serious Learning That Will Impress Your Boss
In this article, I will share 5 facts about gamification for serious learning through a series of questions and answers. I am sure these pointers will help you in evaluating and embracing gamification soon.
Q1. What is gamification?
Gamification is an alternate approach (to traditional eLearning) to provide engaging, immersive, and effective learning experiences to your learners. By using gaming principles, elements, and innovative strategies, learners can be engaged and encouraged to apply this learning at work.
It provides an effective informal learning environment and helps learners practice real life situations and challenges in a safe environment. Typical components of gamification-based learning courses are shown here.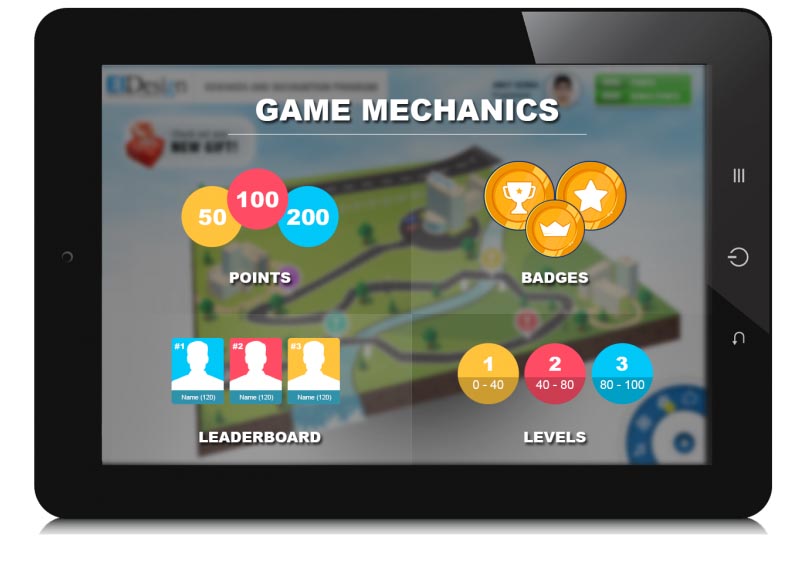 Q2. What are the advantages of using gamification vis-a-vis traditional eLearning?
Unlike traditional eLearning, gamification:
Evokes friendly competition.
Brings in a spirit of achievement.
Enhances user engagement and can be used as a behavior change tool.
Encourages learners to progress through the content, motivates action, influences behavior, and drives innovation.
You can refer to my article Benefits Of Gamification In eLearning for more details.
Q3. How does gamification impact learning?
There are several aspects of learning, notably its retention, and eventual application on the job that can be influenced by gamification.
Specifically:
Gamification puts scientific principles of repeated retrieval and spaced repetition to good effect and brings about a remarkable change in behavior.
Games can be "fun" for the learner but still have a significant impact on learning. (The player can experience "fun" during the game and still experience "learning" during game play if the level of engagement is high.)
Playing games with high levels of engagement leads to an increase in retention.
The diagram shown here reaffirms the power of gamification in learning.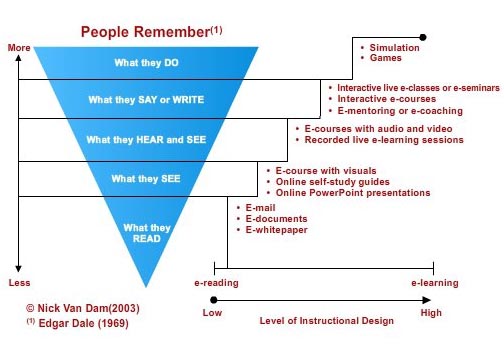 Q4. Can gamification be applied to any training or is it successful when used in certain kinds of training?
We have an established practice featuring "gamification for serious learning" and have worked on gamifying diverse concepts like:
Professional skills training.
Product training.
Soft skills.
Induction and on-boarding.
Compliance.
Social collaboration – featuring Performance Support Tools.
So far, we have not faced a challenge in arriving at a suitable gamified approach to varied training needs.
You can refer to my article 6 Killer Examples On Gamification In eLearning that illustrates the use of gamification for diverse training needs.
Q5. Can gamified trainings meet specific learning outcomes like the traditional online/ILT programs?
Certainly. Our gamification approach is aligned to meet specific learning outcomes (gamification for serious learning).
We achieve this through the following:
We apply game mechanics in a non-game situation.
We provide immersive learning and a safe environment to handle the challenges of a real-life situation.
All our solutions feature "serious game-based" concepts wherein the game objectives are aligned to the learning objectives.
We offer a gamification platform to train learners through:
Approach 1: An overall gamified concept.
Approach 2: Partial gamification techniques.
Approach 1: Complete Gamification.
The entire learning is driven by interactive scenarios in which the learners progress through a series of challenges (that map to each level in the game).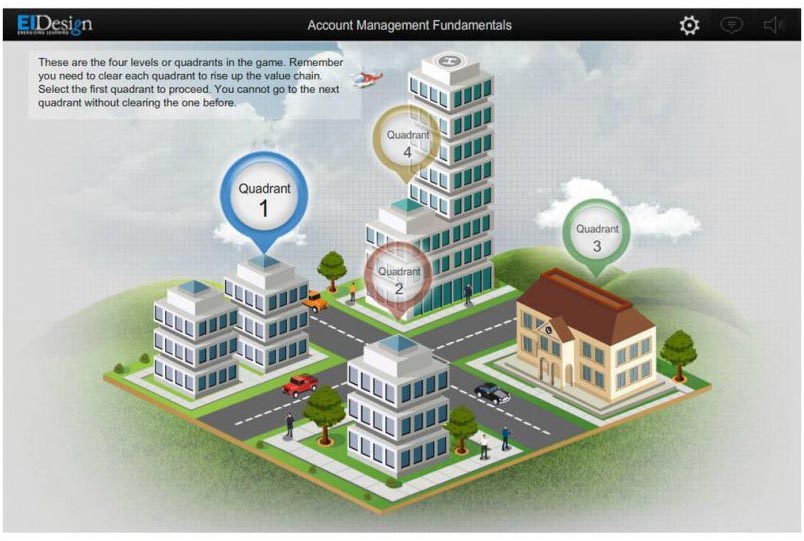 Specifically:
Learners may be provided with an option to refer to the content at any time in the game as a lifeline.
Their responses to the challenges based on the scenarios they encounter will promote them to the subsequent levels to eventually master the concept and meet the learning objectives.
We specialize in building up an engaging gaming experience through multiple levels. This helps us ensure better retention of learning plus test the learners' application of the learning.
Approach 2: Partial Gamification Techniques.
This approach can be used to introduce gamification to an organization and can be applied to enhance both online as well as ILT trainings.
We use two components to introduce Gamified elements to a traditional eLearning course or ILT program:
1. Identify key check points (knowledge checks) and quizzes (assessments) and integrate game mechanics in knowledge checks and assessments.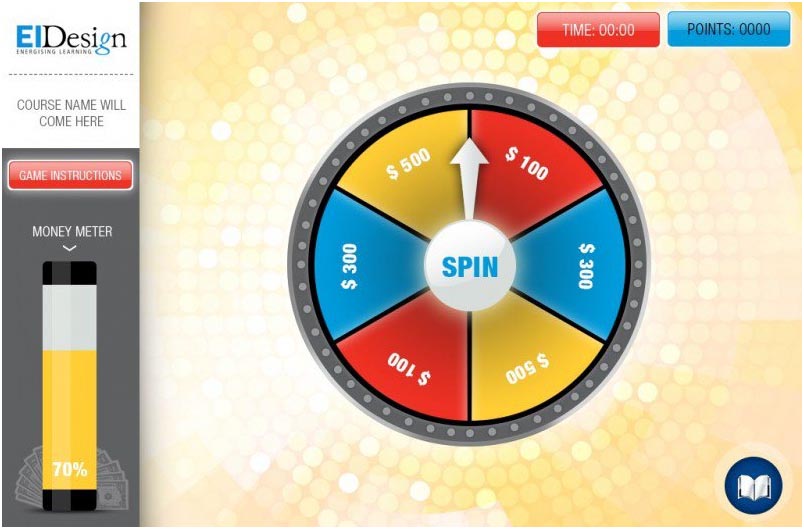 2. Add gamified activities.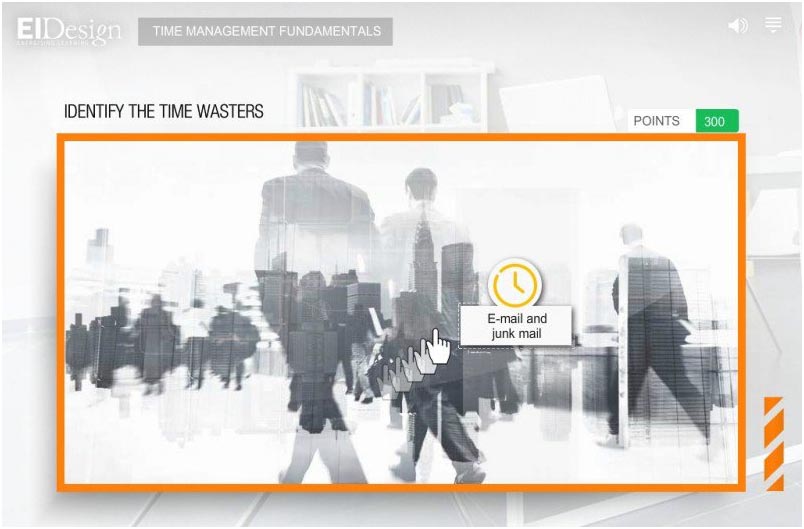 I hope this article helps demystify the gamification concept and provides insight on its benefits. More significantly, it guides you on how you can apply it in your organization and see its impact on your learners.
At EI, we have a large practice on gamification for serious learning and check out our award-winning solutions and approaches to enhance the impact of your corporate training by booking a free demo/consultation, or you can write to me directly at apandey@eidesign.net.
Read More:
Related Insights