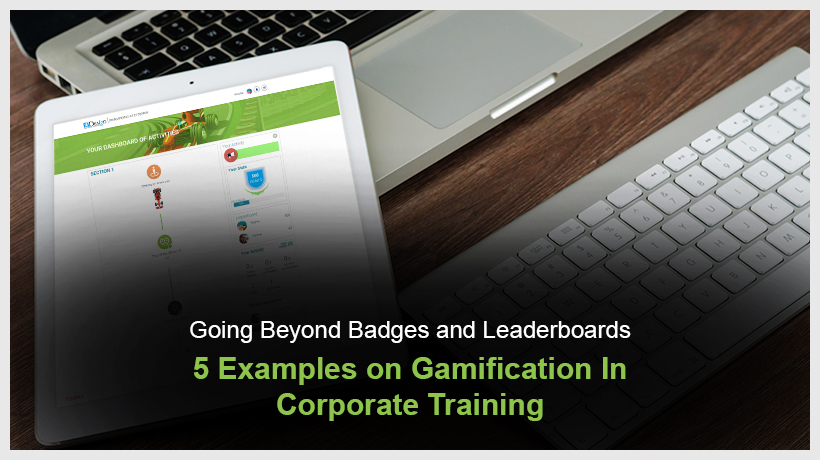 With the usage of gamification in corporate training maturing, the focus is shifting on adopting strategies that can further leverage on it. In this article, I share 5 gamification examples that go beyond just badges and leaderboards.
Gamification In Corporate Training: Beyond Badges And Leaderboards
Consider this: According to the national engagement data, businesses in the U.S. —and in turn, the U.S. economy as a whole— might not be reaching maximum worker performance because of the high percentage of not engaged and actively disengaged employees.
Why Should You Adopt Gamification As A Significant Strategy To Engage Your Employees And Boost Performance?
The goals of gamification are to achieve higher levels of engagement, change behaviors, and stimulate collaboration and innovation. The opportunities for businesses are great – from having more engaged customers, to collaborative platforms to enable innovation or improving employee performance.
In their gamification 2020 report, Gartner predicts that gamification, combined with other emerging trends and technologies, will have a significant impact on:
Innovation.
The design of employee performance.
Globalization of higher education.
Emergence of customer engagement platforms.
Gamification of personal development.
In addition, gamification is being looked at as a key tool to drive engagement in the following ways:
Accelerated feedback cycles.
Clear goals and rules of play.
A compelling narrative.
Tasks that are challenging but achievable.
Which aspects of corporate training are suitable for gamification?
From an approach that corporates were skeptical about to earning a reputation of being a high impact learning strategy, gamification has come a long way. Organizations today have realized its potential and the fact that it is being widely adopted today doesn't come as a surprise at all.
At EI, we have been using gamification techniques for corporate training for over three years now.
We have crafted gamification-based solutions to address a wide range of corporate training needs. We have used gamification techniques:
To address various training needs (including induction, onboarding, behavioral change, soft skills, and compliance).
To make traditional eLearning-based training interesting with partial gamification.
To pep up instructor-led training (through gamified assessments).
As part of set learning paths (featuring various learning assets).
In tandem with other innovative strategies like social learning, microlearning, and Performance Support.
Over the last three years, our gamification strategies have evolved and matured. Our approaches now go beyond the badges and leaderboards and leverage on other approaches like personalization, microlearning, social learning, mobile apps, and learning portals.
In this article, I pick 5 examples that illustrate how you can use gamification in corporate training.
How Can You Go Beyond Badges And Leaderboards To Create A Powerful Learning Strategy?
Let me share 5 examples from our repository that showcase how we have used gamification techniques to create high-impact corporate trainings. Each of these solutions is aligned to meet specific learning goals (serious learning) and embraces several of the current trends including:
Learning portals.
Learning paths.
Social learning.
These examples also align to the wish list that most Learning and Development teams around the world currently have, including:
High employee engagement.
High completion rates.
High retention.
Push for application of acquired knowledge.
Collaborative learning.
Examples Of Gamification In Corporate Training
Example 1: Induction And Onboarding
The best time to make a lasting impression on your employees is the time they step into your facility as new joinees. The last thing you want is your employees feeling lost, and worse, yawning their way to sleep in boring Induction sessions.
This is one of our latest portal-based solutions to provide our new joinees with an engaging induction and onboarding experience featuring a learning path woven with key information bits about the organization in the form of microlearning nuggets.
The solution is multi-device (runs seamlessly on smartphones, tablets, and desktops). Learners have the flexibility to access the portal on the device of their choice. That's cool. Well, that's what they say!
A key element of this engaging journey that the learners go through is the gamified assessment part. There are stages that the learners have to go through and at the end of every stage, they get to play a game that tests their knowledge of the aspects they have learned about the organization in that particular stage.
For each stage, we have provided the learners with a different game. In the end, learners need to clear a final assessment that has also been designed using gamification techniques.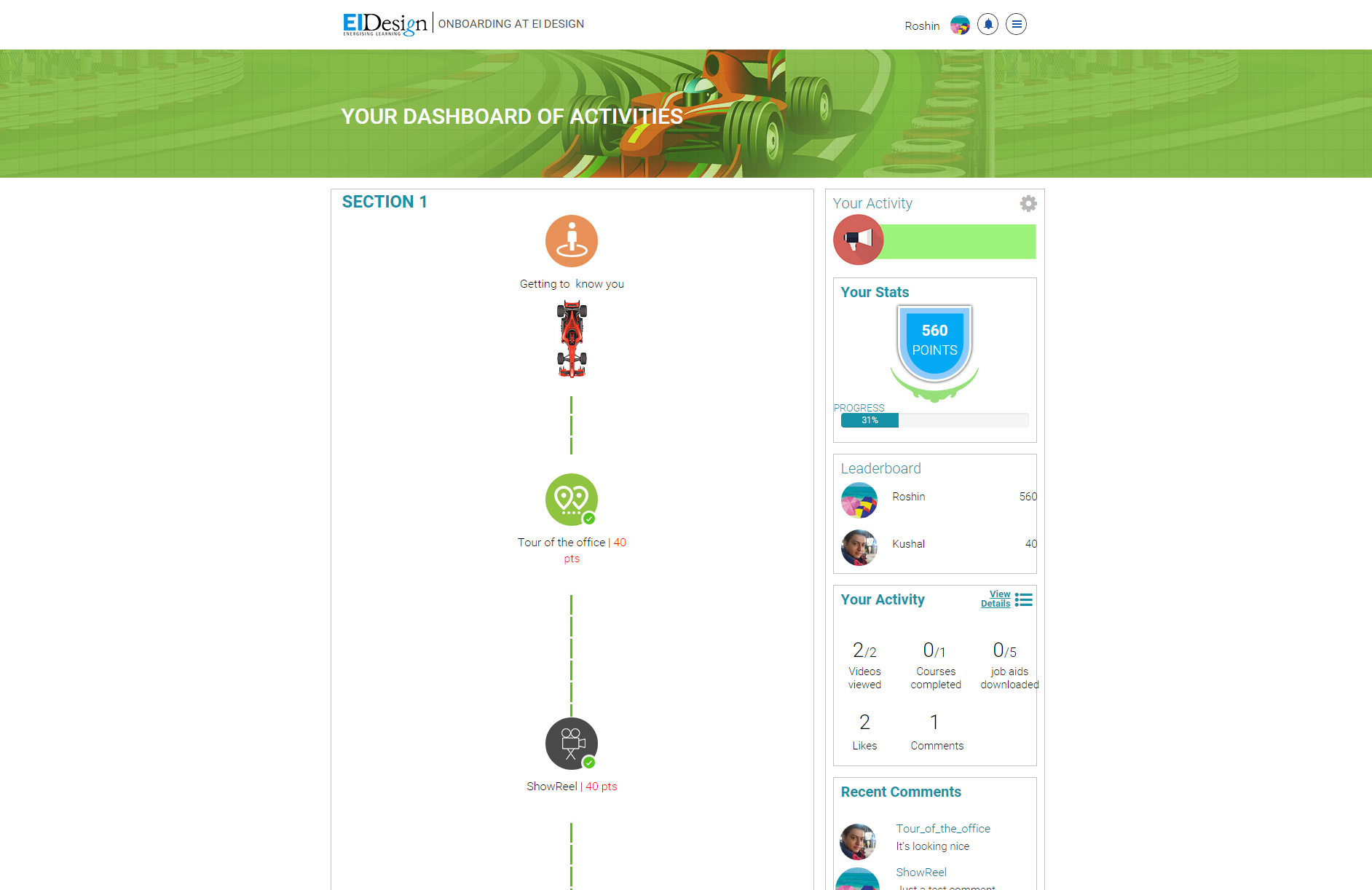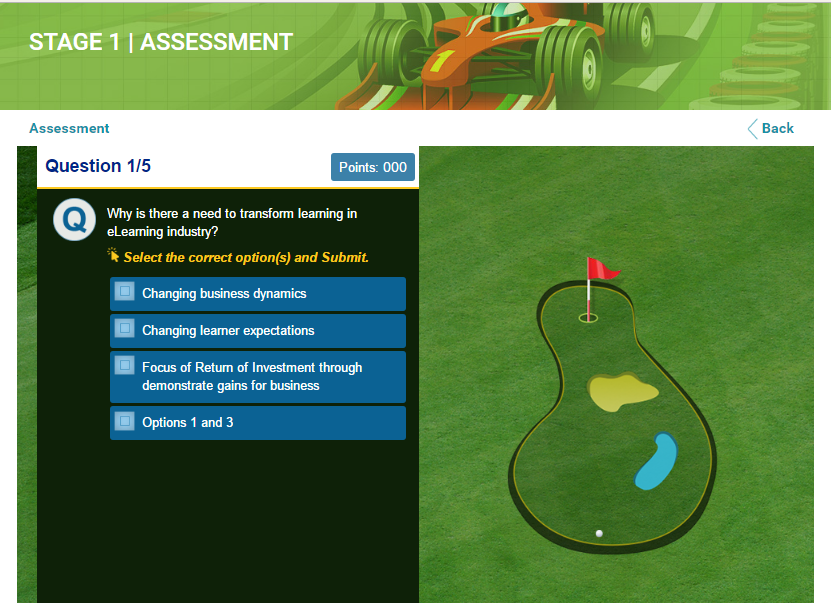 The impact:
Gamification techniques have played a huge role in the success of this induction and onboarding platform, as:
Learners (especially new joinees who are Millennials) can relate to them and enjoy going through the portal.
They make answering questions about the organization look cool.
Learners end up gaining and retaining more information about the organization than they would after a standard Induction session loaded with information-overdose.
Bring in an element of variety (the microlearning nuggets are offered in different formats and there is a different game at the end of each stage).
They instill a spirit of achievement and recognition as they can see their names feature in the organization's leaderboard.
Example 2: Employee Engagement
With our gamification solutions, we assure our customers a higher level of learner engagement. That's exactly what we did when one of our customers sought our help in gamifying a learning solution – we "walked" the talk!
The customer wanted to spread awareness on health issues among their employees. We designed a program that highlighted the advantages of exercises in the form of walking, helping the employees walk virtually between their various office locations, carrying out various team-building and awareness-building activities along the journey.
The entire concept was game-based and learners could record the steps they have walked in a day. With an increase in their scores, they would get the opportunity to go to the next location. Learners could create their own profile and be part of a team that would perform different activities along the journey. They could also see the "top walkers" of the day and feel motivated to do better.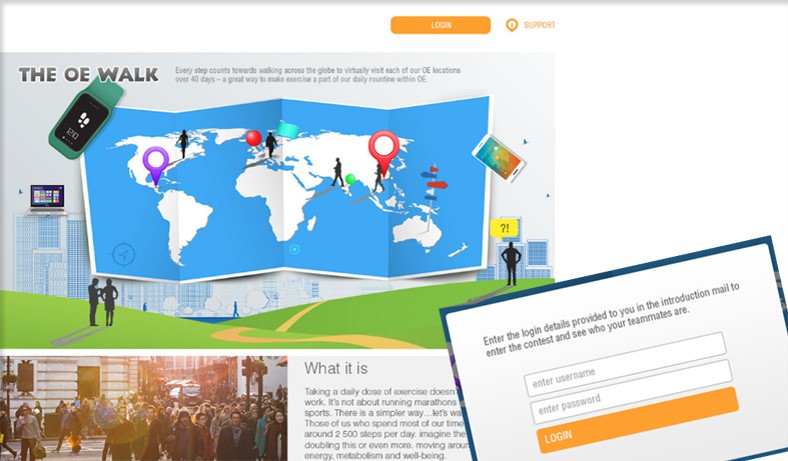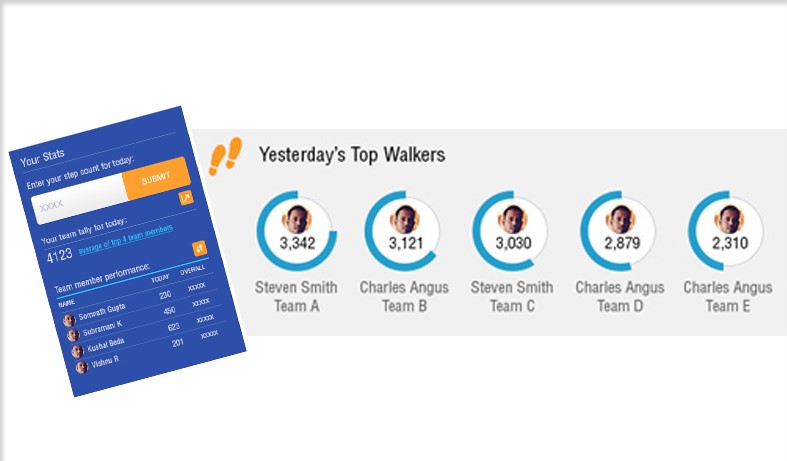 The impact:
This gamification-based technique created a huge impact as it:
Helped the organization channelize its HR initiative in a fun, engaging way.
Improved team bonding within the employees of the organization.
Encouraged employees to take part and do better than their colleagues.
Enabled the organization to fulfil its objective of creating awareness on health issues and bring about greater employee engagement.
Example 3: Application Simulation
Something that you learn in a classroom versus something that you learn by practice or on your own – which learning do you remember more? It's the latter, isn't it? How often have we experienced this ourselves? The "Do-it-Yourself" concept works big time and that's exactly what we tried to do with this gamified Application Simulation solution.
It enables learners to learn MS Office the fun way. They can view demos, try them, and test themselves in real tasks in a real environment. It challenges learners to perform tasks through a point system and provides hints at various stages.
It also helps them to pick and choose what they want to learn and follow that as a learning path, enables them to see the progress of courses, points gathered, rank and leaderboard in a dashboard, and post any questions they have to their guide through the platform.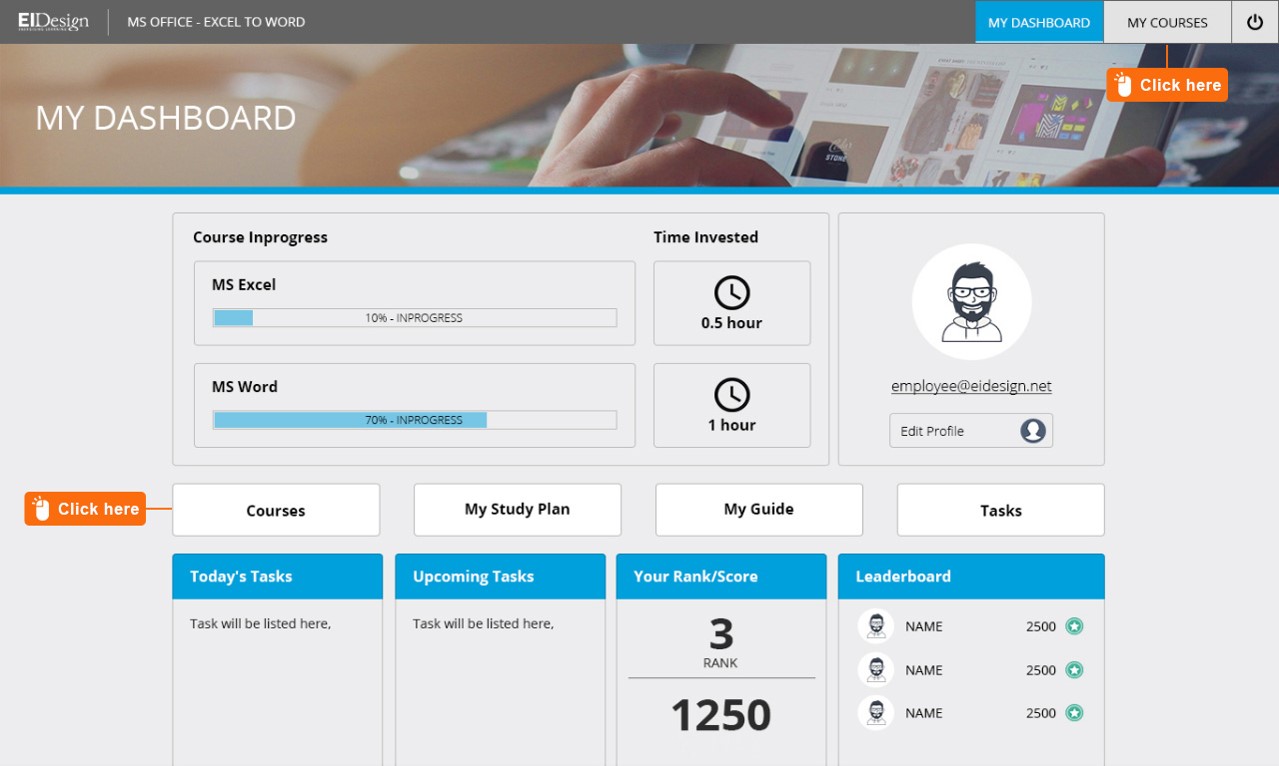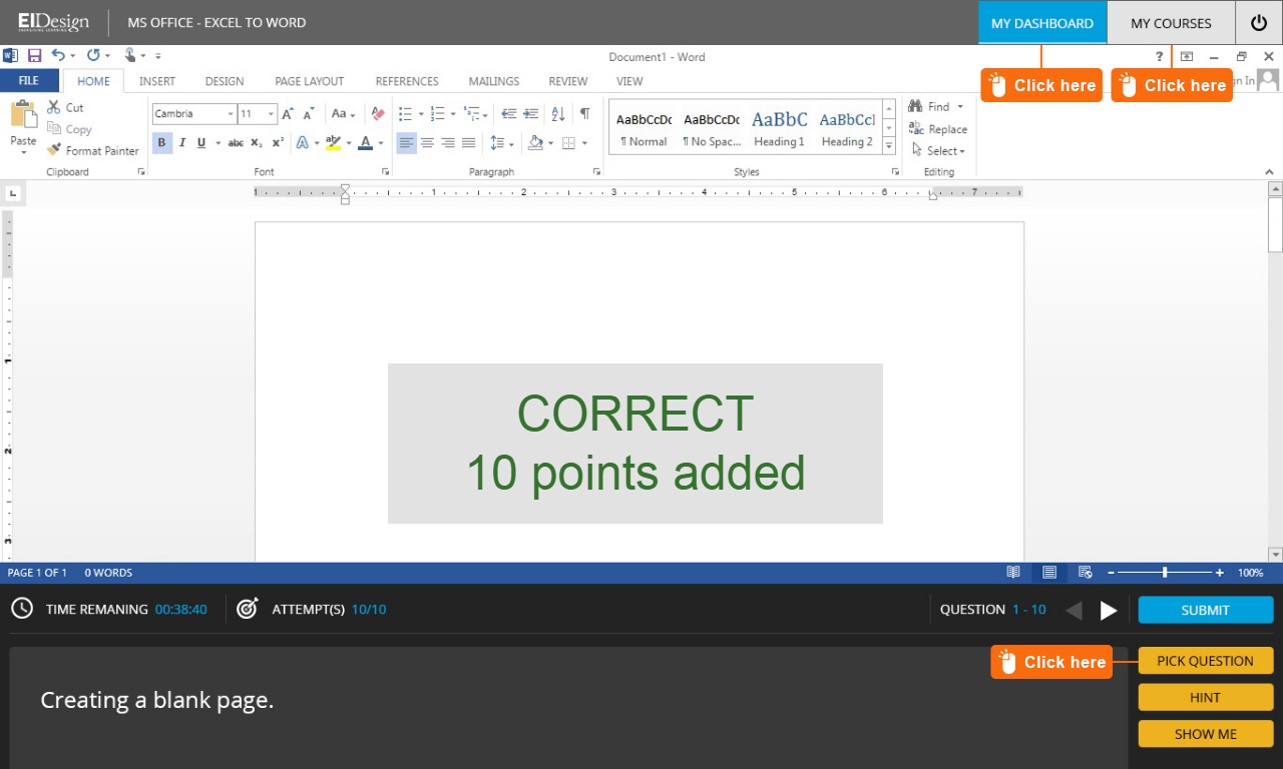 The impact:
Learners found this solution extremely beneficial as it:
Allowed them to explore the features of MS Office on their own with the level of assistance that they opted to have.
Challenged the learners to do the steps right and enabled them to give their best shot with points at stake.
Provided hints to learners if they felt lost.
Allowed the learners to choose what they want to learn as opposed to being asked to learn.
Example 4: Compliance
Compliance can be boring. Not with gamification techniques though! This solution of ours showcases how we have conveyed a dry compliance concept in an engaging way using the gamification technique.
This learning nugget features a mix of gamification and scenario-based learning and explains the concept of Insider Dealing in a nutshell. The learner has to play the role of a Crime Investigator and investigate a case of Insider Dealing involving two characters. The learning journey involves examining the evidences available and taking decisions to progress further in the case to identify the tipper and the tippee. The concept resonates well with learners and they're able to "bond" well with the subject – they get to feel what it's like to be in James Bond's shoes after all!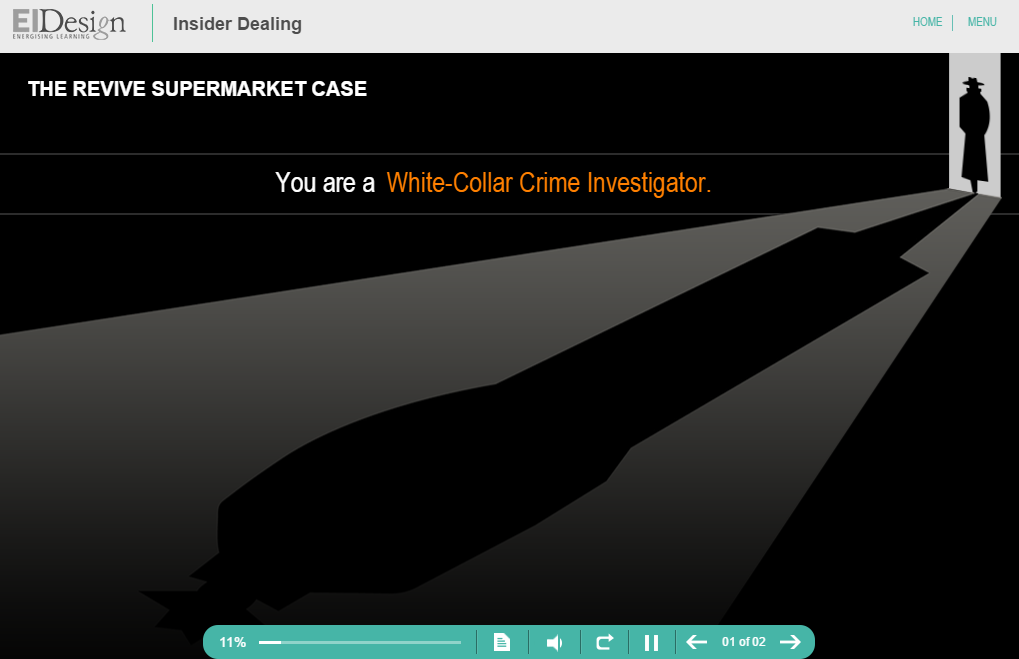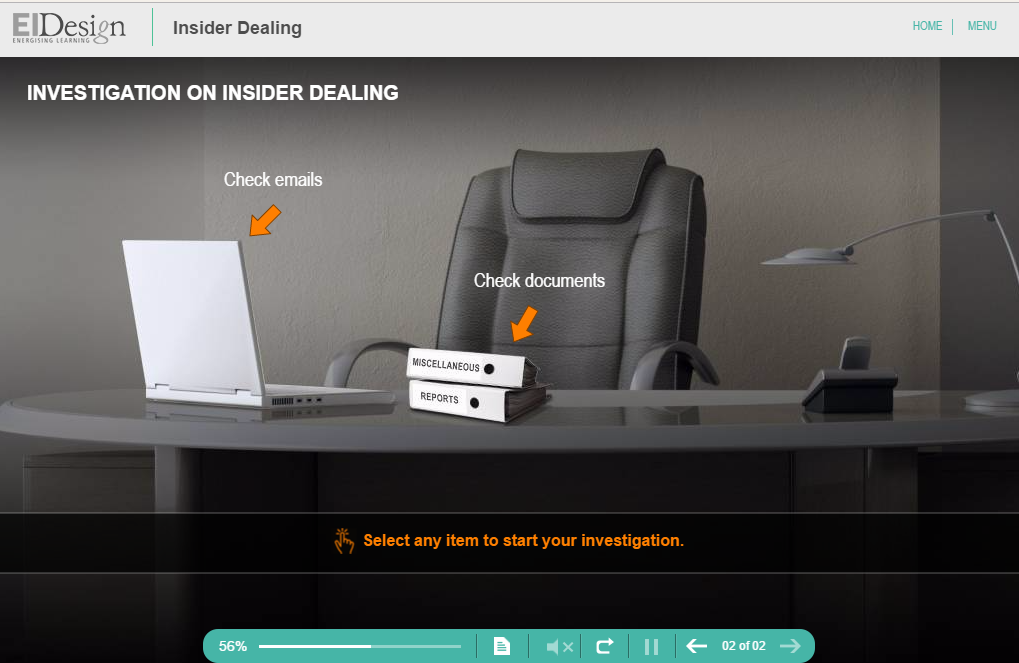 The impact:
The gamification technique along with the scenario-based learning flavor makes this compliance nugget highly effective as:
The nugget effectively conveys the concept of Insider Dealing and helps learners understand instances where they may come across Insider Dealing at work.
It presents the learners with a challenge right at the beginning and captures their attention from the word go.
Example 5: Skill Development
Account Management is serious business but as Heath Ledger would have said it, a course on the same need not be "so serious". With this gamification solution, we made understanding concepts related to Account Management fun.
We converted an existing ILT based course to an engaging gamification based learning module. The content was for Project Managers who needed to understand and apply various key concepts related to Account Management which would help them to handle clients better and establish EI as a strategic partner for its clients.
We divided the content into levels. Learners had to clear each level to advance to the next with a minimum number of points. In the interim, they would learn through various resources like videos, interactive videos, info nuggets, job aids, and so on, and solve challenges. When presented with a challenge, learners could attempt to solve it directly or seek help from peers (social learning) or an expert.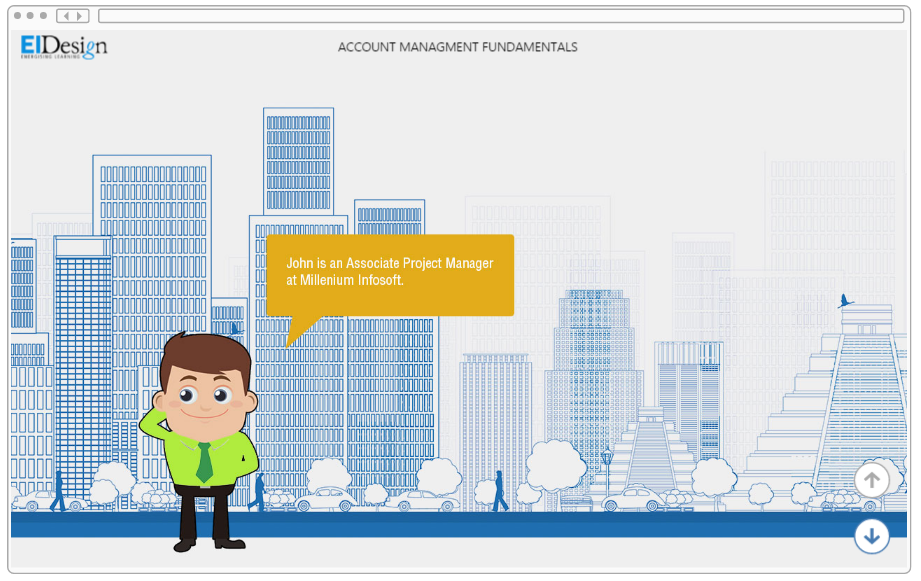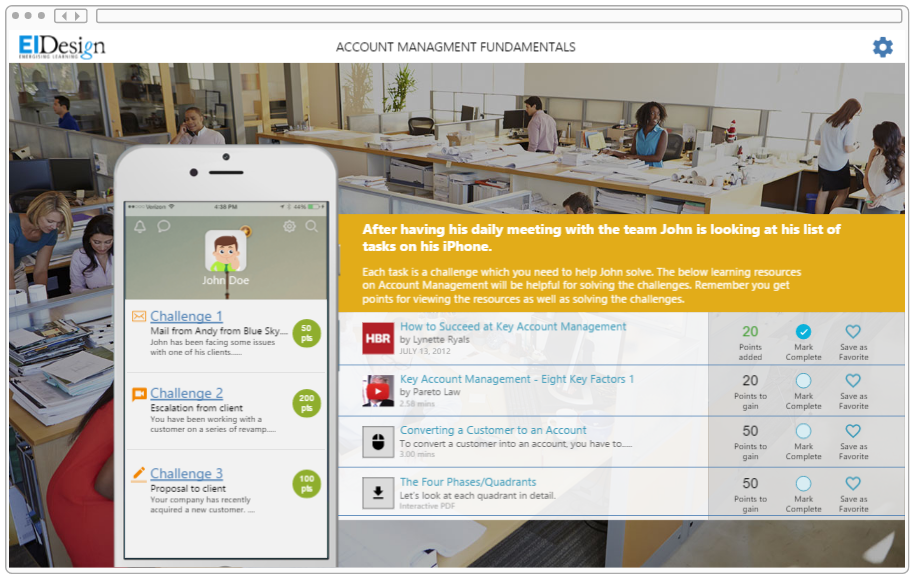 The impact:
The solution served the purpose of employee skill development as it:
Aided better information retention and application of information on the job.
Helped increase the module completion rates and brought about learner engagement.
Provided the learners with just-in-time support.
You can also take a look at this video to see how we have used gamification techniques beyond the simple points and leaderboard approaches to make corporate training engaging.
I hope this article has provided you with insights on how you can step up your gamification strategy to address the changing learner expectations. Check out our award-winning solutions and approaches to enhance the impact of your corporate training by booking a free demo/consultation, or you can write to me directly at apandey@eidesign.net.
Also read:
Related Insights