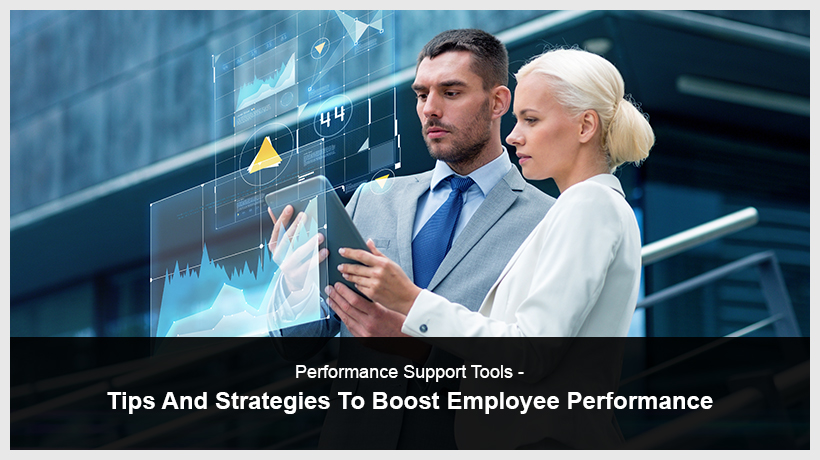 Formal trainings are often not enough to obtain the required gains in workforce performance. This article provides tips and strategies on how you can use Performance Support Tools to supplement formal training and boost employee performance.

How To Boost Employee Performance With Performance Support Tools
How do we learn?
70% from on the job experiences (experiential learning).
20% from interactions with others (social learning).
10% from formal (structured learning).
While the exact ratio of how we learn may be debatable, what is evident is that Learning and Development teams need to go beyond the focus on 10% of formal training and must align their learning strategies to encompass the need for informal learning.
Performance Support Tools (that supplement formal training) fit in precisely to address this need. You can integrate them into your learning strategy and see the "performance changing" gains accrue.
What Are Performance Support Tools (PSTs)?
Performance Support Tools or PSTs are just-in-time learning aids designed to assist employees with on-the-job support and enhance workforce performance.
They provide support and guidance to employees at work exactly when they need them.
They are easily accessible and are usually available in the learners' workflow, serving the purpose of providing the required task support to employees, thereby leading to enhanced employee performance.
PSTs are ideal to bring about continuous improvement in the workforce performance that organizations look to achieve.
Why Does It Make Business Sense To Adopt Performance Support Tools In Your Learning Strategy?
The origins of Performance Support can be traced to nearly three decades ago. In the words of Gloria Gery, a key proponent of Performance Support, "Performance Support focuses on work itself while training focuses on the learning required to do the work. Integrating resources in the workplace is inevitable, and the need is urgent. Filtering resources so people get the tools and resources they need while actively working is the goal. Work process and roles are the primary filters. The mechanisms vary: Portals, performance-centered workflow interfaces, enterprise applications, integration projects, etc, but what's important is that performer be able to name that tune in one note, to perform in exemplary fashion".
I think Gloria Gery was ahead of her time but what she predicted on usage of Performance Support is finally gaining momentum today. While the core of what Gloria stipulated is valid today, success can be achieved only when Performance Support integrates cohesively with your current learning strategy. Only then can the training result in enhanced employee performance and impact businesses resulting in a positive ROI on training.
I believe that organizations today are ready to make this change and several supporting factors (mLearning or mobile learning, microlearning, and social learning) will help build momentum in the adoption of Performance Support Tools.
What Is The Difference Between Performance Support And Formal Training?
It is important to note that Performance Support is not training nor does it replace formal training. It co-exists with formal training and actually uplifts the impact of formal training by pushing the envelope from knowledge acquisition to application.
As we know, the gap between knowledge acquisition (through formal training) and knowledge application (applying the acquired knowledge meaningfully on the job to create the required impact) is a huge one. Learning and Development professionals constantly struggle with and find a challenge in demonstrating the impact of training to business. When used in conjunction with formal training, Performance Support Tools achieve this mandate by helping learners apply their learning on the job.
How Can Performance Support Be Integrated Into Your Overall Learning Strategy?
The answer lies in having an approach of Learning and Performance Ecosystem as shown here that integrates components of all three aspects of how we learn.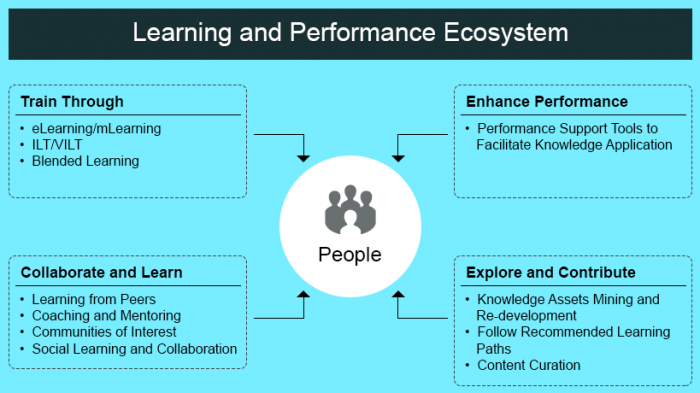 How Do Performance Support Tools Help Learners And Boost Employee Performance?
Learners like learning at work and learning informally. Performance Support Tools (PSTs) allow learners to learn and work at the same time.
Performance Support Tools (PSTs) are extremely beneficial in terms of enhancing employee performance as they:
Enable learners to perform tasks on their own without depending on external assistance.
Save time that would otherwise have been wasted in the form of senior employees providing guidance to lesser experienced employees.
Enable new employees to perform tasks quickly with the required quality, irrespective of a formal training being available or not.
Help new employees understand complex tasks in a simple way.
Help learners learn about new systems, upgrades, or a new introduction in the workflow/process.
How Can Organizations Use Performance Support Tools To Boost Workforce Performance?
PSTs accelerate learning as they are part of the learners' workflow and are available precisely at the time of their need. By design, they are easy to assimilate and easy to apply.
Specifically:
They are a great fit for informal learning.
They can be also be used to support formal training to improve the stickiness of learning and its eventual application on the job.
You can integrate microlearning based strategies to create them and see the application levels zoom.
Couple them with platforms for social learning and you will see the impact of your training multiply.
What Are The Possible Formats To Offer Performance Support Tools?
You can offer Performance Support Solutions to improve employee performance in a variety of ways.
At EI, we offer Performance Support Tools to increase workforce performance in various formats, including:
1. Mobile Apps.
The very fact that these apps are "mobile" helps learners obtain just-in-time information and Performance Support anytime, anywhere.
2. Videos And Interactive Videos.
Videos have proved to be one of the most sought after Performance Support Tools and the fact that "How-to" searches shoot up 70% every year on YouTube justifies it.
3. Decision-Making Scenarios.
More often than not, learners will be in need of just-in-time support when they are stuck in a complex situation at work. You can offer Performance Support in the form of decision-making scenarios to help them and achieve higher retention of learning and application of that learning on the job.
4. Whiteboard Animations.
Animations and illustrations are one of those things that catch your eye instantly. When packaged as a Performance Support Tool, they can help not just capture learners' attention but retain it and help them internalize the learning effectively.
5. Kinetic Text/Animations.
Like Ronan Keating and the rest of the Boyzone members, "words" is all you need to have to take your learners' breath away if you can present them as kinetic text animations. They're extremely handy when you want to convey concepts that are difficult to visualize.
6. Interactive PDFs.
Save the learners the travails of going through lengthy documents. You can offer them Performance Support in the form of Interactive PDFs with a touch of user-friendly navigation and appealing visuals. They make great PSTs when used to present tips, checklists, fact sheets, and so on.
7. eBooks.
These can prove to be useful Performance Support Tools (PSTs), especially if you're looking to convert your documents into multi-device and HTML5 compatible resources. They provide the added benefit of converting lengthy documents into manageable chunks. You can also integrate audio and video to increase the impact.
8. Expert Videos, Webinars/Recorded Webinar.
Expert insights are always treated by with respect by learners. Expert videos, webinars, and recorded webinars have plenty of takers in the learner community and they can serve as a useful Performance Support Tool.
9. Webcast/Podcasts.
The ease and flexibility of accessing them on-the-go makes webcasts/podcasts ideal for Performance Support. They come with the added advantage of being brief and entertaining, much to the liking of the present day learners.
What More Is Possible To Engage Your Employees And Boost Employee Performance?
To enhance employee performance and encourage on-the-job learning, Performance Support Tools (PSTs) can be used in conjunction with other learning strategies, such as:
mLearning or Mobile learning (by offering PSTs in mobile-friendly formats).
Designing learning for the millenial generation (innovative formats of PSTs can be aligned to the way millennials learn).
Gamification.
You can also watch this video to know about the different formats that can be used to offer Performance Support.
What Gains Will Organizations Accrue If They Adopt Performance Support Tools?
Today, with wider adoption of mLearning or mobile learning, organizations have an enormous range of options to provide Performance Support solutions to their employees and boost workforce performance.
Adding Performance Support to your formal training will not only enhance the impact of the formal training but more significantly enable learners to apply the learning on the job. Having access to these learning aids precisely at the time of learner need encourages the learners to use them effectively. The final outcome is "performance changing" learning that Learning and Development teams seek.
Additionally, technology allows us to offer Performance Support within learners' workflow (for instance, on their smartphones) and in varied engaging formats that appeal to different learner profiles and create sticky learning.
I hope this article establishes how you can use PSTs to supplement your training. Do contact me if you need any specific support.
Also Read:
Related Insights