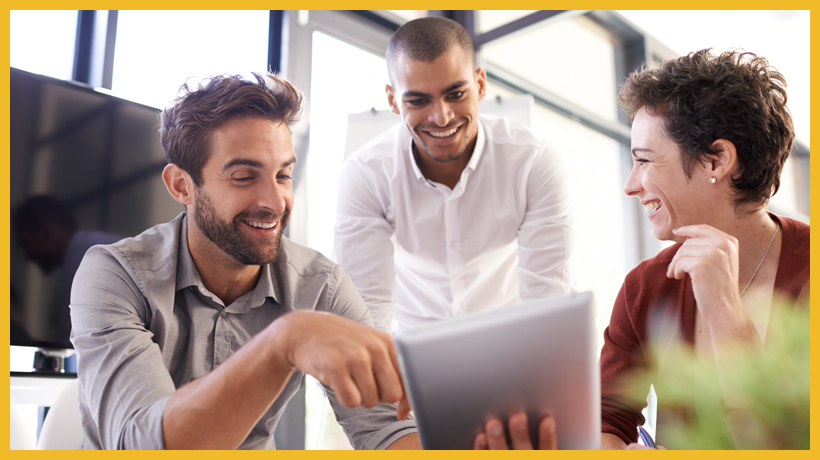 As traditional eLearning transforms to meet the current business and learner needs, you need to relook at the key attributes in a partner as you outsource your online training. In this article, I share 10 attributes you can use to select the right partner.

The Key Attributes Of A Partner To Outsource Online Training
The demands on Learning and Development teams are many, and current times are no exception. Some of the notable challenges they face include:
Changes in business dynamics.
Higher economic volatility, pressure on training budgets, and a need to demonstrate a clear ROI on the training spend.
Changes in learner expectations.
Today's learners want learning to be integrated within their workflow, available on the devices of their choice, and delivered in a format that is easy to internalize and apply.
Change in learner demographics.
This is on account of inclusion of Millennials as a significant percentage of total workforce.
Increasing complexity and sophistication of learning solutions design.
Why Is There A Need To Re-Evaluate The Criteria To Outsource Online Training (Custom eLearning Development)?
Looking at the challenges and changing dynamics highlighted above, when Learning and Development teams evaluate partners to outsource online training (custom or bespoke eLearning content development) today, they must update the evaluation criteria.
The key attributes that you now need to look for in a partner must help you manage these dynamics successfully. They should also help you select a partner who can be part of your longer-term vision.
Over the last 15 years, EI has had the privilege of being a long-term partner to several organizations across the world as we undertook outsourcing of their online training (custom eLearning content development) as a strategic initiative.
In this article, I use several cues from our practical experience to highlight the key attributes of a partner.
Before moving on to these attributes, I will touch upon an important aspect (on the key benefits of outsourcing your online training). Logically, this would connect to your evaluation process and thereby the attributes you should check for in a potential partner.
What Are The Reasons Why Outsourcing Online Training (Custom eLearning Content Development) Helps Every Business?
Here is my list of 8 reasons why outsourcing custom eLearning content development helps every business.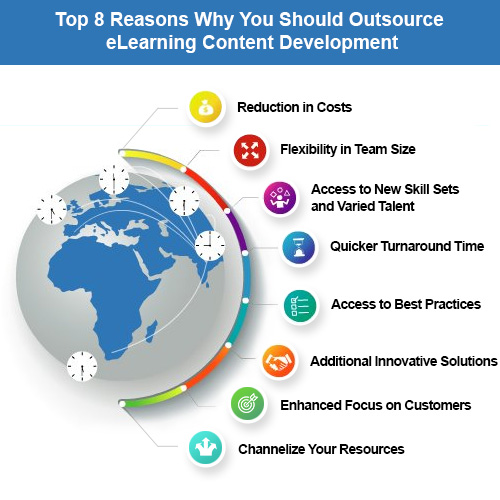 Reduction in costs.
This is normally the first reason that prompts the evaluation of outsourcing your online corporate training. In today's context this benefit allows you to pack much more punch in the same budget. For instance, if you offshore your online corporate training, you will be able to get 4–6 times more number of courses for the same budget.
Flexibility to scale the team up and down.
This is normally the second biggest factor that triggers outsourcing of your online corporate training. Given the fact that your business requirements are dynamic, this flexibility allows you to "use the services as you need" and "when you need."
Access to new skill sets and more varied talent in a given domain.
I have already touched upon the "learning transformation" that you are experiencing. With a daily churn of tools, technologies, and newer formats to deliver online trainings, to name a few, you can offset these challenges successfully through outsourcing. Your partner/multiple partners can bring this value on the table so that you can pick and choose what works best for you.
Reduction in development time leading to a faster turnaround time.
By opting for dedicated development team with your partner, you will see a much shorter turnaround time for your projects, thereby reducing your go-live time.
Access to best practices, leading to optimization of your development practices.
Successful outsourcing is about collaboration and leveraging on each other's core strengths. It also opens the doors to pick the best practices from your partner that can help you optimize your internal set of development practices.
Addition of more innovative solutions to your portfolio.
You can expand your horizons and look at "what more is possible" when you have the right partner to outsource your eLearning development. This could include different learning strategies, new tools or different formats to deliver online trainings that you may not have used so far. All of these will go a long way in enhancing the impact your existing training delivery.
Enhanced focus on your customers.
As I see it, this is the most significant value that outsourcing your eLearning development provides. You now have the bandwidth to focus more on your customers (internal or external). You can also increase your efforts on other key aspects like Training Needs Analysis (TNA), measuring the impact on the learners and the business, learner analytics, and determination of ROI, to name a few. Focusing on all these aspects will help you enhance your value proposition further.
Channelize your resources into strategic activities.
By delegating certain portions of your work to an outsourcing partner who focuses on eLearning development, you can let your team spend more time and energy on the strategic side of your business.
What Are The Key Attributes You Should Look For In A Partner As You Outsource Online Training (Custom eLearning Content Development)?
I have categorized these attributes into 2 levels:
Basics (or must have): These map to the typical criteria you may already be aware of.
Mandated now (or the need of the hour): These reflect the aspects that will help you manage your "learning transformation" needs of today. More significantly, they will help you lay down a strong foundation for a long-term partnership that will also align to the changing mandate in the future.
Basics (Or Must Have Attributes)
Expertise and relevant experience.
Project management capability.
You need to ascertain how it is aligned to collaboration, communication, and the needs of globally distributed development. Specifically, validate their Risk Management practices.
Processes and development methodology.
Maturity of the processes has a direct bearing on consistent quality and predictability. Deep-dive into this aspect and assess its flexibility to align to your existing approach.
Talent pool.
 The partner you choose to outsource your corporate eLearning development must have the right capabilities in Account Management, Delivery (Project Management), Instructional Design, Visual Design, Technology, and Quality Assurance. Only then will they be able to align to your complete mandate.
Capability to scale.
At short notice, the partner should have access to the right profile of resources that can be scaled to meet your "burst mode" requirements.
Sound understanding of authoring tools and technology.
 As the churn in authoring tools and technology continues, this aspect is very significant today. The partner must be in a position to offer the expertise across the leading options. More specifically, they should be able to provide a consultative view on the capability of each option.
Infrastructure and measures to protect your Intellectual Property (IP). 
What Additional Attributes Should You Look For To Create A Successful Outsourcing strategy?
Mandated Now (Or The Need-Of-The-Hour Attributes)
Focus on innovation. 
This is essential (especially, in light of the learning transformation that I have already highlighted) so that their solutions keep you ahead of the curve.
Strong solution architecting capability. 
Check whether it is aligned to meet the diverse training needs and whether it encompasses new or upcoming approaches.
Agility. 
We live in times where the only constant is change. In my assessment, a partner who offers flexibility and agility will help you navigate effectively through the current and upcoming challenges and the changing dynamics of tomorrow.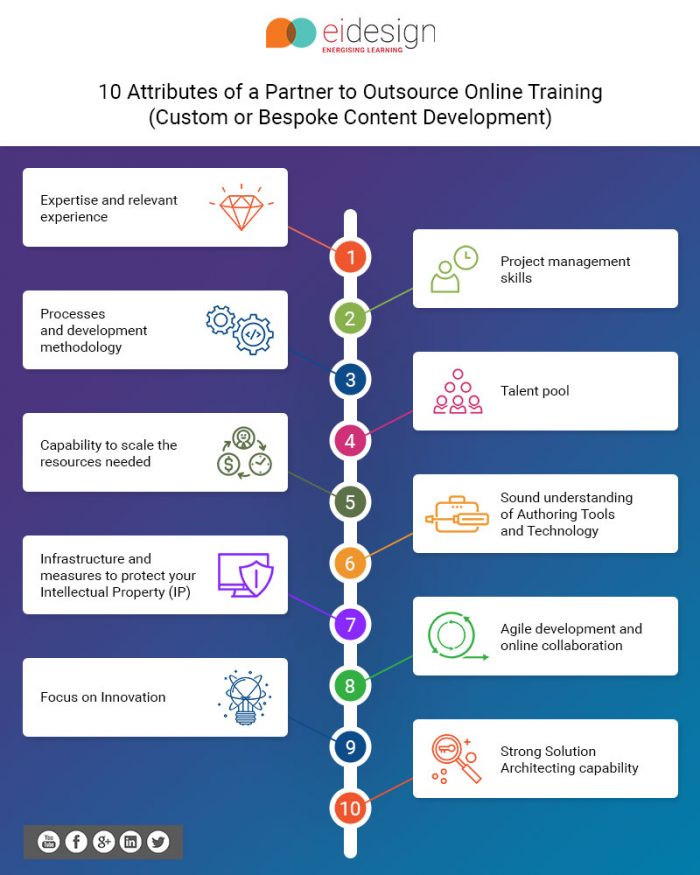 I hope this article provides you with pointers you can use to evaluate and select the right long-term partner as you outsource online training (custom eLearning content development). If you want tips on how to evaluate and select the right long-term partner as you outsource your online training or have any specific requirement or query, schedule a call with our learning consultants or you can write to me directly at apandey@eidesign.net.
Read More
Related Insights