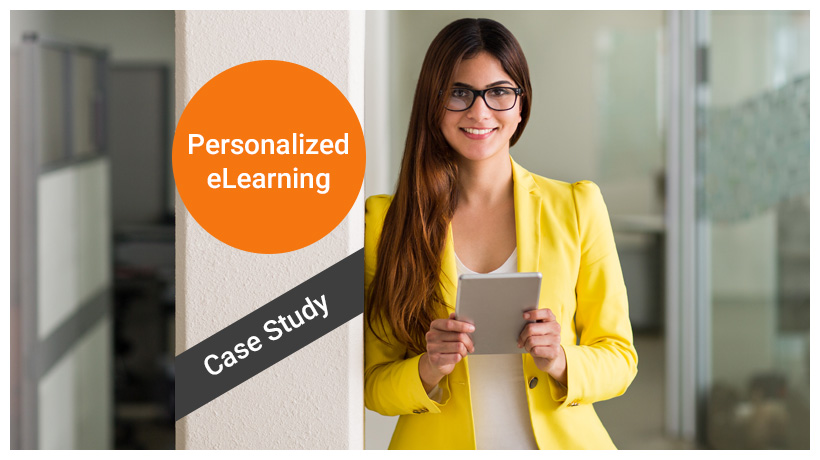 Learners today have specific needs. Contrary to the "one size fits all" approach, personalized eLearning engages learners as it provides to them a far more immersive and meaningful learning experience. This article highlights the key aspects of personalized learning along with a case study that highlights its impact.
Why Personalized eLearning Engages Learners
Personalized eLearning is customization of eLearning to meet specific needs of learners. It is typically done in the following ways:
Avatar-based selection followed by customized elements like themes, fonts, backgrounds, and so on.
Customization in the format of content delivery (for instance, options to use audio/video or otherwise, degree of interactions, and so on).
Customization at the learning path level (for instance, a pre-assessment can help us understand the baseline proficiency and the learner can be given a personalized learning track that corresponds to the competency gaps. Alternately, we can use a survey to assess where learners' interests lie and then offer a personalized set of recommendations regarding how to "consume" this module [which parts of it could be skipped and which should be taken with special attention]).
What Are The Key Benefits Of Personalization?
Personalization of eLearning empowers learners to select what they want to learn, how they want to learn, and how much time they would like to spend on it. Being more focused (particularly, through the control on picking the right learning path), they get exactly what they need.
From an Instructional Design perspective, personalization of eLearning offers an approach that is far superior to traditional eLearning. Instructional Designers can craft learning designs that offer tremendous control to learners.
Specifically, through personalized eLearning, they enable learners to:
Set their own goals.
Set manageable milestones.
Select their own learning path.
Select the device they wish to learn on.
Take the learning at their own pace.
Select the kind of interaction levels they feel is relevant for them.
Get personalized feedback and use it to assess their progress .
Use the offered recommendations to enrich the learning path.
Besides Providing A Customized Learning Experience, Can Personalized eLearning Offer Other Benefits?
Absolutely! You can use the personalized eLearning approach to promote a culture of learning as a continuum. You can additionally:
Integrate content curation and continuously enhance the online resources.
Add a "community of learning" approach to enhance collaboration between learners and with experts. Essentially, you can provide learners with a platform to interact with their peers and online experts on a regular basis.
All these approaches will help you see better learner commitment, higher completion rates, and better results.
What Are The Approaches To Offer Personalized Learning?
At EI, over the last two years, we have been increasingly focusing on crafting learning designs that offer control to learners. Essentially, we want to create learning experiences wherein learners can "pull" what they want rather than be "pushed" into a prescriptive learning journey.
We have created various approaches to offer personalized eLearning that map to the following 4 levels:
Level 1: This is the most basic level of customization that offers personalization of Learning. It includes:
Using the name of the learner in the course (welcome, in the feedback, when learning a level, and so on).
Selection of fonts, color schemes, and so on.
Avatar based selection.
Offering themes at the beginning of the eLearning course.
Level 2: This is the next level of customization that offers personalized learning. It includes:
Usage of Pre-Test and use of the proficiency level to offer a particular sequence of learning.
Level 3: Unlike level 2, where the control is still not fully with the learners, at this level we use the following techniques to empower the learners:
Usage of surveys at the beginning of the course to determine the learners' interest as well as their own estimate of what they know.
In conjunction, we use the formative feedback of the interim Check Your Understanding questions to re-direct the learners. This aspect is crucial to balance the learning path in case the learners had opted out of certain sections but their performance in knowledge checks clearly points otherwise.
Additionally, we share a survey to determine the interests of the learner (including their won assessment of the proficiency levels). We use the cues from surveys to provide personalized, recommended learning elements.
Level 4: We designate this as the fourth level as it involves creating multiple variants of the learning elements that provide flexibility to learners to learn through a learning experience that is most relevant and engaging. Typical choices would include:
With or without audio.
With or without videos (only text based).
Microlearning nuggets instead of lengthy eLearning courses and supporting information as downloadable resources.
Courses with varying levels of interaction (Level 1/2/3).
Understanding of browsing patterns in topics and recommending learning elements that will provide greater proficiency.
Case Study – Features Personalized Learning For Millennials Using Gamification In A Mobile App Format
This solution is a great example of how we have used personalization of learning to help learners get better at skills to create their own brand and excel at work.
It is a microlearning nugget packaged as a mobile app. The solution helps learners build their own personal brand by helping them understand their strengths and mitigating their weaknesses.
Learners get to experience personalization right at the start where they can create their profile and choose an avatar.
Step 1: After they log in, they have to answer a few questions on their personal traits and activities as part of a survey.
Step 2: The responses they provide will be a reflection of their preferences and thoughts which then form the basis for personalized recommendations.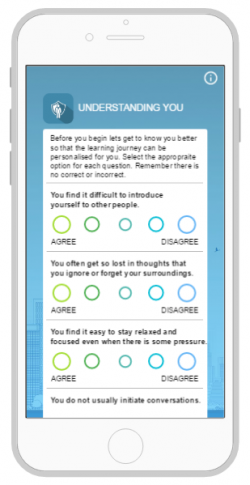 Once they are done with the survey, they obtain 1000 points and are prompted to proceed with the learning journey.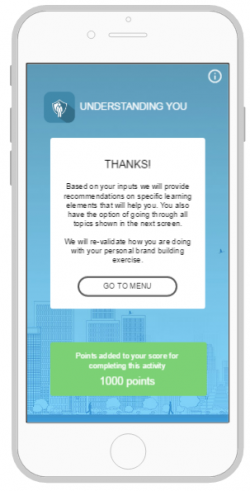 As they go about their learning journey, they will be able to see various learning topics. While they have the flexibility to choose the topics of their choice, recommendations are provided to them as to what learning assets will be beneficial for them. These recommendations are based on the inputs given by the learners in the initial survey.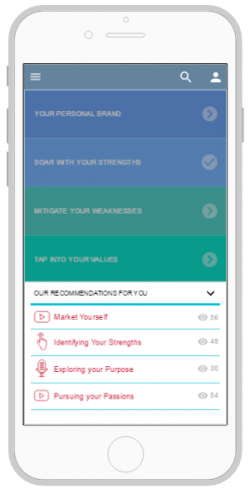 Learners need to undergo a set learning path featuring microlearning nuggets such as videos, fun info nuggets, interactive content, exercises, and gamified quizzes. They can also share and comment on the learning nuggets that they view.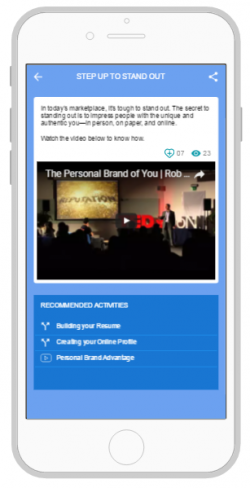 On the dashboard, learners can see their progress, leaderboard and points, social activity, feedback from mentors, specific resources or just-in-time aids, and so on.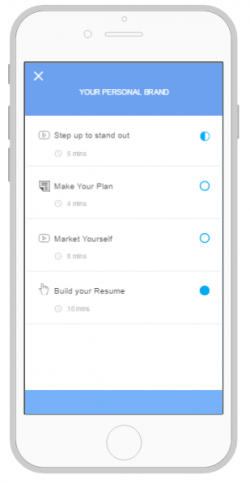 Learners can access all their learning, recommended learning, and resources at one place.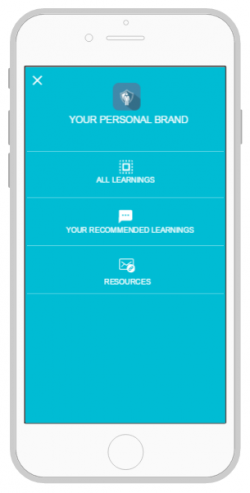 The Impact
As the intended target profile of learners constituted mainly of millennials who are usually on a path to self-discovery and need guidance in terms of enhancing their personal skills, this solution provided them with the right kind of guidance in a way that engaged them.
Learners could experience personalized learning based on their personal traits and preferences.
It provided learners with relevant content and concise information on what they need to be doing right.
The learner analytics provided greater insights about learner preferences and made the training more relevant for the learners.
The elements of gamification and social learning added to the personalization element besides engaging and motivating the learners.
The solution being packaged in a mobile app format helped learners to take the training anytime, anywhere irrespective of whether they were online or offline.
You can also take a look at this video that showcases how personalization of eLearning can enhance the overall learning experience.
Summary
Personalized eLearning addresses one of the most significant expectations that learners have, that is, to have full control on what they want to learn and how they want to learn. This strategy enables us to align the solution closely to learners' interest and learning style and helps them achieve the required level of cognition.
I hope this article provides the required insights on why it makes business sense to adopt personalized eLearning and the case study helps you assess the impact it will create. If you have any queries, do contact me at apandey@eidesign.net.
Related Insights