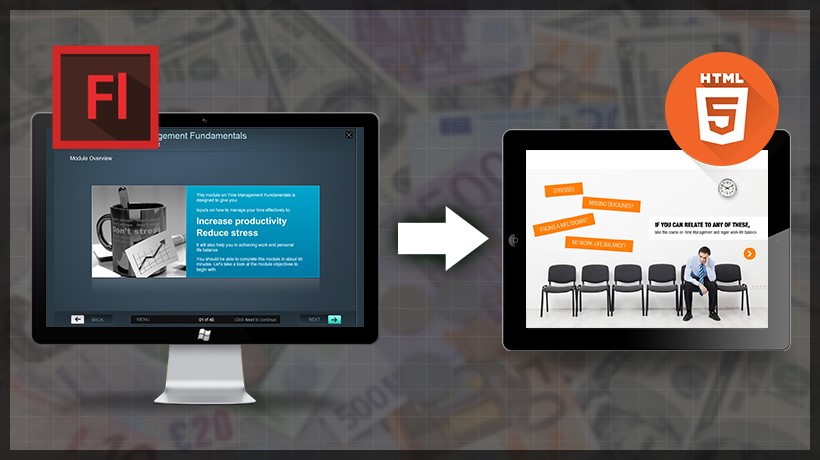 If you are reading this, you have decided to adopt mLearning or mobile learning and are evaluating an efficient way to migrate your legacy Flash content to HTML5. Your objective is to provide enhanced flexibility and a better learning experience to your learners. However, there are several issues that you must be aware of as you move forward with migration from Flash to HTML5. Otherwise, you may be losing money in the process and might not meet the required ROI on your investment.
How To Make A Successful Migration From Flash To HTML5
In this article, I will outline what aspects you should watch out for and how the measures recommended here will help you in making a successful migration from Flash to HTML5.
Let's begin with the two key triggers that include the need for migration and the solution. I quote these two from my earlier article 8 Tips To Convert Flash To HTML5 That Will Help Your Business.
The need.
Over the years, all of us would have created courses that predominantly used Flash for development. With increase in demand to offer mobile learning, you would have realized that Flash courses do not work on most mobile devices. As a result, you need to plan to migrate the existing legacy Flash content to HTML5.
The solution.
HTML5 supports all mobile devices (tablets and smartphones). Additionally, the more recent browsers support HTML5 enabling you to run the mobile-ready courses on desktops and laptops as well. This flexibility now allows a single build to work seamlessly across all devices starting from desktops/laptops to tablets and smartphones.
If we look at the solution, the answer to the challenge seems quite straight-forward. So why the warning that you may be losing money? Let me elaborate this further.
At EI we have been working on migration from Flash to HTML5 for nearly 5 years now. During this journey, as we converted several hundred hours of Flash content to HTML5, we were able to clearly identify what can potentially go wrong and what one should watch out for. To mitigate this, we established some best practices that will ensure that you avoid losing money during the migration effort.
Here is a listing of our best practices. I had covered some of these aspects in my earlier article 8 Tips To Convert Flash To HTML5 That Will Help Your Business and I am quoting extensively from there in the current context.
Prerequisites
The success of any project is in direct proportion to the effort put in the pre-planning stage. We have noted that the success factors during this stage can be enhanced through the following four measures:
Ensure readiness of supporting aspects.
This includes browser support for HTML5, Learning Management System support for mobile learning solutions, and updates to your security policy.
Draw up the priority list of courses to be converted from Flash to HTML5.
Begin the migration exercise by picking a small number of courses, migrate, and perform a user testing for the feedback. More significantly, assess if the impact you had envisioned is being created (that is, better learning experience for the learners).
Validate that all assets and prerequisites are in place.
We often see delays (typically post the pilot phase) on account of all assets not being accounted for and accessible. Again, this must be in place and availability of assets should be in line with the migration project schedule.
Understand the pros and cons (the trade-off between the punch of learning design capability that Flash offers and what HTML5 can offer).
This is probably the most significant aspect to watch out for. The kind of user experience that HTLML5-based designs offer is different from the Flash-based approach. It is very important to understand this, identify the frames that will have a different user experience and have a clear Instructional Design support in place to map certain frames of legacy Flash courses to HTML5.
Scoping
Watch out for the following three aspects:
1. Identify the need: Technology update vs. complete redesign.
As highlighted earlier, the nature of value addition sought in a course or a series can vary. You must ascertain how you should plan the migration. Some of the cues could be:

Recent courses.
These may need technology uplift only (conversion to HTML5 – no Instructional Design and Visual Design enhancements).
Compliance courses.
The migration cycle in compliance courses can also factor for textual updates as well as visual enhancements.
Legacy courses.
You can only re-use the content and then completely re-design (both from Instructional Design and Visual Design perspectives).
2. Identify what more do you want to achieve as you craft your mobile learning strategy.
Besides providing flexibility to the learners to learn on the device of their choice, it is important to identify the other aspects you may want to address (user experience, learning experience, better retention and performance gain, and so on).
3. Identify the devices to be supported (including the testing methodology).
With the ever expanding range of options available for tablets and smartphones, there is no way you can check your HTML5 courses on all. Instead, identify the key models (for both tablets and smartphones) and have exhaustive test cases for this. During release, do caution the learners on this aspect.
Key Selections
Here you need to watch out for two crucial aspects:
1. Select adaptive vs. responsive designs.
You have two options as you begin the migration from Flash to HTML5. You can opt for:
Adaptive.
These are multi-device custom mobile learning solutions that support PCs, laptops, and tablets.
Responsive.
These are multi-device custom mobile learning solutions that support PCs, laptops, tablets, and smartphones.
2. Select the right authoring tool.
Selection of the right tool is a tough decision and this must be done so that it can help you deliver the gains you want to accomplish. Today, there are multiple options to choose from. Besides offering adaptive or completely responsive design capability, the tools can be further classified into rapid development (Articulate Studio 13, iSpring, Adapt, and so on) or standard mobile learning authoring tools (Adobe CS6 with CreateJS, Adobe Captivate, Trivantis Lectora, Articulate Storyline, and so on).
I hope this article will help you in an effective and efficient migration from Flash to HTML5 (without losing money). If you have any questions on how you should create your approach plan for success in this endeavor, do contact me.
You can also refer to my earlier articles on related aspects:
Related Insights