We were ranked #2 by eLearning Industry for the third consecutive year. We're currently the second best eLearning company in the world and this recognition comes at the back of our evaluation against criteria such as:
eLearning content development quality
eLearning expertise
eLearning industry innovation
Customer reviews
Growth potential
Customer retention
THAT, we believe, says it all. Industry experts see the value we bring in and so do our customers. In recent years, we've grown and helped our customers grow – meeting (and exceeding) their expectations with our value propositions.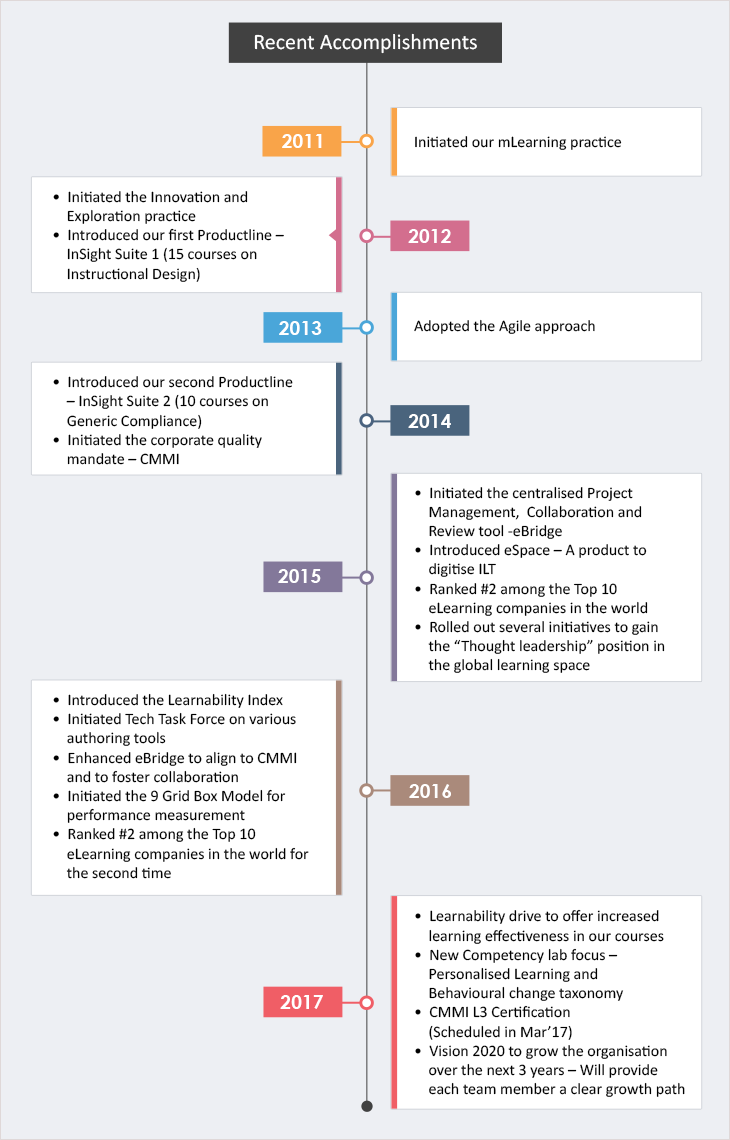 We've got the numbers and they don't lie:
16 Years
Learning Solutions Expertise
83.4%
Customer Retention Rate
48%
New Customer Acquisition Rate
20 Countries
The Breadth of Our Customer Base
490 Hours
Localisation in 26 Languages Developed
9800 Hours
eLearning Developed
1700 Hours
Mobile Learning Developed
23+
Industry Verticals Serviced
For years, we've relished the tag of being a "trusted partner" and this has been possible because of:
Our financial stability over the years
Our long-term relationships with several global organisations
The value our partners see in our solutions
Our talent pool and talent nurturing mechanisms
Our processes and development methodology
Our quest for scalability
Strong Project and Account Management practices
Our sustained focus on innovation
A team that works towards customer delight
A mature development framework optimised for distribute development
Our ability to collaborate seamlessly with teams across the globe and deliver irrespective of time zones
We address varied training requirements, including:
Induction and On-boarding
and many more..
Our tools expertise is aligned to match varied expectations. We have expertise in leading authoring tools for multi-device delivery, including:
Articulate Storyline
Trivantis Lectora
Adobe Captivate
Adobe CS6 with CreateJS
Mohive
Claro
Rapid development tools like Adapt, Articulate Presenter and iSpring
Evolve Authoring
Adapt
Our Custom HTML5 Framework
Our own Course Builder tool
The road ahead
We've got our wish list for Vision 2020 rolled out and we're working on achieving it big time. We intend to:
Enhance our thought leadership position further
This will be possible through:

Exploration
Innovation
Competency Lab initiatives

Be recognised as a key learning solutions provider in the global space
We aim to fulfil this mandate through:

Our learnability framework
A wider Solution Architecting focus
AGILE solutions
Improvement in quality by way of collaboration and optimisation

Craft our solutions, services and products using a human-centred approach
We'll achieve this mandate by:

Providing the right balance between what learners want, what businesses need and what technology can offer
Gaining a deep understanding of user behaviours and providing great learner experiences
Using data and analytics (about the modern user, the customer and stakeholders) and generating insights to fuel our Solution Architecting mandate

Establish a culture of innovation and design-thinking to maximise customer experience
We'll do this through:

Research on future trends in user behaviour, interaction models and technology
Initiatives to enhance collaboration between internal teams and customers/SMEs
Institutionalisation of innovation
CMMI Level 5 Corporate Quality certification with increased focus on Innovation and process improvement

Continue our efforts to create EI Design as the "preferred workplace"
We'll make this happen by:

Providing the right amount of work-life balance for our employees
Making them aware of modern trends in technology
Having in place buddy programs and organisational training frameworks
Recognising employees for their contributions