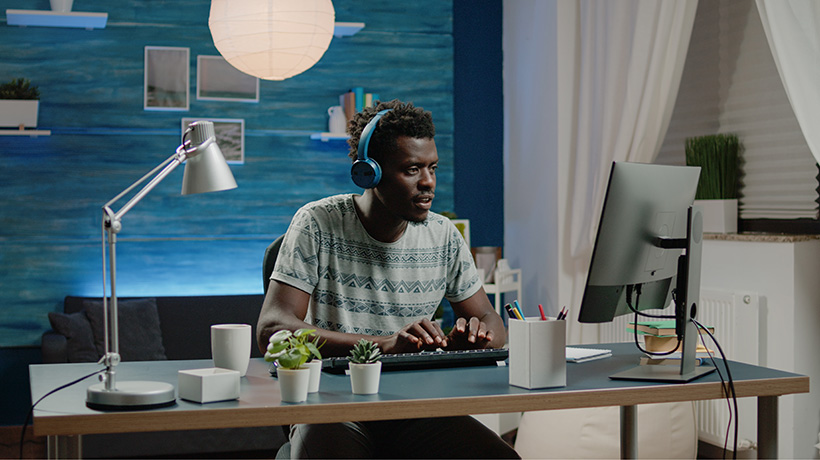 Working-from-Home (WFH) is a paradigm shift from the "working at the office" mindset. This shift to a hybrid workplace impacts all segments of work – including learning. This article discusses how immersive learning can deal with those challenges.
What Is Immersive Learning?
Immersive learning is an excellent strategy for connecting physically dispersed learners in hybrid workplaces, to deliver learning that keeps them engaged throughout their learning journey. Working apart from traditional team structures, especially for geographically dispersed teams, denies employees a chance to access conventional support systems, such as on-premises trainers, instructors, mentors, and 'go to' learning resources. L&D teams can bridge that gap by designing and implementing organizational-wide immersive learning experiences.
What Are the Benefits of Immersive Learning?
In traditional in-class or virtual asynchronous instructor-led learning sessions, there's always someone (an instructor or moderator) to engage and challenge learners. While disengagement does occur in these settings too, it's typically easier for moderators to quickly re-engage "detached" learners and bring them back to their learning journey.
The hybrid workplace has changed that, with more organizations adopting asynchronous and self-directed learning programs. The root cause of isolation and disengagement, among hybrid working populations, is the everyday life distractions that they encounter, which aren't present in a traditional office environment. Chief Learning Officers (CLOs) and L&D Heads must respond to these unique learning challenges that hybrid teams encounter due to being geographically and physically apart.
You can be instrumental in delivering a wide range of benefits to your organization by adopting immersive learning, including the following:
"Immersiveness," by definition, breeds higher learner interest and engagement.
It promotes social interaction and helps alleviate the sense of confinement (at home) that remote workers often feel.
It infuses life into otherwise lifeless learning.
Given the prevalence of distractions in the hybrid workplace, it helps enhance learner focus by reducing extraneous "noise."
It fosters personalized learning and learner-centricity.
It enhances comprehension.
It contributes to improving learning retention.
It offers safe learning environments and practice zones.
Organizations that embrace it experience increased return on investment (ROI) for initiatives supported by immersive learning.
What Are the Techniques You Can Adopt to Create an Immersive Learning Experience?
If you are in an L&D leadership role, you must encourage your L&D teams to explore a range of strategies and tactics to design and produce immersive learning experiences for your employees:
The following immersive learning content development strategies do not require the use of high-end technology:
Gamification – the use of simple game mechanics, such as points, challenges, and leaderboards, in a learning environment.
Videos/Interactive videos.
Workplace-specific content that relates learning concepts to real workplace conditions, as opposed to hypothetical ones.
Real-world scenario-based learning that helps hone a wide range of skills that employees use on a day-to-day basis at work.
Case study and story-based learning.
Personalized learning journeys that encourage learner-centric training and development.
Self-paced learning interjected with flipped classroom/workshops/webinars to break the monotony that remote learners often experience.
Types of technologies that are available to create immersive learning environments include:
Augmented Reality (AR) to inject real-world situations and settings into immersive learning experiences.
Virtual Reality (VR) to simulate learning experiences in a virtual setting.
Mixed Reality (MR) that overlays synthetic content within a real-world context.
Metaverse-driven immersive, 3D-simulated virtual worlds that use digital objects to represent real situations, places, personas, and people. L&D teams may also leverage Artificial Intelligence (AI) to interact with the Metaverse to create immersive experiences, such as chatbots, digital avatars, and engaging interfaces.
Combined, we often refer to these immersive technologies by an umbrella term called Extended Reality (XR).
How Do You Implement Immersive Learning in Your Organization?
Making learning immersive is a four-step process:
Step 1 – Begin by exploring if immersive learning is right for you.
Leverage your Training Needs Analysis and Learner Needs Analysis to understand if immersive learning is the right option for your training needs. This will also help you decide the degree of immersive learning to introduce.
Next, evaluate the budgetary needs associated with implementing immersive learning.
Finally, select the one that suits your training best as per TNA, LNA, Learning Objectives (LOs), and budget.
Step 2 – Identify areas that will benefit from immersive learning.
To do that, you must evaluate the use of immersion.
To foster better knowledge transfer: The more realistic the learning environment is, the better it serves to help learners understand complex concepts.
To help employees learn by doing by creating safe practice zones: For instance, even if trainee executives encounter a serious failure during a simulation of the corporate risk mitigation strategy, there's no real harm done. Learners simply regroup and start from scratch!
For creating environments for learners to apply their learning in real-world contexts: Imagine how many "live" patients a heart surgeon needs to perfect his or her skills. Immersive learners can apply their learning on "hundreds" of virtual patients, experimenting on a variety of real-world situations, until they get it right!
Step 3 – Design immersive experiences by focusing on learner-centricity and human-centered design approaches.
Key points to consider include:
Personalization: The degrees of individualization and customization required for each learner.
Scalability: Your plans for a broader, org-wide roll-out of immersive learning.
Self-directed learning: The amount of autonomy you wish learners to exercise by taking charge of their learning experiences.
Step 4 – Assess whether you have met your immersive learning goals, plan the right measurement and evaluation strategy.
You can do this by:
Parting Thoughts
When it comes to engaging remote learners and encouraging them to pursue their learning journeys, L&D teams have their work cut out for them. It's hard enough to relieve their sense of isolation. But couple that with the distractions, disturbances, and interruptions that a hybrid workplace entails – and CLOs have an uphill battle. I hope the immersive learning techniques in this article help you design highly effective learning interventions, which is quite an effective tool in addressing those challenges. It helps learners maintain focus, ensures continuous learning for effective skill building, and delivers better ROI for the business and the learner.
Read More
Related Insights