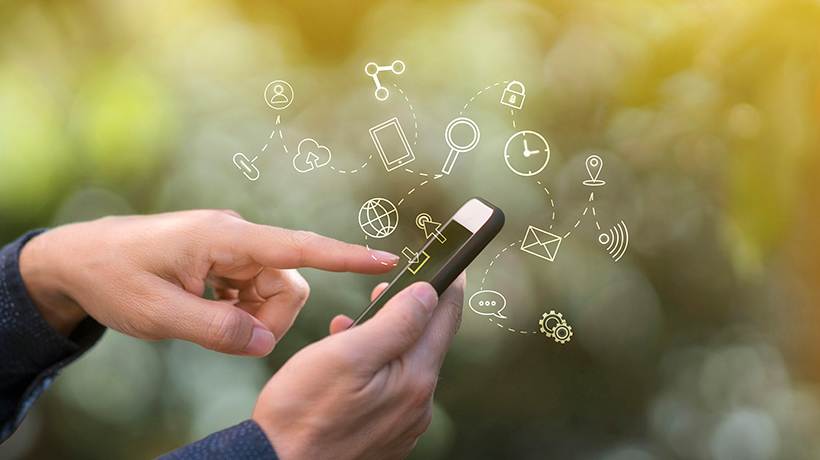 Gamification for serious learning has been used for nearly a decade but there is still a question mark on its impact and ROI. In this article, I outline the value it offers and list 5 key Gamification trends, packed with tips and ideas you can use.
Gamification is the use of principles and key elements of gaming to deliver the required learning objectives. The key elements of the Game mechanics that are a part of Gamification for learning include: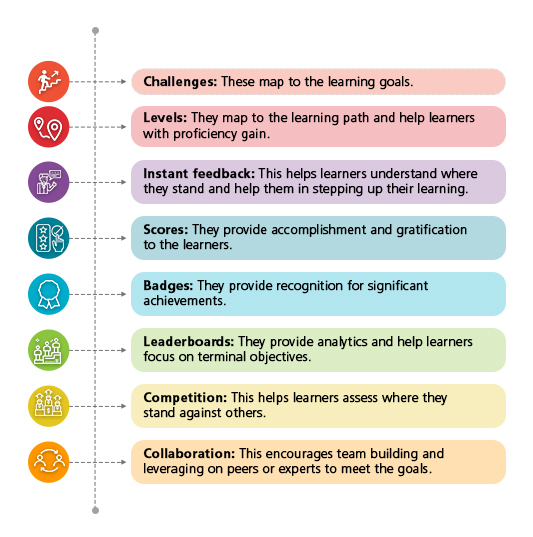 While "Have fun as you learn" resonates well with learners, these approaches are often looked at with skepticism by the corporates. Of the various myths associated with what Gamification can do/can't do, I list the three I have encountered the most:
Gamification in eLearning doesn't really help learners learn.​
Gamification adds fun to learning but does not drive learner performance.
Gamification appeals only to millennials.
The fact is that well-designed Gamification based trainings provide help to both organizations and learners at many levels.
The value from the learners' perspective: The value Gamification based trainings bring in is re-affirmed by user feedback too. I list part of the findings from Talent LMS's Gamification at work survey in 2018:
80% of employees enjoy using Gamification software at work.
Employees feel that Gamification makes them more productive (87%), more engaged (84%) and happier (82%) at work.
75% of respondents who play games often were more likely to agree that they'd be more productive if their work was made more game-like.
Older employees are more motivated by game elements than younger employees
The value from the organizational perspective: The use of Gamification for learning provides several benefits to L&D teams:
Gamification is a very engaging learning strategy and when crafted right, it helps the L&D teams meet the learning outcomes (similar to other strategies used in traditional eLearning).
Because of a higher engagement quotient, a Gamification strategy provides higher completion rates as well as a better recall and retention.
Gamification can be applied to meet various cognition levels—to help learners learn, practice, apply, or upskill. When applied over a period of time (spaced repetition), it can trigger the desired behavioral change.
Without further ado, here is my list of a few Gamification Trends that are worth a closer look.
For each Gamification trend, I provide practical tips on why and how they can be used.

Gamification Trend #1: Maturing of Gamification for learning
This year shows a maturing of the usage of Gamification without the hype we have seen so far. It is coming of age and is moving beyond badges and leaderboards.
Today, it is much easier and quicker (and cheaper) to craft effective Gamification solutions on account of the maturing of authoring tools. There are several Use Cases that show what strategy works and what doesn't. There is also a shift from Game based learning to using Gamification techniques at various levels.
Tips
Much in line with traditional eLearning, you can use elements of Gamification:
For skill building and proficiency gain.
To help application of learning on the job.
To influence behavioral change (through a longer-term implementation).

Gamification Trend #2: Acceleration in adoption with an increase in Mobile Learning and Microlearning
The year is also witnessing an acceleration in the adoption of Gamification as more organizations opt for Mobile Learning and leverage on Microlearning based training formats.
Tips
You can opt for Gamification approaches that are bite-sized and optimized for smartphones. They provide learning on the go and can be designed to facilitate application on the job or help learners in proficiency gain.

Gamification Trend #3: Wider range for application areas
With more and more successful Use Cases, Gamification techniques are being applied at various levels.
Tips
You can use Gamification (partial or full) as follows:
To make traditional eLearning courses interesting by using partial Gamification techniques.
Fully Gamified approaches to address varied training needs (includes formal, informal, collaborative, and performance support intervention).
To support and pep up ILT programs through Gamified learning aids.
Gamified portals.
Game based learning.
NOTE: I see an acceleration in the adoption of Gamification, particularly in the first three formats rather than the Game based learning. The Gamified portals can be applied for certain niche applications. We have used them for Induction and Onboarding with success.

Gamification Trend #4: Usage across varied corporate trainings
With the maturing of the Gamification practice, partial or fully Gamified strategies are being used to address most of the corporate training needs.
Tips
There are several Use Cases that showcase the successful implementation of Gamification for learning across various corporate trainings. You can certainly evaluate using Gamification for:
Induction and Onboarding.
Sales training.
Leadership training.
Professional Skills training.
Application Simulations training.
Compliance training.

Gamification Trend #5: Moving toward the use of Next Gen Gamification techniques
Next Gen Gamification techniques reflect a combination of several best sellers like Microlearning and Apps for Learning to deliver impactful training.
Tips
The adoption of these techniques will help you uplift the impact of your trainings manifold.
Longer-term Gamification: Behavioral change requires the usage of Gamification over a long period of time. You can create a learning path that keeps the learner aligned to these goals over multiple weeks/months/quarters.
Multiply the impact: To make the learning journey more interesting, you can add immersive approaches like Virtual Reality or Wearable Tech into your fold.
Leverage on Microlearning based Gamification: Give the learners a "bite-sized" Gamification experience that can be consumed on the go. These could include a challenge (a set of Gamified questions) or a Micro-Game (mapping to a specific outcome).
Personalized Gamification: Based on the current knowledge (validated through a Pre-Test), you can offer personalized learning and Gaming paths for learners.
Social Learning based Gamification: Let the learners collaborate with peers to meet a challenge. Or, provide the support of experts to help them solve a problem.
Invest on niche Gamification portals: These can be designed to offer customized learning paths and elements of Gamification, Microlearning, and Social Learning.
So, how can you make Gamification based training work for you?
To maximize the impact of Gamification based trainings, it is good to work with a bigger picture and use these techniques at various levels. Here are some measures that we have successfully used:
Step 1: Identify barriers (intrinsic or extrinsic) that might be hindering the required changes and thereby improve the learners' motivation levels.
Step 2: Generate interest for learning by providing relevant and personalized learning paths.
Step 3: Create effective learning experiences using scenarios, simulations, and challenges.
Step 4: Provide feedback for performance improvement that can help learners pause and think or recalibrate their way forward.
Step 5: Use rewards and recognition to sustain the learners' momentum and motivation and ensure that they walk away with a sense of accomplishment.
Step 6: Implement repetition and reiteration for a successful change in behavior
Gamification is a great strategy to provide an immersive learning experience. When designed well, it provides an engaging learner experience that is action-oriented, aligned to learning goals, and helps learners walk away with a sense of achievement.
I hope this article provides you the pointers to increase the use of Gamification based learning solutions in your organization. If you have any specific queries, do contact me or leave a comment below.
Read More
Related Insights