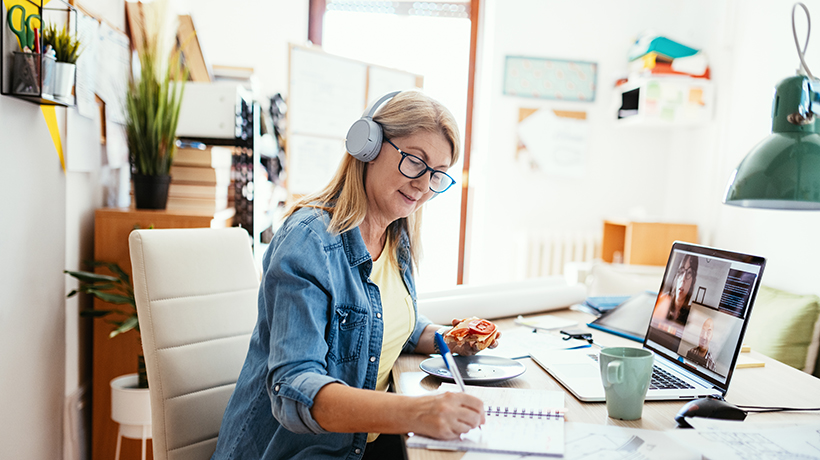 The COVID-19 pandemic has changed the workplace dynamics, and we are now witnessing the "new normal" of remote operations. While the percentage of remote learners may change over time, it will clearly be an integral component of the workplace in the future.
The high impact of the trainer-led classroom sessions is difficult to match when the entire audience is working remotely. However, by adopting the right tips and strategies that engage the remote learners, this goal can be successfully met through Virtual Trainings.
In this article, we answer some of the most frequently asked questions on Virtual Training.
What is Virtual Training?
Virtual Training shouldn't be confused with online training or distance learning. L&D professionals deliver Virtual Training using simulated learning environments. Instructors and learners connect remotely.
The training occurs using a combination of these Virtual Instructor-Led sessions and Self-paced Trainings that leverage strategies, such as Simulation, Gamification, 3D, Virtual Reality (VR), and Augmented Reality (AR).
What is the value of Virtual Training in the changed workplace dynamics?
Given the fact that classroom-based training may not be feasible for the near future, how should this be flipped proficiently to a remote mode to offer the same value? The answer lies in adopting Virtual Training. Delivering high impactful training is a bet you can win if you implement the right strategy – we can help you in this mandate.
While the trigger for rapid Virtual Training Transformation is on account of the changed workplace dynamics (work from home), it offers value to learners at several levels. It offers the flexibility to learn when/where you want (especially from home!). It is scalable and aids learning requirements of small as well as expanding, large remote workforce. It is adaptable in the sense that it is available on multiple learning devices, platforms, and operating environments.
What are the benefits of Virtual Training?
The benefits of Virtual Training are:
Flexibility: Learn when/where you want (especially from home!).
Scalability: Supports learning needs of small as well as expanding, large remote workforce.
Adaptability: Is available on multiple learning devices, platforms, and operating environments.
Customization: Is easily configurable for different roles/responsibilities.
Personalization: Delivers unique training for each learner as opposed to a one-size-fits-all approach.
Cross-generational workforce support: Boomers, Gen-X'ers/Y'ers, and Millennials can each create unique learning paths to support their individual learning styles.
What are the key challenges in engaging remote learners through Virtual Training programs?
The key challenges and concerns associated with Virtual Training Transformation in the current pandemic situation primarily revolve around engaging the remote learners.
With the shuffle in work dynamics and the underlying anxiety, it may be difficult to get learners' mind share and have them fully engaged to the Virtual Training, especially in the absence of a trainer.
With several distractions in a remote environment, it might become difficult for learners to retain the focus on Virtual Trainings.
If the analysis of the new medium (VILT delivery platform) was not done properly, the degree of learner participation and engagement may become a challenge and would not hold the attention of the learners.
For complex subjects, the required learning impact may be missing as learners may not receive the attention they were receiving for clarification and queries resolution in a classroom environment.
With missing interactions and group discussions that involved active engagement from learners, the Virtual Training mode might drive learners into a passive mode. This may even reduce the efficiency of learning.
The lack of a facilitator may not apparently seem as a bottleneck, but it poses the biggest concern as learners may soon disengage due to the lack of human touch.
How do you create a Virtual Training program?
The COVID-19 pandemic has changed the workplace dynamics, and we are now witnessing the "new normal" of remote operations.
As an extension, it clearly heralds the need for L&D teams to have a clear strategy toward the Virtual Training program transformation:
Plan a progressive transition of classroom/ILT sessions to the online mode. This journey could feature:

ILT to Virtual ILT (VILT). This would map to:

Synchronous connects or live sessions.
Asynchronous connects via online access to VILT recordings and supporting collateral (prep material and handouts).

ILT to Self-paced or Fully Online mode.
ILT to an optimal Blended mode that offers VILT with a Self-paced or Fully Online mode. This would again leverage VILT sessions in synchronous/asynchronous modes.

Factor for tips and strategies that will engage remote learner teams in each mode.
Draw up a long-term, sustainable action plan that covers not only the transition but also has crucial measures to ascertain:

The effectiveness of the training in the new mode.
The training impact.
The demonstrable value for learners and business – matching or exceeding what was being met in the classroom/ILT mode.
What are the options to consider as you convert the classroom/ILT sessions to Virtual Trainings?
The Virtual Training Transformation can be handled in three formats:
Instructor-Led Training (ILT) to Virtual Instructor-Led Training (VILT) migration: Leveraging the platform to create the required impact and learning gain in the new mode.
Blended Training: Building up the VILT sessions with components of Self-paced, Online Training or Mobile Learning through their expertise in arriving at the right blend.
Fully Online (Self-paced Training): Offering highly immersive learning approaches such as Microlearning, Mobile Learning, Gamification, and much more.
Remember: In your Virtual Training Transformation from classroom/ILT mode, you cannot map the classroom/ILT session "as is" to create an identical or better impact and improve Virtual Training efficiency.
Why is Virtual Training an imperative now?
As a result of the ongoing pandemic, employers are responding by changing their work paradigms to embrace greater work from home models. As a result, the L&D teams are looking at how to deliver their training programs remotely.
In the context of this new reality, where the physical distance between learners and instructors is the hallmark, Virtual Training offers the ideal solution. Why? Because it blends perfectly with the objectives that distance/on-demand/remote learning seeks to achieve.
Organizations that have a well-thought-out Virtual Training strategy in place will have an edge over the competition.
How to deliver Virtual Training?
Here are 5 approaches to consider on the journey to transitioning from ILT to VILT/Blended/Self-paced Online Trainings:
Move ILT to VILT: You would be able to transition some training programs from a 100% face-to-face session to Virtual Training where the sessions are delivered by the instructor virtually. It makes sense to offer the Pre and Post session material online.
Enrich and enhance VILT: You can offer interactions and collaboration through platforms as you transition from ILT to Virtual Training in the VILT mode.

These could include polling questions, breakout group tasks, virtual chats, virtual discussions, and so on.
You could further enrich the session by offering online resources (prior to and post the VILT sessions).
You can retain the connect between learners and with the instructor through virtual forums.

Repurpose VILT session recordings: Once the Virtual Training (VILT session) is completed, its recording can be made available to the learners so that they can review and reuse it at their own pace.

You can re-purpose the longer duration session recordings into a series of Microlearning nuggets by adding Intros, Outros, and Assessments.
Not only does this approach make the learning shorter and bite-sized but these nuggets can also be SCORM-compliant.
With this approach, you can track the learner's progress. Based on the assessment scores, personalized feedback can be provided to the learners.

Deliver Blended Learning: You also have the option to blend VILT with Self-paced Online Training (Mobile Learning). This enables learners with a greater control of their learning journey. There are interesting variants that can be added to the Blended mode. One of them is the Flipped Classroom – where learners watch an online session (VILT – that is live or recorded) and collaborate and have discussions or activities with peers online.
Transition to Fully Self-paced Training: Today, you have a wide range of options to offer Virtual Training by going Fully Online and offering a completely Self-paced Training, in a Mobile Learning

You can opt for its more traditional format (Macrolearning) or a series of shorter, bite-sized Microlearning.
Furthermore, you can opt for Rapid/Semi-Custom/Fully custom approaches for development to match your budget and the desired learning experience.
Make sure to leverage different learning strategies that create sticky learning and facilitate effective application – including customized learning plans, frequent progress check-ins, review and recall elements, and learning analytics-driven counseling and support.
How to plan a strategy for Virtual Training Transformation?
The Virtual Training Transformation journey needs a holistic re-think and recharting of the way forward. Here are a few aspects that will help you put together a strategy for success.
Redo the Training Needs Analysis and match the right mode to each training component.
Create a master transition plan of classroom/ILT sessions to the VILT or Blended or Online mode.
Factor for change management and technology pieces:

Adaptability of all parties (training teams and learners) to the changed dynamics.
Adoption of the correct pedagogy that will drive learning, its application, and behavioral change through training – without the physical intervention of a trainer.
Technology and accessibility issues for remote learners.
Identify the functions and features of available virtual delivery platforms.

Draw up a long-term, sustainable action plan to ascertain:

The effectiveness of the training in the new mode.
The demonstrable value for learners and business – matching or exceeding what was being met in the classroom/ILT mode.
Measuring the training impact – through L&D Metrics and Business Metrics.

Follow-ups: The goal of any training is to change behavior, and this is best accomplished when:

There are follow-up assignments, like labs and practice.
There is room for practice – coupled with expert feedback.
How to convert ILT sessions effectively into a VILT mode?
Here is a list of best practices that will help you transition your existing ILT sessions to an engaging and effective VILT mode: 
Create manageable milestones: Create shorter and manageable chunks.
Look out for the right option as you remap the ILT to VILT:

A series of sessions – with each session not exceeding 30-45 mins.
A learning journey with live sessions, breakout sessions, activities, re-grouping, and interactions with peers/facilitator.

Highlight the value of the Virtual Training: Use short nuggets (Microlearning Videos/Infographics or even simple Newsletters) as a precursor to showcase the value of the Virtual Training and generate higher engagement.
Learner interaction: Re-mapping the existing classroom interactions to the new medium through platform features like:

Polling questions and chats.
Breakout sessions, exercises, and re-grouping with remote learners' presentations.
Multiple virtual sessions over a period with interjections of supporting materials or exercises.
Interactive quizzes that can be tracked if the VILT session delivery is integrated through an LMS.

Reward learners: Rewarding remote learners with a certification is a motivator to:

Complete a program.
Look out for more Virtual Trainings in the future.

Social Learning: Offering platforms to discuss and collaborate using chats, discussion boards, breakout rooms, and peer-to-peer feedback.
Continue the connect with remote learners: Retain the connect with remote learners by facilitating sessions between other team members or with the facilitator/instructor.
Take feedback for continuous improvement: Virtual Training is a moving target – Take feedback to improve and hit the desired engagement quotient.  
What are the challenges trainers face with existing VILT programs?
Many existing VILT courses are being modeled on legacy classroom-based ILT materials.
If they were "straight ported" from the ILT to VILT mode, they are likely to lack elements of virtual interaction and engagement that remote learners expect.
Here are some of the challenges that must be addressed before you transition your ILT to creating engaging VILT programs:
The platform: The platform you choose to host/deliver your Virtual Training can either make the program an unqualified success or a resounding failure. Some existing platforms limit the scope and delivery of higher-quality Virtual Trainings. Selecting the right platform requires working with a cross-sectional team of vendors, IT experts, trainers, and representative virtual learners.
The technology: Instructor-Led Virtual Training is more technology-dependent than classroom-based learning. Unfortunately, the underlying technology, which supports many current VILT platforms, may also prove to be a roadblock to the successful delivery of Virtual Training. Non-tech savvy learners and instructors, lack of vendor support, and outdated infrastructure – all collude to defeat the stated objectives of well-intended VIL-learning programs.
The size and scope: One common challenge with existing VILT initiatives is the size of learning audiences and the scope of the training. Too big an audience (hundreds of simultaneous learners) and too broad a scope (dozens of modules – each with 20 or 30 lengthy lessons, scores of assignments, hundreds of quizzes, and tests) tends to diminish the engagement and effectiveness of today's VILT.
The focus: Many topics for VILT might not be appropriate for such learning. For instance, where modified behavior (as a result of training) must be observed and validated to certify success, VILT is not as conducive as in-person training. Such training must therefore be recalibrated and refocused to make them VILT-friendly.
Existing VILT programs that lack these aspects just don't cut it anymore. Those models don't work to sufficiently challenge and engage learners any longer.
Today's VILT environment requires a different level of interactivity – the type that Gamification delivers and drives a high remote learner engagement.
What are the best practices for a VILT mode?
Ensure you have a feature-rich modern platform for your Virtual Classroom or VILT. An ideal one would support easy access, screen share, integration of different learning assets, polling, hand raising, breakout areas, and so on. You can also integrate highly immersive interactions like Whiteboarding, Design Thinking, and Game based activities.
Limit your session to a maximum of 45 mins (preferably for 30 mins) with a break planned in between. Keep some buffer to cover any unprecedented time loss during the session.
Use open polls, status options, chat boxes, breakout areas, and similar features to make the session interactive and engaging.
Have the session rules laid out in simple and clear sentences. This may include directions for breakout rooms, use of whiteboards, chats, and audio and video devices.
Encourage all participants to dial in even if they are connected through VoIP. This will help avoid any complications that may occur due to poor Internet connection. Provide the pre and post session resources online along with the recording of the session that learners can peruse.
Use a good microphone or headset. Encourage learners to use audio options.
Do not overload your slides with excess information. Use minimal text on the screen and spell out the rest yourself, so that they stay hooked.
Keep animations to a minimum as they can be tricky during the online presentation.
What is immersive learning?
Immersive learning techniques are used across all modes of training delivery – from classroom to Blended or Fully Online mode. Given the mode of delivery, the nature of content and the intended cognition level to be achieved, the approach, and the strategies vary.
What is common across various modes of training delivery is the fact that well-crafted immersive learning techniques help you achieve:
Positive learner reaction.
Higher engagement.
Better completion rates.
Higher recall and retention (a more sticky learning experience).
Improved application of acquired learning.
Change in thinking.
Behavioral change.
What is immersive learning – in the context of Virtual Training?
Immersive learning (in the context of Virtual Training) is essentially training that's facilitated through a learning environment that moves learners away from just learning through PPT, visuals, video, and audio and trains them by using virtual and artificially augmented environments.
These environments mimic the settings where learners will not only learn better but also apply the knowledge learned through such training.
Through specific measures (like spaced repetition), they can effectively trigger behavioral change too.
Why should you invest on creating immersive virtual learning experiences?
Virtual learning entails a different training paradigm, one where learners are fully immersed in the learning – more so than other training forms. The COVID-19 crisis makes delivering immersive virtual learning experiences even more imperative.
Connecting with distant learners, and keeping them engaged throughout the learning journey, is a challenge for L&D professionals. For corporate learners, the ongoing COVID-19 pandemic has created an additional challenge – How to make the best of training from the comforts of your living room or home-office, as opposed to the desk in your work cubicle.
This new learning environment means trainers need to work "differently" to keep learners engaged. And, given that this non-traditional learning environment requires an equally "non-traditional" training approach, L&D teams must look at offering more immersive virtual learning experiences.
What are the benefits that immersive virtual learning offers?
Immersive learning offers all the benefits that traditional virtual learning delivers, but it has a host of additional advantages, including:
Personalized learning: Immerses learners in uniquely customized learning environments (for example, performing work using accessible features of an equipment for workers with special needs).
Do and learn: Interactivity results in more effective knowledge transfer.
Realistic learning: Produces learners better equipped to take on real-world challenges.
Fail earlier: Ability to simulate a broad variety of scenarios and prepares the workforce to handle remotely possible, yet difficult/challenging situations.
Risk-free training: Eliminates training risks associated with high-risk learning (for example, dealing with highly contagious or flammable substances, performing high-risk surgery etc.).
Data-driven interventions: Harvesting real-time data on learner interactions. This allows for better and more focused intervention and remedial action.
Better ROI: Finally, the focus is primarily on more effective application of knowledge, which typically delivers positive impacts on business outcomes and, therefore, better ROI.
What immersive virtual learning strategies can you use as you opt for a Fully Self-paced Online mode?
To create effective and immersive virtual learning experiences, consider leveraging a Learning and Performance Ecosystem based approach for your workforce. This mode works on the principle of continuous learning (rather than discrete learning) and provides value-adds to the learners over distance.
Here are 6 immersive virtual learning strategies that you can use as you opt for a Fully Self-paced Online mode:
Capture attention about training opportunities – Leverage Newsletters and Teaser Videos to highlight the significance of the initiative.
Build awareness around What's In It For Me (WIIFM) – Highlight what value this training provide to the learners.
Opt for immersive learning strategies for Formal Training – These could include strategies like Gamification, AR/VR, Scenario Based Learning, Interactive Story Based Learning, Branching Scenarios, Complex Decision-making Simulations.
Augment Formal Training with Performance Support Tools (PSTs) or job aids – For knowledge application/assisting the learners at the moment of need.
Post the training,

Reinforce learning to minimize knowledge erosion (addressing the Forgetting Curve).
Continually challenge workers with more complex and advanced learning content.
Provide practice zones where learners can hone their skills.
Reconnects – Additional cues through related curated assets to keep the learning journey going.

Offer Social or Collaborative Learning – Provide opportunities so learners can learn through peer networking and other group forums – both within and outside of the work environment.
What tips and strategies can you use for creating immersive learning experiences?
The transitioning from classroom-based training to 100% online, immersive virtual learning must be gradual, and each phase of transition demands different approaches to create immersive virtual learning experiences. For instance:
Initially, your strategy must support the switch from Instructor-Led Training (ILT) to largely Virtual Instructor-Led Training (VILT).

Tip 1: At this stage, you need to map the interaction and participation techniques used in the classroom setting to what the VILT delivery platform enables you to do.
Tip 2: You can also identify new interactions that are now feasible – that wasn't the case with the classroom mode.

Over time, you'll transition to a Blended mode, with employees learning largely on their own (Self-paced), but also supported by VILT when required. This would require a different set of strategies.

Tip 1: At this stage, not only can you leverage the interaction and collaboration features of the VILT delivery platform but you can also augment them with the wide-ranging immersive techniques that Self-paced training offers.
Tip 2: You can opt for Mobile Learning or Mobile Apps for learning and offer a Microlearning based learning journey that can be personalized. Additionally, you can pick from wide-ranging strategies, including Gamification; Scenario Based Learning; Complex, Branching Simulations; or go for super immersive techniques like AR/VR techniques.

As you then move to Fully Online Virtual Training, there'll be intermediate phases where you enhance, enrich, and re-purpose content throughout your journey to create immersive virtual learning experiences.

Tip 1: As highlighted above, you can pick from any of the abovesaid strategies to create immersive virtual learning.
Tip 2: Additionally, you can offer connects to the learners that help in reinforcement, practice, proficiency gain, and so on.
Related Insights