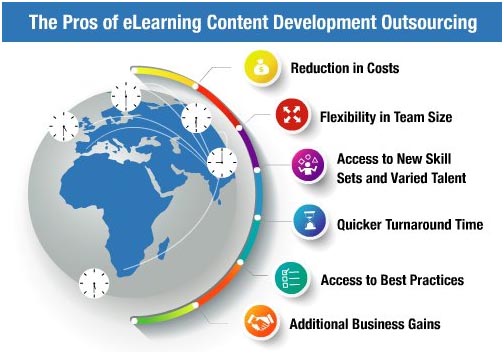 Today, outsourcing content development is a fairly well established practice for several organizations. However, what works for one organization and helps them leverage on an offshore partner may not work for another. So, how can you determine if you should evaluate eLearning content development outsourcing? The answer lies in looking at the pros of content development outsourcing and comparing them against the triggers of your outsourcing need. In this article I will outline the pros of content development outsourcing and how you can use these pointers and arrive at the right strategy to outsource and create a successful partnership that you can leverage on.
The Advantages Of eLearning Content Development Outsourcing
As head of an organization that has been a trusted offshore eLearning content development partner for several global organizations, I will dip into my own experience to outline the pros of eLearning content development outsourcing.
Let me begin with an important input from my earlier article How to choose a custom eLearning company in India? where I had outlined the factors that have a bearing on your decision to outsource.
The Triggers For eLearning Content Development Outsourcing
Scaling (to handle higher volumes).
Reducing the time to market.
Reduction in cost.
Access to talent that you do not have.
Addition of more innovative solutions to your portfolio.
Having clarity on why you want to outsource and what gains you seek from each of them is vital in creating an effective outsourcing strategy.
Top 6 Benefits Of eLearning Content Development Outsourcing
Reduction in costs.
This is certainly the first and the probably the biggest benefit of outsourcing. Through outsourcing, you can get access to large talent pools that map exactly to your requirement and yet pay a fraction of the cost that you would incur if you were to hire them in-house.
Flexibility to scale the team up and down.
eLearning content development outsourcing offers you greater flexibility by allowing you to rapidly scale up and down the required team exactly as per your business dynamics.
Access to new skill sets and more varied talent in a given domain.
With rapidly changing learner expectations, tools and technologies it is not possible to have all combinations of skills that you or your customers may require. Outsourcing offsets this challenge and offers you the flexibility to have more than one partner to be able to address varied solutions.
Reduction in development time leading to a faster turnaround time.
Typically, an outsourcing partner will have a dedicated team addressing your requirement including focus on shorter development cycles. This gives you a significant edge in managing a quicker turnaround time for your projects particularly when your internal teams may not be available.
Access to best practices leading to optimization of your development practices.
Remember your partner will be servicing needs of several organizations and therefore, is more likely to have development practices that are optimized for globally distributed development. You can use these cues to enhance your own development practices further.
Additionally, you will get the following business gains:

Addition of more innovative solutions to your portfolio. You can leverage on your partner's skills to enhance your portfolio to service more varied or more complex needs.
Enhanced focus on your customers.
Leveraging on the partner's development strengths enables you to bring higher focus on customer interfacing activities rather than day to day execution. Besides creating better customer satisfaction, this may enable you to address new opportunities.
I hope this article was useful in reinforcing the pros of eLearning content development outsourcing. Remember to tie these gains back to your triggers or needs to outsource and you will arrive at the right decision.
Read More
Related Insights