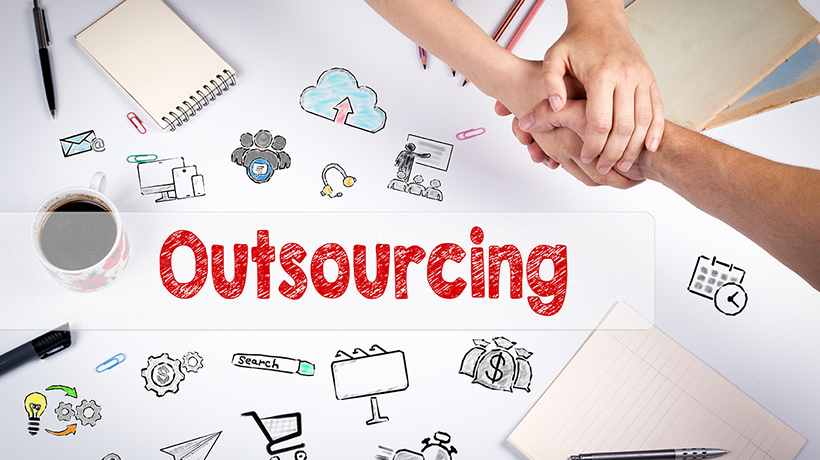 To align with a rapidly changing learningscape and pressure on training budgets, organizations opt for outsourcing eLearning development. In this article, I share 10 pointers to create a successful and highly effective eLearning outsourcing strategy.
How To Create An Effective Outsourcing Strategy For eLearning
Outsourcing eLearning development is an established model, and it has been used for the last couple of decades. As a result, there are plenty of pointers available that you can use to reach out to potential partners to outsource work to as well as guidelines on how to evaluate and select.
At EI, we have been offering these services for over 16 years and have had the privilege of working as partners for several organizations across the world. All these relationships (some of them over a decade-long) began with small projects and over time have grown to strategic partnerships.
If you are reading this article, you are either evaluating the outsourcing of your eLearning development for the first time or are looking for new partners. What has changed and what more needs to be done so that you can build for success?
In this article, I will share my practical insights on this aspect (the changing landscape that is triggering the need to change your learning strategy) that would help you in selecting a new partner who will align effectively to meet your mandate.
What Is Triggering The Need To Outsource Your eLearning Development?
While there can be several reasons to outsource, most often, it is a strategic investment to stay competitive. It certainly brings the costs down. However, today's need is to achieve lower costs plus significantly higher value through outsourcing strategy for your eLearning.
Upside

You have more options to pick from today-you have a wide range of potential partners onshore, nearshore as well as offshore.
Downside

Your needs are highly dynamic. While you may accomplish the part of evaluation and selection of the partner to outsource your eLearning development, how do you ensure that the same partner will be able to keep pace with the changing landscape? So, how can you build for success? This is exactly where I hope my pointers would help.
Before I share these pointers that can help you enhance your eLearning outsourcing strategy, let me begin with the following 3 key aspects that are part of your outsourcing process:
Step 1
Is outsourcing the right approach for you?
Step 2
What are your options?
Step 3
Are there any guidelines or pointers that can help you create an effective eLearning outsourcing strategy?
Step 1: Is Outsourcing Your Online Training (Custom or Bespoke Content Development) The Right Approach?
Before you embark on the journey to evaluate a potential partner to outsource eLearning development, consider the following points:
It is vital to look at the reasons why you want to outsource. Identify the gains you seek as you outsource your eLearning development.
Alongside, identify if this approach* is merely opportunistic (maps to certain projects or short-term) versus strategic (long-term and should be able to dynamically align with your business goals).
*NOTE: As you would note, this has a bearing on the partner selection. For the first situation (outsourcing specific projects and short-term partnership), it is easier to identify a partner as your needs and expectations are very specific and definitive.
In the second situation, as you seek a long-term partnership, the evaluation metrics become more complex as you need to assess the partner's capability to not only meet your current requirements but also offer scalability in future. Since the landscape of learning solution designs is changing so rapidly, how do you determine if the selected partner will be able to align as effectively to the ever-changing landscape? I will touch upon this significant bit through my pointers.
In our experience, we have noted the following typical gains organizations seek:
Optimal usage of available budgets (With outsourcing, you can do a lot more with the same budget)
An overall reduction in costs
Scalability and be able to take up higher volumes of work in a shorter time
Access to talent with skills that you may not have internally
Access to expertise that enables you to create innovative learning designs (including upcoming or new trends)
The key outcome of outsourcing your eLearning is that it clears your bandwidth enabling you to focus on the following crucial aspects:
Training Needs Analysis (TNA)
Working closely with internal teams and Subject Matter Experts during development
Learner analytics to assess the impact
Working on enhancing the Return on Investment (ROI)
Step 2: What Are The Options As You Begin Crafting The Outsourcing Strategy For Your eLearning Development?
As you complete Step 1, you have clarity on why you opt to outsource your eLearning development and what gains it will provide.
In this stage, or else Step 2, you need to shortlist or identify the way forward through:
Onshore, nearshore, or an offshore partner
Single or multiple partners
Each of these options has pros and cons, and you can assess their suitability once you plot them against the gains you aim to see through outsourcing your eLearning development.
Step 3: Are There Any Pointers That You Can Use To Create An Effective And Successful Outsourcing Strategy For eLearning Development?
For outsourcing strategy for eLearning development to be successful, you need a partner who can work closely with you across the stages of information gathering, Training Needs Analysis, learning strategy determination, implementation, and ongoing evaluation of impact.
But this is not all.
With constantly changing dynamics on account of business as well as learner expectations (notably, learning on the go, immersive learning designs, engaging high impact formats), your wish list on what capabilities the partner should bring in increases manifold.
In my practical experience, I see that successful partnership needs to have:
A development team with right skills who can consult and implement
Leadership team with the mindset to make this complex model work
An engagement model that enables collaboration and is designed for distributed development
Flexibility and agility to align with the changing dynamics
Another Significant Aspect That You Need To Look At Is The Capability Of The Partner Vis-à-Vis Cost Benefit.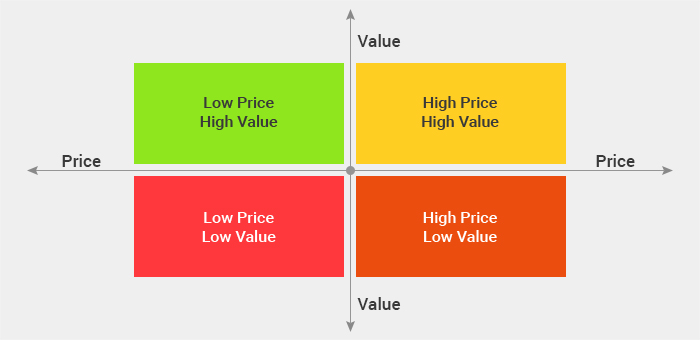 I see eLearning development companies falling into one of the following four quadrants on 'Price' versus 'Value':
High price, High value
Low price, High value
High price, Low value
Low price, Low value
The magic point is the partner who can offer "Low price, High value".
Guidelines That Can Help You Create An Effective eLearning Outsourcing Strategy
I share my list of 10 parameters that would help you in meeting your outsourcing mandate, offset some of the challenges that such endeavors have, and create a partnership that will scale and align to your business goals.
Proven track record
Innovation, Research, and Exploration focus so that they can align suitably to the changing learning scape
Expertise in learning and user experience design
Capability to create innovative and immersive solutions
Sound understanding of prevalent authoring tools and supporting technologies
The right talent pool that cuts across Account Management, Project Management, Instructional Design, Visual Design, Technology, and Quality Assurance
An efficient and agile development framework that is optimized for distributed development
Strong Project Management practice (with the core of collaboration and high-quality communication)
Access to a talent that can quickly align with your increased volumes
Sound Risk Management practice
I hope this article provides pointers that you can use as you evaluate and select the right partner to craft an effective and successful outsourcing strategy for your eLearning. If you have any queries, do contact me at apandey@eidesign.net.
Read More:
Related Insights