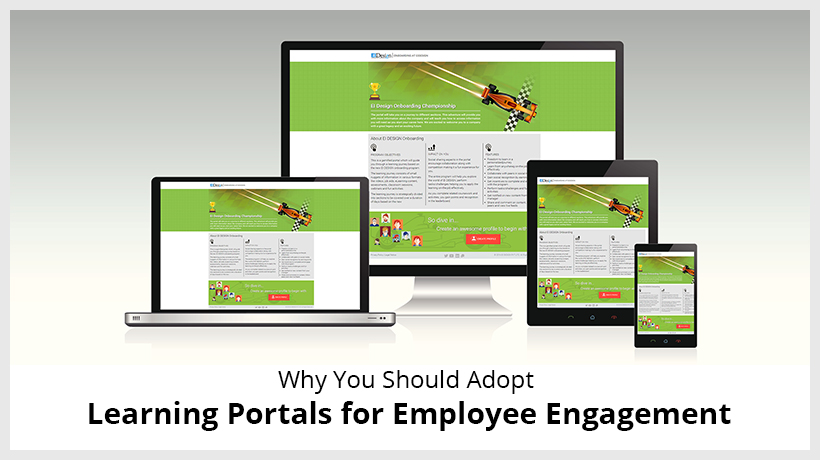 Learning portals are a great fit for formal training, performance support, and social learning. Their adoption to increase the effectiveness of training is finally gaining momentum. This article outlines how you can use them to step up your employee engagement.
Learning Portals: Why You Should Adopt Them To Boost Employee Engagement
Learning portals are repositories that have various learning resources ranging from online courses, assets for performance support, and other supporting learning aids. Most of these are designed as completely responsive portals (offering seamless accessibility to learners over desktops, laptops as well, as tablets and smartphones).
However, their power is beyond being a repository. They:
Achieve a specific learning focus.
Appeal to the learners by giving them the control on how they want to learn.
Leverage on other forms of learning like social learning.
In contrast to the traditional mode of learning, they offer learning paths (with a flexibility to personalize) and encourage "learning as a continuum".
In fact, they can provide a complete Learning and Performance Ecosystem to the learners for specific initiatives or a combination thereof.
Why You Should Adopt Learning Portals For Employee Engagement?
Let's look at two views on why it makes business sense to adopt learning portals for employee engagement:
The Business View
Organizations and Learning and Development teams in particular are constantly seeking ways to improve the ROI on training spend. They are looking for approaches that encourage learner engagement and drive the acquired learning to application on the job. Once this happens, there can be a demonstrable gain for the business.
Learning portals achieve this and more.
They focus on specific learning and provide learners with the required information in a form that not only facilitates learning acquisition but also its application at the time of need.
They encourage learners to adopt a "learning path or learning journey".
They also encourage collaborative learning or social learning.
The Learners' View
Changing learner expectations and influx of more millennials into the global workforce is driving adoption of learning solutions that go beyond the traditional methods of training delivery.
Today's learners want:
Flexibility in learning.
There should be multiple options to pick from and there should be the flexibility for learners to personalize their learning.
Learn on devices of their choice.
Inevitably, learners want the learning to be accessible on their smartphones and tablets too.
Engaging formats that appeal to them and encourage learning.
They want innovative approaches like gamification, videos, apps for learning, and so on to be used in design of learning assets.
Learn through shorter, snackable bites of learning.
With dwindling attention spans and high distractions, they want microlearning nuggets that are short, precise, easy to assimilate, and apply.
Availability of learning assets at the time of need.
They do not want to log in through the Learning Management System and then take the trouble to locate the required asset. Instead, they want focused resource centers that provide all required learning assets exactly when they need them.
Learning portals match the expectations the business and the learners have and this is why it makes business sense to invest on them.
The key gains that you will see are:
A higher degree of employee engagement.
Higher completion rates.
Increased application of the acquired knowledge.
What Are The Highlights Of Learning Portals?
The key highlights of learning portals are as follows:
They are designed on the concept of a learning path that can be personalized by the learners. This provides learners with better control.
They also encourage guided exploration allowing learners to easily navigate and "pull" the required assets (rather than getting them through a "push" from the training administrators).
They are flexible and can easily meet the expectations of diverse learner profiles as well as match up to different learning styles.
They encourage collaborative or social learning.
They can be designed to offer rewards, recognition, and also encourage healthy competition.
They offer assets in rich, varied formats that can support blended training or completely online training.
In An Organization's Training Delivery, Where Would Learning Portals Find The Right Fit?
How you use learning portals is limited by your imagination. They are flexible enough to be used to offer:
Formal training (online or blended).
Performance support (on-the-job learning aids).
Social learning.
Support a key initiative (for example, a specific change management initiative).
As you would note from this, they are a perfect fit to the 70:20:10 learning model.
We, at EI have crafted learning portals for diverse needs like:
Induction and onboarding.
Employee engagement.
Sales and Marketing Resource Center.
Best practices (project management).
Best practices (Corporate Quality mandate).
Innovation (creating a culture of innovation in an organization).
Change management (for HCM).
Content curation.
Here is an example of how we have used the learning portal concept internally for our induction and onboarding.
Our learning portal features:
Personalization.
While logging into the portal, learners can customize their profile, choose an avatar, upload their photo, and provide a description about themselves. This helps give our solution that "personal" touch right at the beginning.
Learning path/learning journey to induct and onboard new joinees.
After the learners log into the portal, they get to see the "path" that they need to follow to complete the program, viewing information related to the organization and their job role and environment in different innovative formats along the way.
Completely responsive design.
To make "settling down" more cool, the portal allows learners the flexibility to take the induction program on the device of their choice. The solution is compatible with desktops, laptops, tablets, and smartphones.
Gamification.
At the end of every stage, learners get to play a game to test the knowledge they have gained in the respective sections. Each section features a different game to bring in an element of challenge and excitement for the learners. The final assessment also features gamification serving as a powerful reinforcement of all the key aspects learnt along the induction journey.
Awards and leaderboards.
These are in place to make the learning journey rewarding and also pump up motivation levels. Learners can keep an eye on the leaderboard at all times and get a sense of how they are faring, giving themselves a pat on their backs.
Social learning.
The portal has been integrated with Social Learning elements too. Learners can "like" a post, video, or any other asset they view and even drop in their comments for the same. Feedback from someone who's viewed your stuff with a fresh pair or eyes – nothing like it!
Microlearning nuggets in various formats.
The portal's learning journey has been woven with various microlearning nuggets in different formats such as videos, PDFs, activities and so on. The portal provides "bite-sized" learning experience all along the way. For someone who's just stepped into your organization's environment, this experience is light and just right.
Admin controls.
The portal allows admins to track learner performance, manage users, send them notifications, and so on.
You can also view a video on how we have made our induction and onboarding program more engaging using the learning portal-based concept here.
I hope this article will help you adopt learning portals for various trainings and see an increase in your employee engagement. In case you need any specific assistance, do contact me at apandey@eidesign.net.
Related Insights