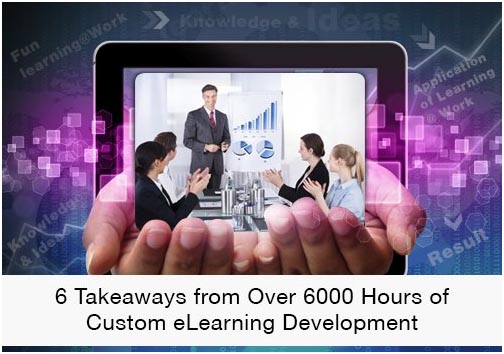 This article is triggered by our global ranking in the Top 10 eLearning Content Development Companies For 2015. This recognition coincides with completion of over 6000 hours of custom eLearning development by us and I take this opportunity to reflect on what has worked and what should be our focus areas in the future.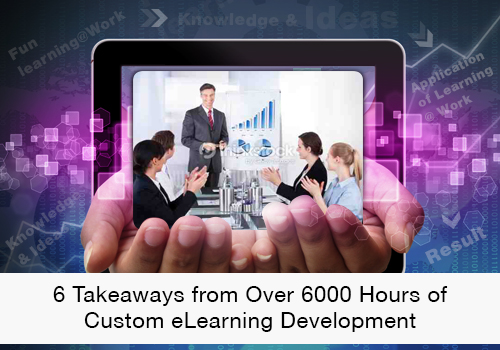 Custom eLearning Development: 6 Takeaways From Our Experience
In this article, I look back at our journey and share 6 important takeaways from our extensive experience in custom eLearning development.
1. Focus on customers and ensuring that we retain and grow with them.
High customer retention is what we are most proud of. Our growth has largely been driven by relationships that began with one-off projects and slowly grew to a strategic partnership. We continue to build from here and every six months we meet our key customers and show "what more is possible".
2. Learners remain our focal point.
Through our learner-centric, innovative, and immersive learning designs and solutions, we help learners to:
Enjoy the courses.
Go through challenges that keep them intrigued all through the learning path.
Internalize the learning and practically apply it on the job.
Enhance their performance and deliver better results.
We focus on efficacy and application of learning to ensure that a clear business gain for organizations is established. We bring our TNA and solution architecting expertise into play to chalk out the path for a positive ROI for our customers.
Our mantra is to bring in a culture of "Learning as a continuum" and for this we use a Learning and Performance based Ecosystem approach.
3. Innovation and exploration.
We have invested extensively on two enablers, Innovation and Exploration, that help us differentiate our learning and performance solutions. Our Innovation team focuses on:
Evaluation of emerging tools and technologies.
Evaluation of learner needs and expectations.
Determining how these pointers can be practically used to enhance learning experiences.
This year, the team has created two innovative products:
Online Review Tool (integrated with the course).
Digital Workbook (To enhance the ILT delivery).
4. Agile development methodology.
We have been using an agile methodology for several years to meet the ever-evolving and changing customer expectations.
We are currently in the process of applying the Kanban approach to our Project Management. Additionally, we are in the last mile of our Corporate Quality Certification (CMMi).
5. Our Offshore Development model.
As an offshore development partner based out of India and servicing customers over 16 countries across the world, our Offshore Development Framework is one of the most mature and agile one. While it has a strong core of process definition, it is flexible enough to be aligned quickly to meet our diverse customer needs.
6. The power of our team.
Last but not the least, what has really worked is the cumulative power of our team that continuously works towards customer delight.
Behind every single course that goes on to incite the "wow" response from our customers is a well-oiled team mechanism at work. Right from getting the requirements right to delivering the final product, each and every member of our team brings in that significant value at various stages of the development cycle.
What's next: We are in the midst of a cutting edge research to come up with a predictive Learnability Index for custom eLearning and mLearning development which will be a unique concept in the industry.
The distinct effort that our Innovation and Exploration team puts in provides the required pointers for our Solution Architecting team in creating newer and unique Learning solutions.
I would like to summarize these takeaways with a quote from Tom Peter's 7 Steps to Sustaining Success:
"You take care of the people. The people take care of the service. The service takes care of the customer. The customer takes care of the profit. The profit takes care of the re-investment. The re-investment takes care of the re-invention. The re-invention takes care of the future. (And at every step the only measure is EXCELLENCE.)"
Related Insights