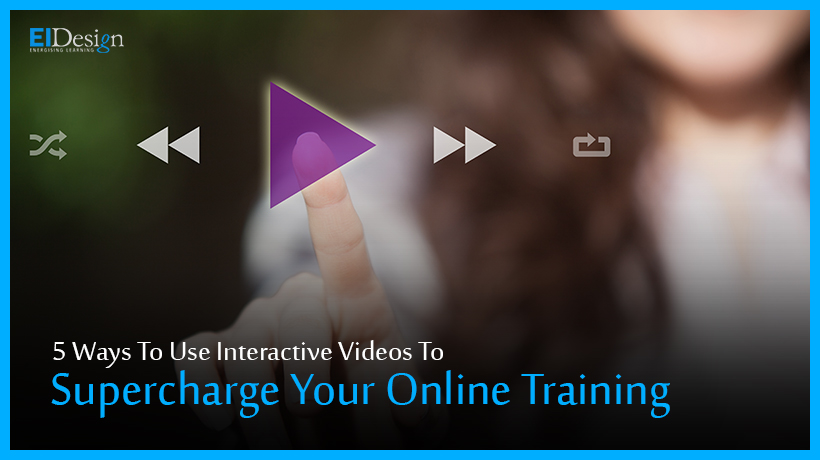 Interactive video is being considered the next big thing for mLearning or mobile learning solutions. It appeals to Millennials and other learner profiles and is more engaging compared to traditional videos. This article showcases 5 ways to use interactive videos to supercharge your online training.

How To Use Interactive Videos: How Is An Interactive Video Different From A Traditional Video?
As the name suggests, an interactive video flips the passivity of a standard video to an interactive and engaging experience for the learners.
Although videos appeal to the learners, they have an intrinsic limitation of passivity. Some of the other challenges in using videos for learning are:
They are passive and cannot hold the learner's attention (particularly when videos are long).
When it is expected that learners should be able to meet higher cognition levels (particularly to apply or analyze), videos would not be able to meet the mandate.
Not only do interactive videos outperform the standard videos by offsetting these challenges, they also offer several other benefits as outlined next.
What Are The Benefits Of Using Interactive Videos?
Interactive videos offer several other benefits as follows:
High impact.
Interactive videos are known to offer a 10X impact over videos.
High learner engagement.
Through a variety of interactions that engage the learners and push them to think as they navigate through a nugget/a series of nuggets.
Meet the required cognition level.
They can be used to provide learning interactions similar to the traditional eLearning approach (click and reveal, hot spots, check your knowledge or other forms of assessments, and so on). The impact is phenomenally higher.
Appeal to varied learner profiles.
As mentioned earlier, interactive videos have a universal appeal, particularly to the millennial workforce.
Enhance the impact of your mLearning or mobile learning solutions and leverage on current trends.
You can uplift your learning strategy by using interactive videos in conjunction with other trends including microlearning and gamification.
How Can You Increase Learner Engagement Through Interactive Videos?
Interactive videos bring in an element of engagement and facilitate not just recall and retention of information but also its application and analysis.
We at EI use a customizable interactive video framework to introduce interaction levels similar to the interactions that learners typically experience in a traditional eLearning or mLearning course.
Unlike other online solutions offering interactive videos, our interactive framework:
Offers the flexibility of further customization.
Is multi-device compatible. The videos work across multiple platforms such as desktops, tablets, and smartphones (iOS and Android).
Is compatible with AICC, SCORM 1.2, 2004, and TinCan. It can be hosted on LMS/LRS or run as a standalone piece on a web server.
Comes with SCORM related features such as completion, time, resume, and scoring in LMS/LRS.
Take a look at this video that showcases the key features of our interactive video framework and the various interactivities that can be used to create an engaging learning experience.
Interaction points for learners: The framework is designed to break the monotony of the learning experience. This reflects in the various interactivity types that the framework offers, which include:
Hotspots.
Button click.
Fill in the blanks.
Carousel.
Single choice assessments.
Multiple choice assessments.
Drag and drop.
In What Ways Can You Use Interactive Videos To Supercharge Your Online Training?
The best part about interactive videos is that it's flexible enough for you to use them for both formal training as well as informal training (that is, for Performance Support).
They can also be used to add value to Instructor-Led Training (ILT) or blended training.
Here is my list of 5 ways that you can use interactive videos to supercharge your online training:
1. Microlearning. 
The moment one says "videos", we tend to automatically associate them as being "short". No one likes watching long videos and this is firmly established by the fact that none of the Top 10 most viewed videos on YouTube stretch beyond 7 minutes. This makes a perfect case for using interactive videos as microlearning nuggets, which are all about providing bite-sized learning to learners. Add to the fact that more than half of those videos viewed on YouTube come from mobile devices and you have more reasons to be tempted to design interactive videos as microlearning nuggets, which are a great fit for the mobile medium.
2. Gamification. 
Videos are essentially "moving images". Most gaming enthusiasts enjoy gaming because it gives them a "movie-like" experience. For years, that sense of touch of controlling the buttons on the gaming remote and thereby the proceedings of the plot on the screen have got gamers excited. With interactive videos, you do get this flexibility to present a blend of movie and gamification elements, letting learners enjoy the video experience and interact with a competitive spirit.
3. Scenario-Based Learning. 
Still image-based scenarios with speech bubbles do a good job in conveying a message across in traditional eLearning/mLearning courses. And if the images "come to life" where you can actually see the characters and the scenario situation in motion picture? Nothing like it, right? Videos give you that option to make your scenarios look a lot more natural and real. Add a touch of interactivity to it, and you can create a learning experience that is even more engaging.
4. Story-Based Learning. 
Going back to the most viewed videos on YouTube, one finds that a majority of them are music videos and most music videos aren't just about the bands or the artists singing their number all along. There is, more often than not, a story that is interspersed with the visuals of the artists, a story that although gets wrapped up in 3-4 minutes, follows a thread. Stories do make a huge impact on the video experience and stir up the emotions of the viewers. This strategy can be used very effectively in your interactive videos allowing the learners to drive/explore the plot of the story forward by introducing interactivities at regular intervals.
5. Complex Decision Making Through Assessments (Simulations Featuring Branching). 
As interactive videos facilitate introducing of interactivities at regular intervals, you get the flexibility to "branch" your learning path. You can use this to your advantage and introduce complex situations in your assessments and test the decision-making skills of your learners as they try to work their way along the path you've laid out for them.
I hope this article helps you in tapping the power of interactive videos to enhance the impact of your online training.
Our customizable interactive video framework is one of the most versatile ways to achieve this mandate. Do contact me if you need any assistance on how can you integrate interactive videos and create high impact, highly engaging solutions.
For more insights on how interactive videos can uplift the learning experience and how our interactive framework can help you do so, you can refer to my article How Can You Use Interactive Videos For Microlearning-Based Training.
Related Insights