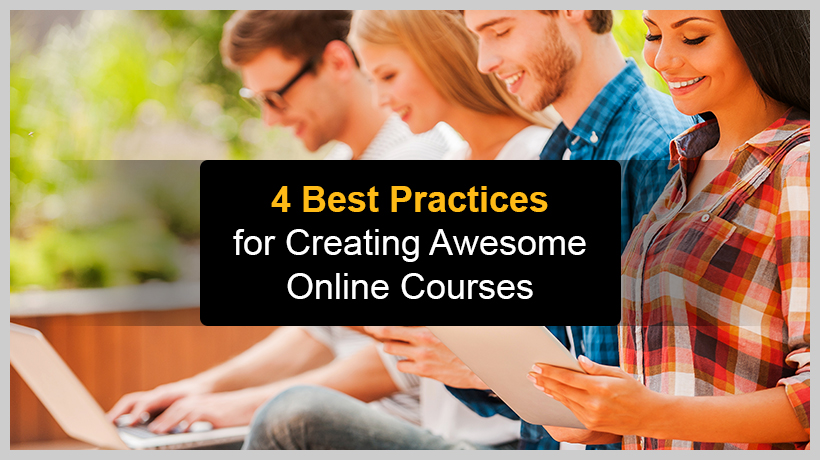 Are you thinking about venturing into the world of eLearning and online course creation? Good on you. Creating online courses is a great way to share your knowledge, build credibility in your industry and – if you're interested in selling what you create – make a bit of money. Yet, creating courses is quite an undertaking, and not everyone will be successful.
Here are four best practices that you can use to create awesome online courses:
1. Teach a niche, differentiated course topic
One thing I've heard a few times from aspiring instructors is that since there aren't any popular courses (or even any courses at all) on a subject, they're destined for success. One out of 100 times, this might be true. But often it's a sign that the topic isn't marketable or profitable. That's to say that, in general, the clear majority of worthwhile subjects are—by now—going to have some level of competition. It's our job as instructors to teach these subjects in a different way or find new topics within these subjects to take on.
Specifically, we want topics that:
Learners want: Duh.
Don't have loads of competition: Broad topics like "marketing" or "yoga" are covered with droves of courses all over the place. You're unlikely to succeed with "Marketing 101" or "Introduction to Yoga" unless you're super well-known in these industries.
Are differentiated: Maybe you're a social media marketing guru, but (as is the case) you've seen the thousands of successful courses on social media. You might consider uncovering and catering to a niche: "Generating B2B leads on social media" or "Increasing eBook downloads with Facebook Advertising," for example.
The general concept is to think beyond "Everyone has a car, so I'll make a course about driving" ideas. Broader is often not better and with over 9 million learners on Udemy alone (each of whom aren't limited to a single course), it shouldn't be difficult to nab your sliver of the online education pie with a differentiated course topic.
2. Chunk, chunk, chunk
Online courses should consist of a series of short video lessons. Break down your course into easy-to-digest and sequential concepts. This, believe it or not, is called chunking. Chunking your content is ideal for a couple of reasons:
Focusing inevitably-shorter videos on single concepts makes it easier for learners to process.
Parsing your content makes it easier for learners to skip material they don't need or re-watch material they haven't yet grasped.
Chunking allows potential learners to get a more accurate idea of what they're buying when considering your course outline.
Chunking allows you to easily insert more and more lectures as time goes on.
3. Include your value proposition in the course title
For example, a Twitter course targeted at busy start-up marketers who need results fast might take the shape of "How to Attract Your First 1,000 Followers in 10 Days." This is called a value proposition. Value propositions answer the question "What will learners gain from your course?" It's clear from this value proposition that learners will get 1,000 Twitter followers and it will only take 10 days.
This type of course title is very different from the courses you took in grade school or college. A local community college might offer "Anatomy 101" although the same course published online would ideally be titled something along of the lines of "Learn to Name All Parts of the Human Body."
4. Don't break the bank buying equipment
Most learners don't expect a high production value of your videos. I'm not saying that professional-level courses shot with $3,000 cameras aren't awesome. They're just not necessary. Learners are much more concerned with the knowledge they'll gain from your course than they are about whether you're exceptional with PowerPoint or can afford fancy gear.
You can use your smartphone for recording videos, pick up an affordable microphone and you're well on your way.
Good luck!
Related Insights