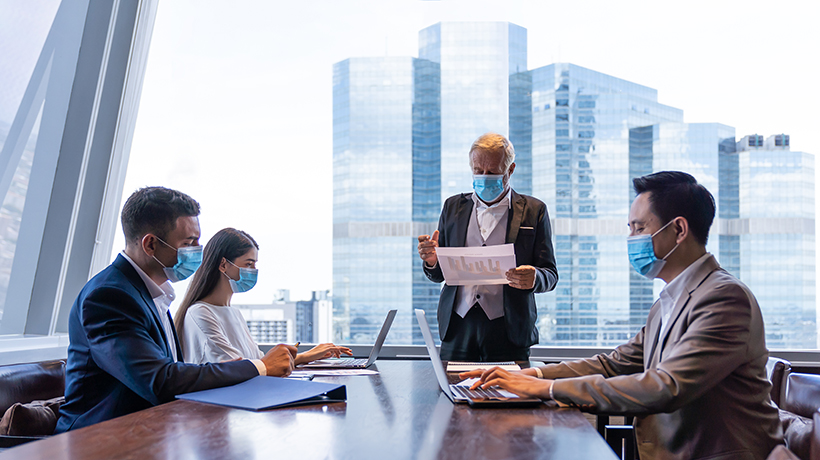 As 2022 looms over the horizon, this is a good time for L&D teams to pause and take a retrospective look at what worked for them, and what did not. To help you do that, we've assimilated key L&D review lessons learned from 2021 in this article.
2021 was (and continues to be) a challenging year for employees and employers, but especially so for L&D teams working to respond to the new hybrid working model. Many aspects of remote training, and in-person L&D initiatives, worked very well.
However, an objective L&D review is likely to highlight the aspects that did not work as expected. As 2022 approaches, organizations need to review what they've learned about their L&D plans and strategies in 2021.
Here are some findings you are likely to uncover.
NOTE: I would like to highlight that these insights are my reflections – based on my interactions with our customers and prospects. I have also looked at research insights from Brandon Hall Group and Training Industry to validate my observations.
Here's what worked and this upward curve will continue
The transition from remote workforce training to hybrid workplace training: As the hybrid workplace evolved into a pivotal paradigm, that's now here to stay, majority of L&D teams successfully implemented blended training programs to pivot from primarily remote-centric training to seamlessly training hybrid workforces.
The focus on driving learning culture transformation and its initiation: Scheduled learning and mandated training is more challenging to implement in a hybrid workplace. An across-the-board L&D review demonstrates that by engaging off-premises employees (working from home) and offering them continuous learning opportunities, L&D teams are successfully helping workers adopt a growth mindset and embrace new learning habits to transform organizational learning culture.
Building an inclusive workplace: In a hybrid workplace, where not all employees work in the same place and on the same schedule, building diversified teams, engaging employees, and making everyone feel included in key decisions, events, and activities is challenging. Through targeted DEI initiatives, L&D teams are successfully implementing learning strategies that precipitated organization-wide behavior change that helped employees become more self-aware, embrace diversity, and build an equitable workplace.
L&D's strategic role is growing: Over the past year, L&D's role has evolved from a purely training-centric one into one that now delivers strategic value to the organization. L&D teams have demonstrated that, especially in times of crisis, by keeping learning and development strategies aligned with broader organizational goals, they (L&D teams) help keep employees engaged, motivated, and performing to deliver higher levels of productivity.
Here's what didn't work
An increasing amount of training initiatives added to employee stress/burnout: Clearly, the rapid evolution, from remote to hybrid learning, required the implementation of additional training initiatives. Already stressed employees, therefore, felt the burden of this additional layer of learning.
Inability to integrate learner needs into training programs: As hybrid workplaces evolved, L&D teams initially struggled to fully comprehend employee training needs in the changing workplace. As a result, many training initiatives didn't specifically match learner needs with training programs.
Failure to adopt agile learning strategies: The rapid transformation of a new work paradigm took many L&D teams by surprise. As workers adapted to their new work realities, they needed appropriate training to support them in the transition. By not being agile and iterative in their response, learning and development teams were slow to react to this change.
Lack of innovation/experimenting in L&D: In conducting an impartial L&D review, one aspect that receives a low grade is innovation and experimentation. While the disruption of 2021 presented many L&D challenges, many in-house training teams failed to turn to external partners – to leverage their innovative skills – and experiment with new learning approaches and technologies. This severely impacted their response to the challenges they faced in engaging, developing, and motivating their hybrid workers.
What Are the Key Lessons from 2021?
As we get ready to plan for 2022, and prepare L&D strategies for the coming year and beyond, let's not forget the lessons we've learned from 2021:
The need to adopt agile learning strategies will continue to play a key role: Learning by experimenting. Quick pivots. Fail early. Incremental successes. We've learned that these are key features of agile L&D strategies that'll mark the coming year.
The role of L&D will continue to broaden:

While good learning and learner experiences are still critical, expect L&D's role to transcend beyond those key pillars. That expanded role will include delivering end-to-end employee experiences – from designing engaging courses, to building Job-aids/Performance Support Tools (PSTs), to offering personalized learning journeys.
To demonstrate its true value to the organization, L&D must redefine its focus on demonstrating stronger correlations between learning and performance. A key lesson learned, to do this, is to align L&D objectives with organizational goals.
Leading learning culture transformation: As part of their ongoing L&D review, learning teams have come to realize they need to lead organization-wide shifts in learning culture. The shift must now be from supporting incremental performance improvements through "routine" L&D initiatives to building a culture of continuous growth through ongoing learning.
Understanding and integrating learner needs will be a critical factor:

The need to transform upskilling/reskilling: We all learned that rapid pivoting, re-tooling, and re-invention characterized our workforces in 2021. To continue in that vein in 2022, businesses must upskill and reskill their workforces, not so much as to refine existing skills, but to deal with skills needed in the future.
Integrating learning into the workflow: L&D experiences in 2021 taught us that employees in the new hybrid workplace learn best in the moment and at the point of need. The future lies in providing Performance Support Tools (PSTs) so workers can access just-in-time learning.
What Are the Key Focus Areas for 2022?
So, how can we leverage these lessons to better prepare our L&D function to see us in a better place in 2022? Well, as you review the year that just went by, here are the key 2022 focus areas that we mustn't lose sight of:
L&D's transition from cost-centers to performance drivers and value creators: As part of your L&D review, it's important to ascertain how you might shift L&D's perceived place in the organization – not as a cost-center, but as a function that drives performance and creates value. To accomplish that L&D must start by aligning the training strategies with the business's goals and objectives.
The L&D functions' ability to measure and demonstrate the impact of training will be critical: Business leaders will look for specific and measurable contributions from L&D. To do that, you must recalibrate L&D's focus to deliver achievable training metrics that match the business's Key Performance Indicators (KPIs). Some focus areas might include revenue growth, performance gains, better compliance, and improved inclusion and engagement.
Learning culture transformation: The new workplace paradigm requires a focus on changing organizational learning culture. Instead of focusing on mandated or scheduled training only, L&D must now focus on building a culture of growth through continuous learning.
Better learner and learning experiences: Because learners now expect greater support from their L&D teams, it's vital to focus on providing them (learners) improved learning and learner experiences. This includes better experiences when interacting with their learning environments as well as more engaging and satisfying experiences from participating in specific training events.
Parting Thoughts
An objective L&D review can unlock the secrets that 2021 shared with us, about all aspects of our learning and development plans and strategies.
In this article, I have shared thoughts on what worked well for some organizations and what didn't. Hopefully, these findings will help you better plan your own L&D strategies for 2022.
Read More
Related Insights