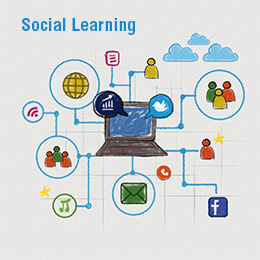 What is social learning and how can you use it to foster collaborative learning
As learning professionals, most of us are familiar with the 70:20:10 Model for Learning and Development that describes how learning happens. According to this, most of us pick:
70 percent of our knowledge from our on-the job experiences
20 percent from interactions with others
10 percent from structured or formal training

It is no surprise that today more and more companies are using some form of social learning solutions in their learning strategies that enables employees to learn from each other. In this article, I will touch upon the concept of social learning, its benefits and how can it be used meaningfully in an organisation to enhance collaborative learning. I will also share some best practices.
What is social learning?
In simple terms, social learning is learning with and from others. This can either happen online (for instance over popular social media tools like LinkedIn, Twitter and so on) or offline (during group discussions, over coffee or during conferences).
What are the aspects that most of the popular social networks provide that can be used to learn or collaborate and learn?
All of us use their standard communication and collaboration features like comments, posts, instant messaging, group discussion boards, wikis, video chats and so on. As an extension, you can bring a semi-structured approach to encourage this collaborative learning by building virtual communities to encourage them to provide a forum to share ideas, share knowledge and curate new inputs into a knowledge centre.
What is the relationship between social media and social learning?
Social media provides basic technology to connect people. All of us use it to keep in touch with our friends or for networking with business contacts and often to share our thoughts and opinions. But its capability does not end here. It can also be leveraged as an effective tool for collaborative or social learning. The key being, how we use this meaningfully to encourage exchange of ideas and knowledge sharing.
How can social learning help people learn?
According to Mason and Renniet (2008)*, there are four major benefits of learner-generated content that these tools provide:
Users have the tools to actively engage in the construction of their experience, rather than passively absorbing existing content.
Content will be continually refreshed by the users rather than require expensive expert input.
Many of the new tools support collaborative work, thereby allowing users to develop the skills of working in teams.
Shared community spaces and inter-group communications are a massive part of what excites young people and therefore should contribute to users' persistence and motivation to learn.
Is there a flip side?
The jury is still out on determining the value of social learning and the time it takes to create an impact. While it is true that the process of going beyond individual learning to learning collaboratively can take time, it is still a worthwhile approach.
Are there any best practices that can help?
Yes. Some of these best practices can make your online Learning design initiative a success are as follows:
Facilitating a social learning platform where learners are spaced apart; this will help:
In distributed problem solving whereby small problems could be nipped in the bud without being allowed to cause bigger challenges later on
Nurture a creativity-fostering environment
Form temporary workgroups to tackle business challenges
Create a flexible work environment
Encouraging learners to build collaborative knowledge base of their own rather than depending on others' assistance.
Bridging the distance gap between learners and fostering team spirit through:
Increased participation
Projecting them as representatives of the corporate brand
Developing a community
Providing them adequate motivation and learner engagement as it is a prerequisite for any learning to take place
How to use social learning meaningfully?
Social media has a number of benefits and uses. Some of the ways in which it can be used to good effect are:
It can serve as an auxiliary element to formal learning in the form of discussions, sharing of experiences, lessons learned and so on.

It can be used as a tool to encourage employees to generate, gather, explore, get access to, learn and relearn and review knowledge and skills to unravel hidden information.
It can also help learners with "personal knowledge management" or "smart working". For example, they could use blogs to gain that extra bit of information or learn on demand using forums such as Wikipedia or YouTube to seek answers to any queries that they may have.

It helps create "Communities of Practice" for groups such as those of new employees, teams, project team members or other similar groups.
It facilitates the creation of a structured social learning framework. With social learning, one can accumulate informal content from learners and extract useful ideas and find solutions to problems that formal training may not be able to address.
With social learning, managing the inflow of informal content effectively and measuring of the benefits accrued on account of the same is possible.
I hope this article was useful in understanding what is social learning and how you can apply it to foster collaborative learning. Do contact me if you have any questions on how you would like to supplement it with your current learning strategy.
*Source: Robin Mason & Frank Rennie – "E-Learning and Social Networking Handbook: Resources for Higher Education".
Read More:
Related Insights