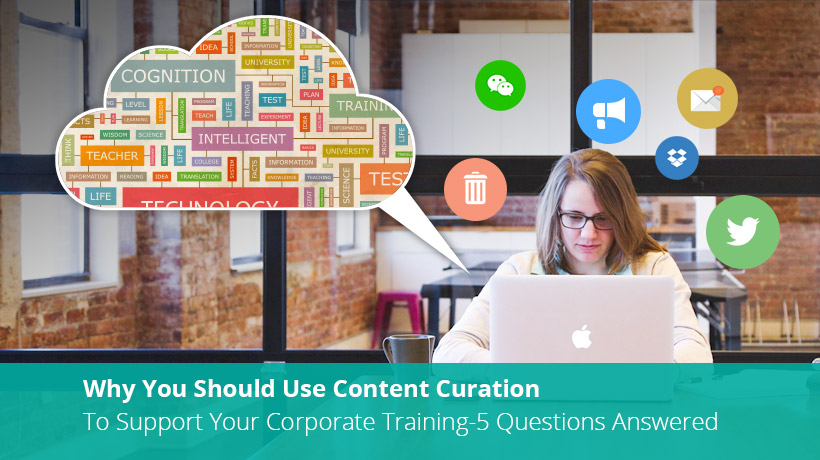 Today's learners need information that is relevant, up-to-date, and fresh and accessible. That's where content curation comes into play. In this article, I outline how you can use the content curation strategy to support your corporate training.

5 Questions Answered: Why Should You Use Content Curation To Support Your Corporate Training?
Let us have an analytical look at some questions that explain why you should use content curation to support your corporate training.
1. What Is Content Curation And How Does It Add Value To Your Learning Strategy?
Let me describe how we at EI see it. Our definition is based on its relevance for both businesses and learners.
We see content curation as an exercise to continually find, filter (group, organize), and share the most relevant content on specific topics and offer it to learners as an online tool or through a portal or platform.
To expand on this, content curation encompasses the following:
Finding the best content from multiple sources (usually external content but could also be from your existing knowledge base).
Filtering it so only the most relevant content makes it through.
Sharing it with the right internal audiences, at the right time, through the right platform.
Adding value to that content with commentary, context, or organization.
Content curation provides the following unique benefits and adds punch to your learning strategy.
1. Aggregates Meaningful Content.
It gathers and organizes all online and offline resources available in your network and allows learners to access them all on a single platform.
2. Enables And Empowers Learning And Development Teams And Learners.
Normally led by experts from Learning and Development teams, it facilitates everyone in the organization to curate learning resources. The process ensures that only the highest quality, most relevant, and contextual content is presented to the team.
3. Motivates Employees.
It enables employees to get recognized and rewarded for their contribution, effective usage, and learning achievements.
4. Propagates Learning As Continuum.
It also establishes a constant engagement model through social media usage – like forums, discussions, chat for peer level collaboration, and choice to learners to build paths and share content (community of learning approach) and establish strong relationships between expert and learners.
5. Provides Personalized Feedback Through Analytics.
It can also provide personalized recommendations/feedback to get learners on the right track regarding how to "consume" content by the intelligent use of data analytics.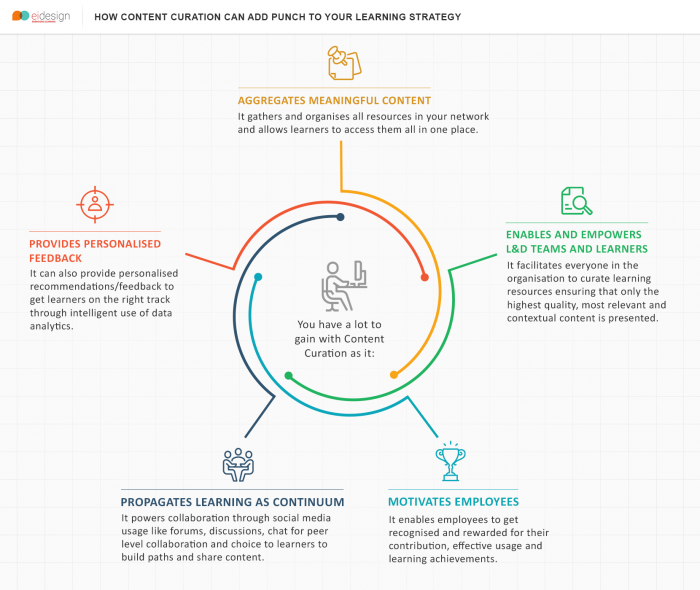 2. Why Does It Make Business Sense To Have A Content Curation Strategy?
There are many factors that are changing rather rapidly – business dynamics, global economic volatility, and pressure on training budgets. On the other hand, learner expectations are increasing.
So, the Learning and Development teams need to think beyond the current approaches to deliver training and look at options that can augment or support their current learning strategy.
As we know, traditional learning focuses predominantly on formal training that is necessarily discrete and happens over a finite number of days every quarter or year. Often, the formats used here do not map to the way learners want to learn. This is on account of the fact that they are not always in sync with immersive or new trends.
What would really help is the adoption of "Learning as a continuum" wherein learners see this learning journey as an intrinsic part of their daily/weekly/monthly planning.
Creating a culture of continuous learning is a tough mandate and this is where content curation finds a great fit. By finding the information that is most relevant, packaging it for an easy retrieval and usage, giving learners the flexibility to share and add further, you will be able to create the required mind shift in aligning to learning as an ongoing journey.
Content curation is not at loggerheads with formal training nor will it replace it. However, Learning and Development teams can use this approach very effectively to not only support formal training but create a culture on learning as a continuum.
3. What Is Content Curation's Value In Learning, And Can The Content Curation Strategy Support The 70/20/10 Model Of Learning?
We all are familiar with how we learn and the 70/20/10 model is a commonly used approach to define it. While formal learning constitutes only 10% of how we learn, most organizations have focus predominantly on this. On the other hand, social learning or learning from others that constitutes 20% of how we learn and 70% that is experiential is often ignored or not focused upon.
While formal and structured learning will always have its place under the sun and is certainly needed, we need to note its limitations as well.
The time to go live and people having to sit through for longer periods of time to gather knowledge makes it relatively lesser appealing to today's learner.
It is certainly expensive and cannot be changed/updated as easily.
Look at it from the learner side as well.
How often would they sign in to the Learning Management System to seek a specific input that they need on the job?
Content curation aligns to the way learners want to learn. Its value in learning can be summarized as follows:
Focused.
It has the dynamism of delivering the right information that learners want. Furthermore, it is filtered by experts so that it maps exactly to learner needs.
Continuous value enhancement.
Once this is in place, you will see the curated information becoming richer by ongoing contributions by learners.
Social learning and performance gain.
The information will get a wider audience as learners will share it and apply it as this info now maps to their moment of need.
Changing the learning culture.
Over time, it will create a learning culture that maps to "Learning for life – Learning as a continuum".
4. What Are The Benefits Of Content Curation For Learners?
There are several benefits of content curation for learners.
The learner is the "HERO": They don't have to plough through masses of content from Learning Management Systems, portals, intranets, wikis, social forums, news feeds, and search results to find quality content. The platform will do that for them!
Learners feel empowered as they browse through various kinds of relevant content and pathways.
It enables learners to get recognized and rewarded for their learning achievements.
5. How Does The Content Curation Strategy Enhance The Value Of Learning And Development Teams?
At any time, we all have access to valuable information but we end up googling again at the time of need. Very often, we do not have time to wade through the ocean of information to pick what is most relevant.
Learning and Development teams can play a pivotal role by adding value to address this moment of need. They can:
Identify the most appropriate inputs for the learners (bring in the Subject Matter Expertise).
Provide context and observations to highlight the relevance and usage (provide Expert guidance).
Keeping learning current and relevant: Everything learners need to know is out there but not everyone is willing or capable of going and finding it. That's where Learning and Development teams can really add value – being the people who help people find really good stuff and keep updating it to keep it current and relevant.
Provide a platform to share and curate further knowledge.
Help learners access all kinds of learning resources (internal as well as external) in one place.
To summarize, with content curation, Learning and Development teams will be able to provide value-adds such as:
For Learners
Giving learners just what they're looking for.
Saving their time.
Providing smarter insights to learners.
Helping learners chart their own learning path.
Encouraging exploration of information.
Encouraging sharing of information.
For The Organization
Helping organization reduce costs and stay agile.
Offering a more responsive service.
Creating a comprehensive resource bank for frequent and lasting usage.
Fuelling innovation, continuous learning, and collective intelligence.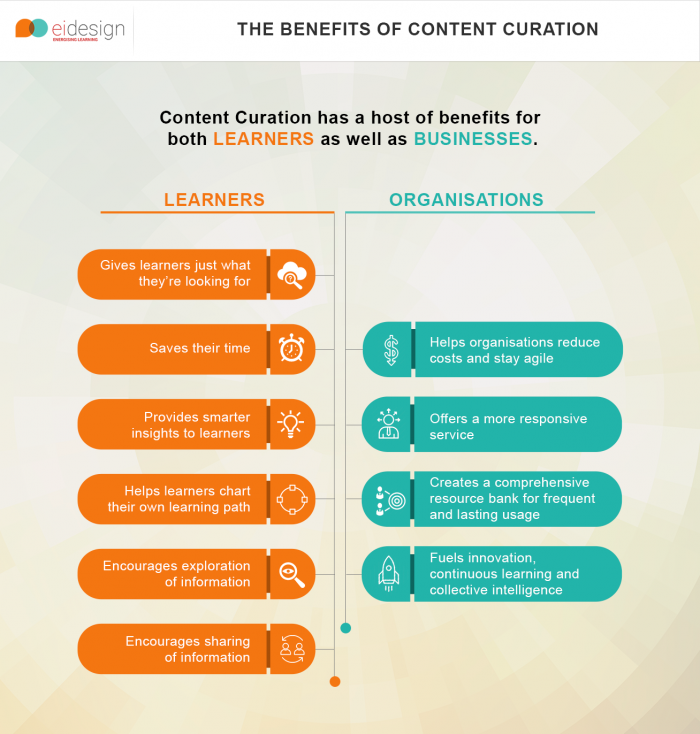 In the process of solutions through content curation, Learning and Development teams get an opportunity to build and showcase their expertise. This approach would go a long way in creating a culture of constant learning in the organization.
I hope this article provides essential clues on why you should integrate Content Curation in your learning strategy. This support to your corporate training will add tremendous value to the organization, highlight contribution of Learning and Development teams and most significantly appeal to the learners. If you have any further questions or observations on this, do contact me at apandey@eidesign.net.
Related Insights