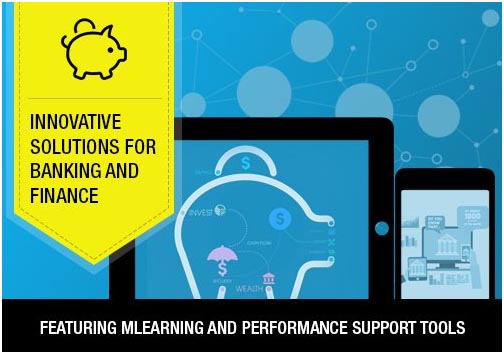 While Banking and Finance industries have been early adopters of eLearning, only in recent times is mLearning being considered. In this article, I will outline how mLearning can be one of the most meaningful training solutions for Banking and Financial Services. Additionally, I will share my insight on "learning as a continuum" and how eLearning or mLearning-based formal training can be effectively supplemented through Performance Support Tools (PSTs).
Innovative Training Solutions For Banking And Financial Services: Featuring mLearning And Performance Support Tools
In this rapidly changing world of technologies, banking and financial organizations have a continuous need to train and develop their employees on new processes, financial instruments, technologies, soft skills, and so on.
Although the majority of them rely on instructor-led training, eLearning has become a key component of the overall training delivery. The trend is gradually extending to mLearning. Alongside this transition, there is a clear shift towards evaluating innovative learning strategies to improve efficacy of training.
What are the typical training needs in Banks and Financial Services organizations?
The training needs can be categorized into the following primary areas:
Compliance Training.
Both Banks and Financial Services organizations need to comply with many regulatory bodies (national and international), and they need to be trained on how to comply with these bodies. Employees also need to comply with the code of conduct that is specific to the organization.
Process Training.
This involves training of various processes in handling banking functions or a specific financial services delivery.
Application Software Training.
Financial software applications are the foundation for both Banking and Financial Services, and the employees need to be trained on these applications.
Sales Training.
This would include both products and solutions training.
Soft Skills Training.
In this industry, soft skill training is very important as the common public is their direct client. The representatives should not only be equipped with the right product knowledge but should also be able to discuss it correctly with the customers. Apart from the product knowledge, they should have excellent telephone etiquette, which includes listening skills, conversational ability, enthusiasm, energy, and so on.
Induction and onboarding training.
Where does mLearning find the right fit?
Sales training is certainly the best fit wherein the products and solutions-related collateral can be made available to professionals on the go on tablets and smartphones.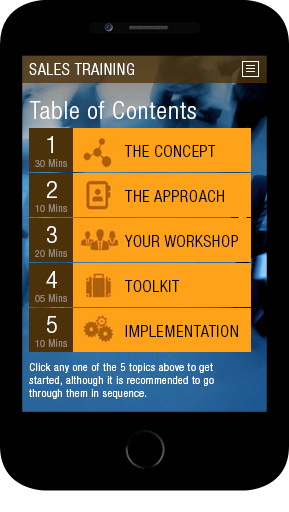 However, we are now seeing a clear shift in providing the other training programs through mLearning as well. These now include:
Induction and onboarding training.
Compliance training.
You may refer to:
Gamification Of Compliance Training Through A Serious Game Concept
How To Create A Sticky Learning Experience In Compliance Training
Soft Skills.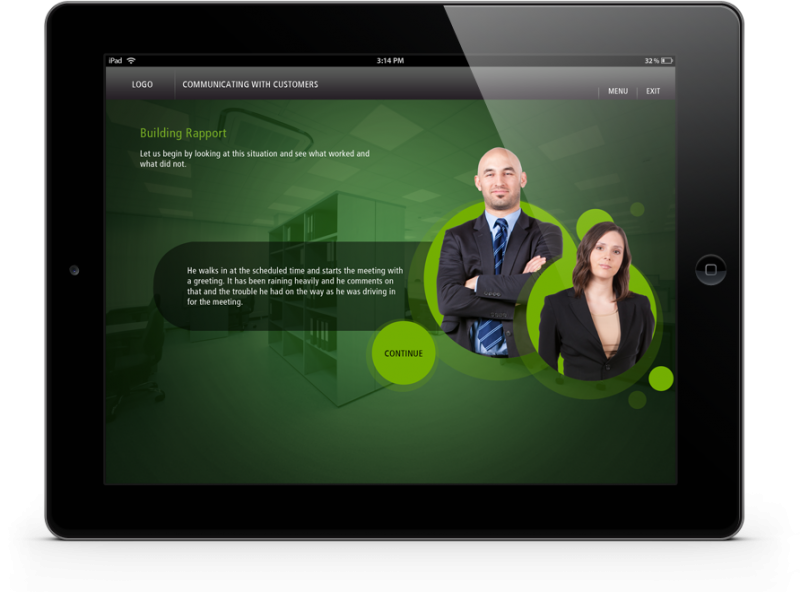 How can innovative mLearning approaches be applied in training for Banks and Financial Services organizations?
My personal experience shows that most Banks and Financial Services organizations tend to opt for more traditional approaches to offer learning.
Yet, with changing learner demographics (includes Gen Y in significant numbers), these organizations need to factor for learning strategies that are different and are deployable on devices of the learners' choice (tablets and smartphones).
While information security aspects are critical to these organizations, today technology effectively supports managing mLearning roll-outs without compromising this crucial aspect.
Moving forward, more and more organizations will support Bring Your Own Device (BYOD) in a secure environment leading to significant mLearning needs in this sector.
Over last four years, we have created wide ranging mLearning solutions successfully. These include Instructional Design strategies featuring:
Gamification.
Story-based learning (with linear narrative).
Story-based learning (with branched scenarios).
Narrative through discussion featuring discussions and analysis of dynamics through different perspectives.
Entire narrative based on Q&A.
Case study/master scenarios featuring real-world situations and examples, also featuring guided exploration and active learning.
Scenario-based learning (SBL) featuring multiple paths, examples, and non-examples.
Branching scenarios and simulations.
How can intervention of Performance Support Tools (PSTs) help Banks and Financial Services organizations?
Today, organizations must look beyond formal training and look at approaches that create "learning as a continuum".Performance Support Tools are a great way to push the learning from mere "knowledge acquisition" to "knowledge application".
These learning aids are available within the learners' workflow and cause little or no disruption. These short nuggets can enhance the productivity, push the application of learning, and create a tangible gain for both employees and the organization.
Banks and Financial Services companies can integrate Performance Support Tools in multiple ways:
As a supplement to online training.
As interesting learning aids to supplement instructor-led / virtual instructor-led training.
As stand-alone knowledge assets/nuggets.
I hope this article is useful in identifying how mLearning and Performance Support Tools can be innovative training solutions for Banking and Financial Services organizations and help them create a sticky learning experience for their employees.
Also refer to:
Related Insights