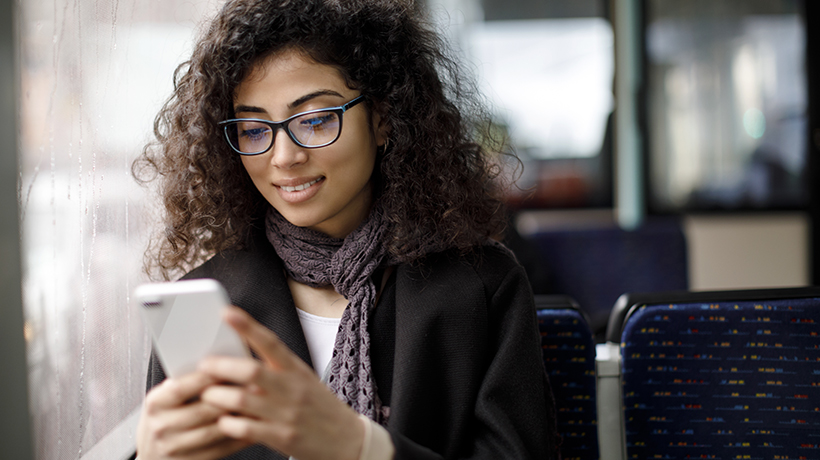 With the maturing of mobile learning, the focus shifts on how to maximize its potential. In this article, I showcase approaches that will help you enhance the impact of your mobile learning strategy in 2019.
Mobile Learning Strategy: Enhance Its Impact In 2019
Mobile learning is the training that is available to learners on their mobile devices. It can be consumed on the go, and it gives them the flexibility to learn anytime, anywhere, and at their own pace.
Access to learning assets is not limited to smartphones. Instead, it features "multi-device" support providing additional flexibility to the learners to move seamlessly across devices during their learning journey (between smartphones, tablets, or laptops and desktops).
Over the last 2-3 years, mobile learning has transitioned from its first avatar—the mobile-friendly format—to the mobile-first format. The initial format of mobile learning was an adaptive or a mobile-friendly format that supported all devices but wasn't fully optimized for smartphones. But the more recent format of mobile learning is the completely responsive or mobile-first format that is fully optimized for usage on smartphones. Not only does it feature interactions that align better to the way we use smartphones but also the designs adapt fully to the viewable area of each device.
It also aligns well to the changing learner expectations and demographics. Today, mobile learning is the preferred mode of training for learners and this cuts across learner profiles (not just Millennials) and resonates well with the multi-generational workforce.
What Are The Key Benefits Of Adopting The Mobile Learning Strategy?
The mobile learning strategy offers several benefits to learners and L&D teams as it:
Aligns to the way learners want to learn (on the go, anytime, and anywhere)
Empowers learners by giving them control on the pace they want to learn
Facilitates a "pull" of learning vs "push" and this resonates better with the learners
Offers a higher engagement quotient
Can be used across learning needs (formal, informal, or social learning)
Can be used to support Instructor-Led Training
Can address the entire spectrum of corporate training needs (ranging from induction and onboarding, soft skills training, product training, sales training to compliance)
Features better completion rates
Can be used for knowledge acquisition, its application, as well as meeting specific learning needs (through instant learning aids or job aids)
Can be used to retain an ongoing connection with learners
What Is The Value That The Adoption Of Mobile Learning Strategy Offers?
The biggest strength of mobile learning is that it aligns very well with the way learners want to consume learning. For instance, you can craft your mobile learning strategy to include learner-centric formats that sync up with their lifestyle. These could include:
Podcasts that they can listen to during their commute to the office
Microlearning nuggets for learning that can be easily consumed during waiting periods (and avoid carving out specific time slots for training). You can also offer microlearning nuggets as refresher nuggets to keep the "forgetting curve" at bay
Microlearning videos for quick time learning
Interactive videos for the application of learning
Just-In-Time learning aids or job aids to address specific challenges or provide tips, ready reckoners, or learning summaries
Quizzes
Practice exercises
Personalized curated content
Furthermore, you can add dollops of fun through gamified elements or make learning more immersive by using nuggets featuring Virtual Reality (VR)
Mobile apps for learning
How Can You Enhance The Impact Of Your Mobile Learning Strategy Further In 2019?
You can enhance the impact of your mobile learning strategy by providing:
A judicious mix of learning and reinforcements to ensure that the "forgetting curve" does not set in
Adequate room to practice, hone skills, and gain proficiency or mastery
Detailed feedback and remediation or recommendations to further enhance the learning
Nudges to review, challenges, and hooks to come back for more
A channel for informal and social or collaborative learning
An avenue to contribute User-Generated Content (UGC)
Here is a ready reckoner of the strategies that you can use to enhance the impact of your mobile learning strategy.
1. You can use microlearning and video-based learning:
To create buzz or awareness prior to the formal training
For formal training
For Performance Support
For informal learning
For inclusive learning (provide room for User-Generated Content)
For social learning
2. Invest in some of the learning strategies that will deliver high-impact experiences:
Interactive video-based learning
AR/VR
Gamification
Scenario-based learning
Story-based learning
Guided exploration
3. Retain the connection with learners by pushing nuggets that:
Reinforce
Refresh prior knowledge
Provide room for practice and mastery
Encourage learning beyond the specified outcomes
As you have probably seen, if you want to enhance the impact of your mobile learning strategy, you need to adopt a multi-pronged approach (that cuts across learner profiles and across various types of training needs). I hope this article gives you the required insights on how you can use my pointers and step up your mobile learning strategy.
If you have any specific queries, do contact me or leave a comment below.
Read More:
Related Insights