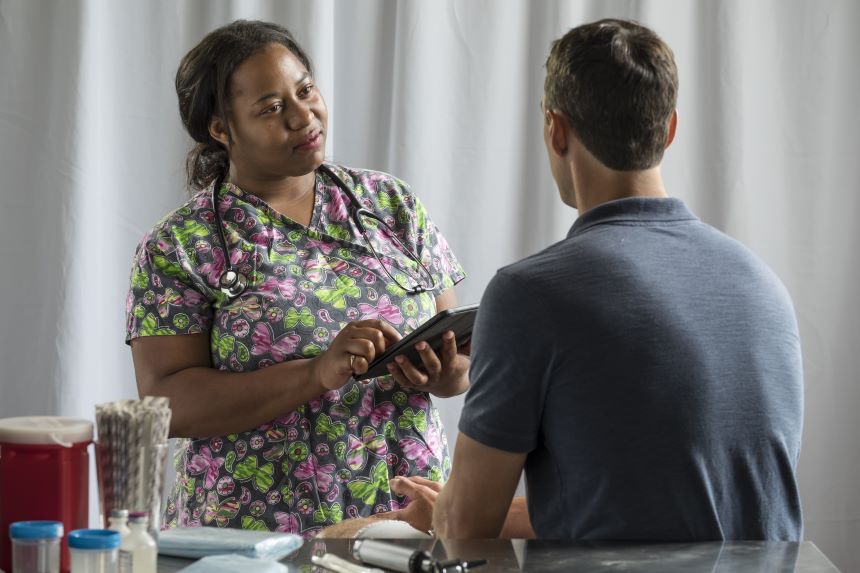 The healthcare industry is a multidimensional field that deals with a sensitive and important subject, our health, not to mention the excessive amounts of money people spend on medical procedures and checkups. What's more, it constantly faces numerous challenges (the Covid-19 pandemic being the most recent example), which many healthcare professionals are not ready to undertake. Furthermore, because of the lack of time, healthcare workers can't dedicate themselves to formal training courses; therefore, the healthcare industry often sees a decline in customer service and overall professionalism of their employees.
Through this prism, the continuous training of all the workers involved in the health industry is crucial if not imperative. Because of the lack of time and the need for improved customer service and better healthcare as well as the need to keep track of innovations in healthcare, on demand learning becomes an essential training solution. 
The Rising Skills Gap in the Healthcare Industry
eLearning in healthcare can offer the optimal solution to address the required skills challenge in this industry. Additionally, the need for rapid upskilling is on the rise due to an increase in number of healthcare professionals on account of the pandemic and amplified health risks due to the global climate change, lifestyle changes, need for mental well-being, and increased health consciousness. When compared to face-to-face training solutions, the advantages that eLearning in healthcare provides are multi-faced as distance learning combines flexibility, easy access to all, and lower costs.
Let's see how eLearning is a good fit in the Healthcare Industry.
What are the Benefits of eLearning in the Healthcare Industry?
Mistakes or lags in employee performance of any kind can be detrimental not only to the patient's life but also to the healthcare professionals' careers and the viability of health organizations. Proper training can address these concerns and because of numerous benefits that distance learning provides, the healthcare industry can achieve remarkable results. Here are some of the major benefits that eLearning in healthcare offers:
It provides more effective learning results – Since distance learning uses more engaging training features like infographics, videos, interactive quizzes, online tests, scenario-based material, etc., it provides better learning results. These approaches help to avoid being overloaded with information (that usually cannot be retained at one sitting).
It is easily accessible – Most healthcare professionals work round the clock, with little time to spare for lengthy training programs. The flexibility offered by digital learning addresses this challenge. Delivered online, eLearning can be made available anytime, anywhere, and on any device.
It offers countless revision opportunities – Unlike classroom or in-person training that has fixed schedules, with eLearning, training is available on-demand. Learners have the option of reviewing learning modules at their convenience, as refresher trainings, or just before or in the moment of need.
It upgrades learners' skills and improves performance – Continuous training, best achieved via distance learning methods, helps professionals and healthcare workers upgrade their skills, keep up with technology's developments and compliance regulations, and improve their performance which, in turn, reflects better patient care. In addition, their trust and faith in the organization are strengthened and solidified.
What are the Advantages of eLearning for Healthcare Organizations?
Additionally, there are many advantages for healthcare organizations that distance learning offers. Here are the most important ones:
Lower training costs – Distance learning cuts down training expenses substantially. There is no need to hire instructors, rent venues or equipment, or pay for travel costs and accommodation. In a nutshell, healthcare entities can offer the same if not more effective learning courses, at a lower cost so they can allocate resources to other departments within their business such as patient services.
Fewer risks – Having your healthcare personnel trained with the use of distance learning techniques, especially when the training is about compliance and equipment/product handling, can save your organization from costly compliance fines, malpractice suits, on-the-job accidents, and high insurance premiums. A better-trained staff performs better and that becomes an asset for your business in every way.
Better use of resources – A well-designed eLearning strategy in your company can help you make the most of your employees because it can help you identify latent gems and monitor their route better in the business. An advanced Learning Management System (LMS) can offer you valuable information about the training performance and the potential of your workers, which can result in improved HR management and talent retention. This, in turn, can save you time and money since you won't have to recruit new employees and spend resources on onboarding.
Stronger learning culture and team spirit – An organization that cares for the development of its staff via a concrete and technology-based learning strategy boosts its overall learning culture and strengthens ties with its personnel. In addition, it supports team spirit (peer-to-peer training methods help with this) and alleviates bad competition among the employees.
It is environmentally friendly – The environmental impact of eLearning shouldn't go unnoticed. The use of technology makes the overall eLearning process more environmentally friendly because it saves people from traveling to attend traditional in-person classes.
What Training Programs Should You Convert to eLearning for Healthcare Professionals and Workers?
So, now that the benefits of distance learning for the healthcare industry are clear, there are some essential eLearning niches to concentrate on:
Compliance – Compliance is by far the most important area that eLearning professionals have to deal with. Healthcare professionals must be continually trained on various compliance-based topics, including bullying and sexual harassment. Mistakes or mistreatment can jeopardize everyone's future and cost lots of money.
Workplace safety – The same goes for workplace safety. Employees should be well aware of the dangers of the job, follow the needed safety rules, and be prepared to face any challenges that may come up. Distance learning can be very helpful in that training because – as discussed above – it can provide easy access to relevant content upon request.
Onboarding – If your organization is recruiting new workers, designing eLearning courses for embracing them in their new workplace can be time and energy-saving for both the HR managers and the newcomers. Technology-based, engaging, and personalized materials can easily reach the trainees regardless of their location and the time they enter the workforce.
Diversity, Equity, Inclusion (DEI) – Healthcare addresses everyone on this earth despite their nationality, religious preferences, or sexual orientation. Healthcare providers should be prepared to treat everyone equally and with respect. What's more, people who work in the healthcare industry come from different cultures and backgrounds (e.g., multinational pharmaceutical companies can have thousands of workers all over the world). eLearning courses that promote social learning on "DEI" can, therefore, be of great value.
Professional skills training – Upgrading the professional skills of your personnel is another eLearning niche worth exploring. You want to retain talent and make the most of your internal resources. Designing specific certifications for your workers to obtain can be an effective method to increase learners' motivation.
Customer service – Distance learning programs can also be about providing better customer service. The focus areas can be about promoting ethics around patients' rights, expanding the range and specialization of the services, and delivering services of greater added value.
Product training – Product training is another crucial domain of training that can be covered by eLearning courses. Handling equipment and products safely and successfully can be geared effectively via technology-based material.
Other training types – In addition to the topics discussed above, there are other areas that can benefit from distance learning. They can be about conflict resolution, emergency preparedness, problem-solving, pathogens and infection control, and hazard communication. Considering the job description of each employee and the requirements of the organization they work for, you can provide highly beneficial custom eLearning programs for the above niches.
What Are Some of the Trending and Best eLearning Strategies for the Healthcare Industry?
Video-based learning – Engaging and easily accessed, video-based learning can offer well-structured knowledge, especially regarding how-to matters.
Virtual reality – Virtual reality courses can offer trainees an immersive environment to learn and experiment, making the whole training procedure more effective. Adding gamification techniques can be a good option too.
Continuous learning journeys – This is the future of the workforce training. If your personnel want to stay ahead of time, they must dedicate themselves to an ongoing learning journey and continuously complete professional development courses.
Simulations – These can be one of the best learning techniques, especially in the healthcare industry. This method leaves room for training that resembles in-situ instances making the absorbance of knowledge more successful.
Microlearning – This is a method of providing short "shots" of knowledge with technologically smart content provides real-time training and can answer questions from trainees without having them ask supervisors for guidance.
Scenario-based learning – This is one of the best methods for knowledge retention is scenario-based learning. Scenarios help trainees understand how the knowledge they gain can be applied in a real professional environment, especially via experimental learning. It is very helpful for learning how to behave in dangerous or threatening environments.
How to Sustain Continuous Skill Development Through eLearning?
To design and sustain continuous skill development through distance learning, you should first prioritize your eLearning strategy. Evaluating the knowledge levels of your personnel, and monitoring their performance, is crucial to begin with.
Next, you should clearly define the goals of your eLearning strategy and what you want to achieve with it. Is it compliance, workplace safety, or customer service? Regardless of your choice, it is recommended to use the SMART methodology to ensure your goals are measurable. SMART goals can also help you be more precise on the expected outcome so you can evaluate it afterward.
Finally, you should decide on the budget you can afford to spend on your eLearning strategy as well as its timeline. This will define whether you are going to outsource your training or make it an in-house matter.
Parting Thoughts
The healthcare industry is going to face more challenges in the future. Pandemics, severe geophysical phenomena, and the integration of AI technology are only some of them and they will shape this first-row sector's future. Through this prism, eLearning strategies in healthcare will have an important saying and will surely define the effectiveness of the healthcare field in the upcoming years. Knowledge is power and eLearning has come to make it even more powerful.
Need inspiration for your next eLearning program?
Check out our eLearning case study collection.  Through these case studies, we will show you how to design outstanding learning solutions that drive employee performance and create a positive impact on business KPIs.
Related Insights