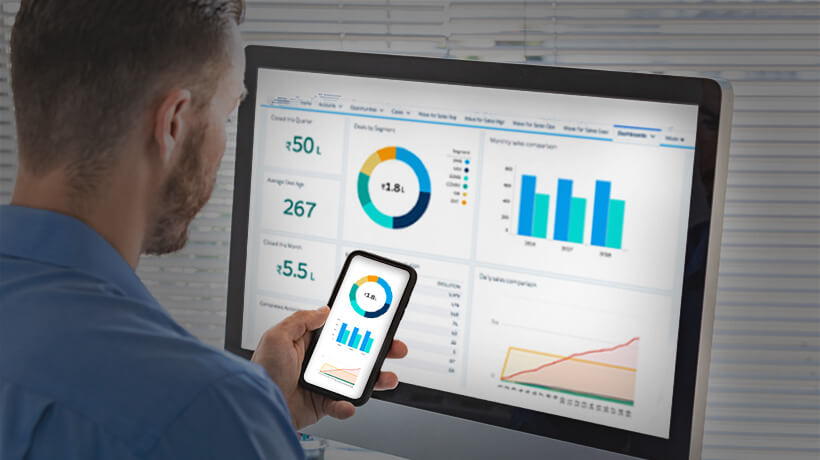 In this article, I outline the definition and benefits of sales enablement programs and 6 strategies that can enhance its impact. I also outline 10 recommendations on how you can leverage eLearning to accelerate sales.
What is Sales Enablement?
 The Forrester group defines Sales Enablement as:
"A strategic, ongoing process that equips all client-facing employees with the ability to consistently and systematically have a valuable conversation with the right set of customer stakeholders at each stage of the customer's problem-solving life cycle to optimize the return of investment of the selling system."  
Sales Enablement is all about equipping the sales teams with ammunition that will help them improve their productivity and achieve their targets. This approach helps you align many functions within your organization to the overall goals and ensure that the customers see the required value.
Sales Enablement programs typically include support at many levels starting from recruitment, onboarding, training, just-in-time resources, as well as ongoing support through tools (like CRM and platforms or portals for information sharing and collaboration) and technology (for instance, analytics that can provide data-driven, actionable insights).
A successful Sales Enablement approach helps you take your sales strategy to a successful execution and enables you to meet your goals.
It is important to note that Sales Enablement is different from Sales Training. In fact, Sales Training is only one of the many pillars that will help your team succeed.
Worldwide, CEOs and Sales Heads are moving toward the adoption of this holistic approach (in contrast to Sales Training alone) to equip their sales teams and create a sustainable edge over their competition.
In this article, I highlight its benefits and 6 strategies that will help you enhance its impact. Given the fact that my expertise is on online training, I share my recommendations on how leveraging on eLearning can help your sales teams.
What Are the Benefits of Adopting a Sales Enablement Based Approach?
 The right Sales Enablement approach (in contrast to just Sales Training) brings several benefits to organizations. The notable ones are:
 Ability to scale talent: The moment you get all team members equipped with the same pitch and tools, you increase the chances of your success manifold. You need not depend only on the few high performing individuals now. Instead, you can ready a broader talent pool and they can pitch with a consistent message and approach.
Equip the sales team with actionable insights for a better conversion: Using the right tools and technology, you can ensure that your sales team has the right data and actionable insights that they can use to strategize or emulate what is working well. This is not all. They also have access to insights on the buyers, their pain points, their preferences, and what would help them. All these actionable insights can be used quickly and effectively by the sales team and improve the chances of their success.
Reduce the time needed to close deals: As the sales team has the required research and better resources to pitch in a ready to use format, they spend more time on prospects with the right pitch. This will increase the rates of conversion. A well-prepared sales rep will have more meaningful conversations with prospects and site the right references, which will help secure deals in lesser time.
Continue meaningful conversations with customers and retain the connect to generate business in future: Providing resources to the sales teams that provide useful and relevant information for customers enables them to have ongoing, meaningful conversations. This ensures they will be in the line of sight when the next need surfaces.
What Strategies Can Help in Increasing the Impact of Your Sales Enablement Program?
As I had highlighted earlier, Sales Enablement programs offer support to the sales teams at many levels.
Here are 6 Sales Enablement strategies that will help in ensuring that you have sales teams that are well-equipped to meet their goals.
Have ongoing training sessions
Given the dynamics, you cannot have discrete and periodic trainings for your sales teams. There needs to be an ongoing training, and the sales team members must allocate a few minutes for learning every day. Even the best performing team members should follow this rigor. Sustainable success is a direct outcome of this practice.
Training alone is not enough – Add Shadowing and Coaching and Mentoring
Alongside structured training, sales teams require additional support measures that could include shadowing successful team members as well as Coaching and Mentoring. It is also important to invest on the training of potential Coaches and Mentors for this endeavor to provide the required value.
One size does not fit all – Personalized approach matters
While standardization is a good measure to start and scale quickly, this alone does not work. You also need to plan for adapting the personalized approaches to suit the diverse profiles in the sales teams.
Leverage on success stories
Nothing inspires us more when we see a fellow team member's approach to success. It tells us that we too can achieve similar success. Today, technology allows us to record such interactions, easily share these experiences, have team members respond on how they will use it, and have them recap how they used it.
Sales and Marketing must be aligned
Often, the Sales and Marketing teams work as parallel lines – they are close enough but do not meet! To get the required value, the sales and marketing teams must work in tandem and in complete sync. For instance, having a common portal would help; it can host all the marketing resources and is readily available for sales teams. It is also good to have a common forum for both teams to exchange ideas – on what is working and what is not and what more needs to be done to manage competition.
Align Legal, Finance, and Admin teams to the urgency of sales
Closure of deals and contracts needs support from other departments like Finance, Legal, or Admin. Often, these teams do not see the underlying urgency and are not quick to respond.
How Can eLearning Help in Improving Your Sales Enablement Program and Accelerating Sales?
Here are my 10 recommendations that will help you leverage on eLearning to improve the impact of your Sales Enablement program and accelerate sales. Essentially, eLearning can help you train your sales team faster with a consistent messaging (training courses) and provide just-in-time support on the field (crucial learning resources).
Adoption of Mobile Learning is a great way to help sales reps take training on the go (anytime, anywhere, and exactly at the moment of their need). You could also invest on using Mobile Apps for sales training. You can push updates, additional resources, and other just-in-time learning aids through this with ease.
You can provide a mix of learning resources for formal training as well as just-in-time learning aids (Cheat sheets for scripts, Case studies, Use Cases, Product sheets, Competition analysis and so on). The sales team members can have self-paced, short training sessions that can help them learn, refresh, review, prep before a call or a meeting and so on.
Additionally, opting for Microlearning based training ensures you can offer short, bite-sized training that can be connected over a learning pathway.
You can build further on the Microlearning based training to offer highly personalized learning assets (given the role or product/service the team member is working on).
Microlearning based training uses Video Based Learning You can leverage traditional videos as well as their next avatar, Interactive videos, to offer engaging and immersive training to help learning and its application on the job.
You can add Scenario Based Learning featuring complex Branching Simulations that help sales teams go through real-life situations and practice in a safe environment. Through this, you are helping them hone their skills, improve their decision-making skills, and stimulate critical thinking.
You can use techniques like Gamification with leaderboards and badges to gain proficiency levels.
You can also add Micro Challenges (for instance, short Gamified assessments) to validate or reinforce learning and keep the sales team members on their toes.
The next gen platforms like LXPs can be used to design these learning pathways. These go a long way in fostering a spirit of continuous learning. You can leverage on the other features of LXPs like Social or collaborative learning and career pathways to ensure that sales team members are connected and will keep coming back for more.
You can also invest on recommended, additional learning resources through Curation and ensure curated, relevant content to the team members. Today, many platforms use AI techniques to offer these recommendations.
As you would have noted, Sales Enablement can help you bridge the gap between sales strategy and its execution. It equips your sales teams to perform better and brings in higher, cross-functional collaboration. I hope this article gives you the required cues on how you can leverage on eLearning and improve your Sales Enablement program, thereby helping your sales teams succeed.
If you have any specific queries, do contact me or leave a comment below.
Read More
Related Insights