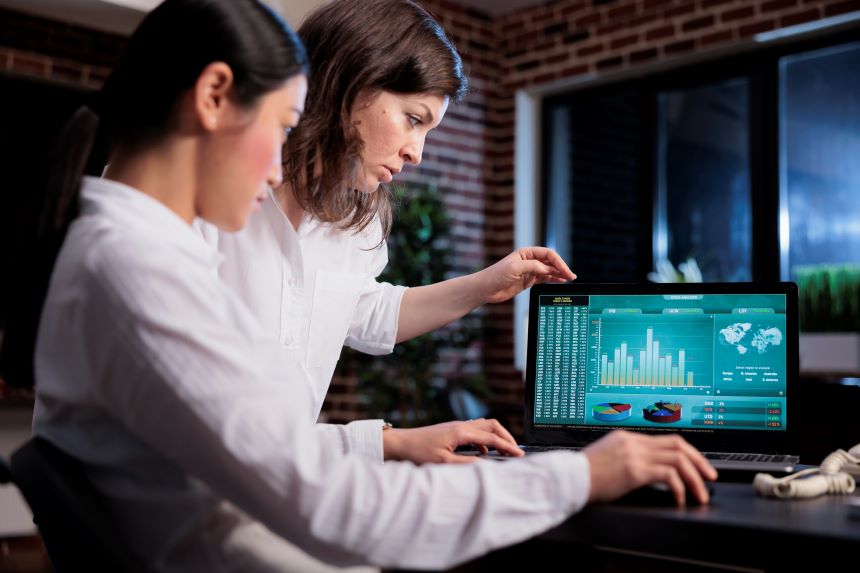 The Challenge
Not only do L&D teams spend large amounts of time, money and resources on building learning programs, but they also ask that employees invest time and energy into taking part. After it is all said and done, does the organization really know if the program provided value to either the learners or the business? In most cases, the answer is no. Organizations often do not have the skills or the tools to properly analyze available data in a way that provides meaningful insights.
Getting better at this kind of analysis is critical to the business for many reasons. In fact, according to Brandon Hall Group research, improving learning analytics is the number two learning priority for achieving business goals.
Organizations recognize that the effect of inadequate learning measurement reaches far beyond the L&D environment and has negative consequences for the business. Nearly half say that an inability to measure learning's impact on individual performance is having a strong negative impact on the effectiveness of the business. More than half say the same about the inability to measure learning's impact on business performance.
The Rethink
Learning Measurement does not begin when the program is finished. It must begin before the program is ever developed. You need to start with organizational goals and determine what individual behaviors and performance will help achieve those goals. Designing programs around a set of specific, defined metrics provides a roadmap for measurement.
Many companies don't calculate learning's ROI simply because it is too difficult to measure as there are too many other variables involved. By taking a more strategic approach to measurement and working with key business stakeholders to determine outcomes and metrics, the learning function is in a much better position to demonstrate its ROI.
Ultimately, it is about shifting the focus of learning measurement from efficiency — enrollments, completions, grades, etc. — to efficacy. Measuring how many people finished a course is meaningless unless you can show that those people are behaving or performing differently than those who did not. The outcome of learning cannot simply be that learning occurred. It must be behaviors that drive performance.
The Recommendation
What Brandon Hall Group has to Say About EI's Solution
Everything that Brandon Hall Group Smartchoice Platinum Preferred Provider EI does for their clients is focused on ROI. As a strategic partner, they help their clients build a measurement mindset that not only enables better measurement but also helps drive maximum return.
EI is a strong believer in the critical role of a Training Needs Analysis (TNA). While each program is different, any effective TNA must include two elements:
Business Case. The purpose, description and expected outcomes of the program must be defined
Performance Metrics. The specific metrics that are associated with the expected outcomes must be defined, as well as the ways in which they will be measured.
EI also works with L&D teams to help engage business leaders to identify the key performance indicators for the business. Learning metrics can then be aligned with these KPIs to ensure learning is continuously focused on driving business outcomes.
Measurement is often overwhelming for L&D teams, given the scope of what they are trying to measure. There are many models and frameworks available to help but choosing the right one can be its own challenge. EI helps clients pick the model that will work best in their environment, whether it is an existing model or a custom framework.
For companies that want to begin getting a better track on learning's ROI, EI offers a toolkit for getting started:
Step 1 – Redefine what learning means. To gain real insight, there must be a mind shift that goes beyond the idea that learning is simply knowledge acquisition. In order for learning to have taken place, it means that learners have:
Acquired new information
Practiced a skill or behavior
Applied that knowledge/skill/behavior on the job.
Step 2 – Focus on the business, but don't ignore the learner. While organizational goals are important, they must be aligned with learner needs and expectations at the outset. Because each learner is different, it might take different learner journeys to achieve the same business outcomes. Factoring in these needs makes it possible to:
Leverage learners' past knowledge and experience.
Offer learning opportunities that best align with what learners want and need
Step 3 – Identify relevant and objectively measurable metrics. There needs to be a combination of related and aligned business and L&D metrics associated with learning programs. Strong collaboration between the L&D team and business stakeholders will help define how impact will be measured. Positive L&D outcomes alone may give a false sense of effectiveness. Key performance indicators are required to determine impact. Effective collaboration with business stakeholders means:
Leveraging L&D expertise to articulate how learning can impact performance
Understanding the metrics that are important to business leaders
Focusing on objectively quantifiable metrics
Determining the value of measuring a program's effectiveness
Reporting results honestly, even when the outcomes are poor.
Step 4 – Identify measures to sustain and maximize impact. There are several strategies for ensuring learning's impact can be sustained. This includes focusing on both L&D and business metrics to set the foundation. Additionally, an appropriate evaluation model should be selected. This will provide clarity around what will be measured, how it will be measured, and what will be done based on those measurements. L&D teams should also spot-check the metrics periodically to see if things are moving in the right direction, without waiting for a big, final measurement event.
Ultimately, this approach to measurement will help organizations build and improve programs that continuously sustain performance. By tracking what is working, efforts can be focused on doing more of that, and retooling areas that are not producing impactful results. These are the kind of insights that completion rates alone can never deliver.
David Wentworth, Principal Analyst, Brandon Hall Group
Related Insights