Using Social Learning to Foster Collaborative Learning
We don't always learn from formal teaching and learning methods.
Rather than structured formal learning, most of us prefer exploring things on our own or seeking inputs from our peers or seniors. Learning through observation is a human tendency, a fact that Dan Pink firmly asserts in his book "Drive: The Surprising Truth About What Motivates Us". He states that people have a strong desire to be both autonomous and inter-connected. He cites this as one of the key motivating factors for people to chase greater accomplishments.
This is also reflected in the 70:20:10 Model for Learning and Development that describes how learning happens. According to this, most of us pick:
70 percent of our knowledge from our on-the job experiences
20 percent from interactions with others
10 percent from structured or formal training
Realising this, several organisations are adopting social learning as an integral part of their learning strategy.
In this newsletter, we share our article that outlines the concept of social learning, its benefits and how it can be used meaningfully in an organisation to enhance collaborative learning. The article will also provide some best practices that you can use.
---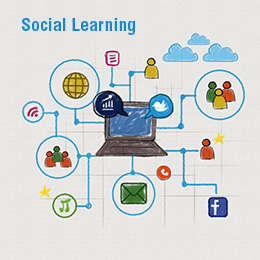 ---