Insights on Learning and Performance Ecosystems and Performance Support Tools
With pressure on training budgets, all L&D professionals and organisation heads are seeking ways and means to ensure effective ROI on training investments. A key success factor is to adopt measures to step up the learning to application on the job. This will lead to the required business impact and will have a direct bearing on ROI.
One of the approaches is to work with a bigger picture of "Learning and Performance Ecosystem" and drive training through multiple channels (including formal and informal learning, social learning, and performance support). This combination ensures that multiple learning avenues are available to learners, and instead of one-off trainings, the focus shifts to "learning as a continuum". An integral component of "Learning and Performance Ecosystem" are Performance Support Tools (PSTs) that can push the learning acquisition to learning application.
In this newsletter, we share two of our articles that provide insights on:
Learning and Performance Ecosystems
Performance Support Tools (PSTs)
In the next newsletter we will share examples of PSTs and exactly how they can be leveraged to push application of learning on the job.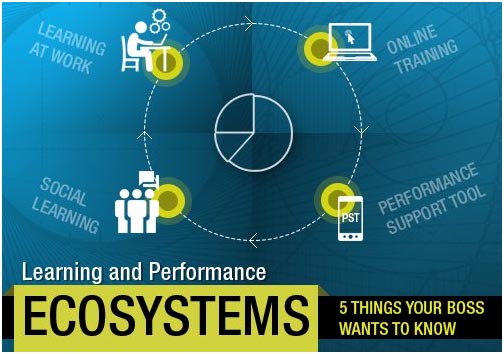 Learning And Performance Ecosystems: 5 Things Your Boss Wants To KnowIn this article I will address the questions that you may have while evaluating or adopting a "Learning and Performance Ecosystem" based approach, and specifically how it can create a better learning environment in your organization.
---
Performance Support Tools: Top 5 Things Your Boss Wants To Know
In this article, through a series of questions, I will provide answers on what Performance Support Tools (PSTs) are and why they must be an integral part of your organization's learning strategy. I will also share my insights on how they help learners and how they can help address a key challenge that Learning and Development professionals face in terms of increasing knowledge recall, its retention, and application.