Building on the successful launch of Suite 1 comprising of 15 courses on Instructional Design for eLearning Professionals, our first set of 4 compliance courses [out of 10] that would benefit employees of any industry been released this February.
Highlights of ProductLine Suite 1 for Instructional Designers and other eLearning Professionals
Features 3 bands:

Theoretical facets of Instructional Design
Application of theory into practice
New and emerging trends in Instructional Design

Followed proven strategies for better learnability
Multi device access considering new age learners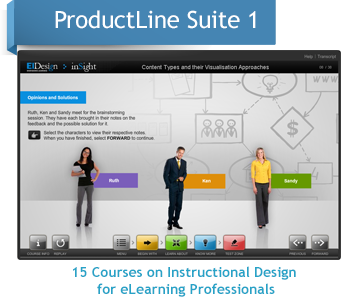 Voices of happy customers:
I saw all the contents you shared with me and I'm quite impressed by the quality of these.
---
The courseware seems comprehensive and is well laid out. The presentation of material is well structured through the use of character-driven scenarios. Courses contain crisp graphics and audio, and have a solid emphasis on inline quizzes and knowledge checks.
---
I've reviewed EI Design InSight-ProductLine demos on Instructional Design Fundamentals, Writing Effective Storyboards, Creating Effective Assessments and Content Types and Their Visualisation Approaches.
---
The content provides good and useful ideas and insights on both theories and methods behind measuring and assessing as well as writing storyboards.