eBooks on Outsourcing eLearning Content Development
Outsourcing eLearning content development is an established practice today. Several companies around the world are taking the outsourcing route to up their business graph on account of the various benefits that outsourcing offers. However, there are several aspects that need to be considered for a successful outsourcing exercise.
We have partnered with several companies in outsourcing eLearning content development over the last 14 years. This newsletter features our two eBooks on Outsourcing, which contain the essence of our learnings in all these years and provide valuable insights on what it takes to be a successful outsourcing partner:
---
eBook 1 – Is Outsourcing eLearning Content Development Right For You?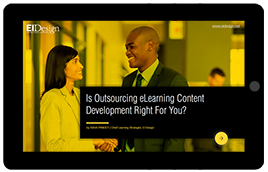 While several companies are outsourcing eLearning content development, their requirements and business goals differ. You need to know if outsourcing will indeed help you meet your target. This eBook features two articles that provide insights on the benefits of outsourcing eLearning content development, the related challenges and how you can ascertain if outsourcing would fetch you the required business gains.

---
eBook 2 – How To Evaluate The Right Partner To Outsource Your eLearning Content Development?
A successful outsourcing initiative is only possible if you find the right partner to make it happen. Finding the right partner can be a tough task. This eBook provides pointers and tips on how you can select and evaluate the right outsourcing partner.