Migrate Flash Courses To HTML5 Now
You may be working on a plan to migrate your legacy Flash courses to HTML5 (to make them compatible with Tablets and Smartphones).
With our expertise of over 14 years in custom eLearning and mobile learning solutions, we at EI Design, can help you do this and more. We are proud to be recognised at the 2nd position in eLearning Industry's list of Top 10 eLearning Content Development Companies for 2015. With a strong mobile learning practice of 5+ years, we have already delivered over 950 hours of mLearning courses.
WE CAN ASSIST YOU IN
1
2
3
---
Crafting your overall migration strategy (provide you with varied options on migration or complete redesign)
Identifying the right authoring tool (to support adaptive or responsive approach)
Providing an enhanced Instructional Design strategy to create a better learning impact
---
Our approach will not only refresh your existing courses but provide a better learning experience. Furthermore, the efficiencies in our development will give you advantages including:
Cost benefits (our Total Cost of Outsourcing or TCO is amongst the most competitive in the world)
Shorter time to go-to-market with your mobile learning offering
Take a look at this example on how we transformed a legacy Flash course to a higher impact mobile learning course: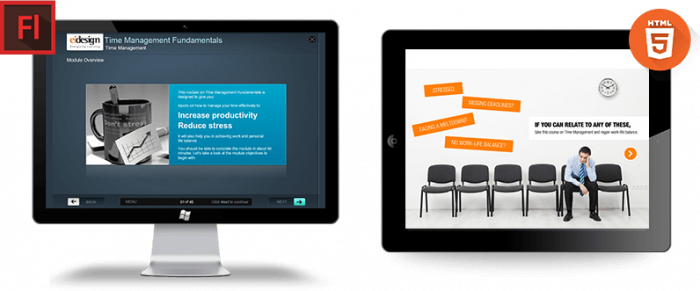 We invite you to schedule a call now with our Solution Architecting Team to discuss your initiative in more detail and showcase how our migration strategy can help you create high impact mobile learning products.
Do check out the following blogs that showcase our expertise in effective migration of legacy Flash courses to HTML5:
---