Is Outsourcing of eLearning Content Development Right for You?
Outsourcing has become a global phenomenon and several organisations have been taking this route to cut down on their expenses and up their business graph. The reduction in costs, sharing of burden and several other benefits that outsourcing comes with make it an attractive prospect. However, what may have worked for other organisations may not work for you and you need to be aware of several aspects before you go about finding a partner to fulfill your outsourcing needs.
In this Newsletter, we share two articles that provide insights on the advantages of outsourcing eLearning content development, the challenges that come with it and how you can determine if taking the outsourcing route will indeed result in the desired business gains.
---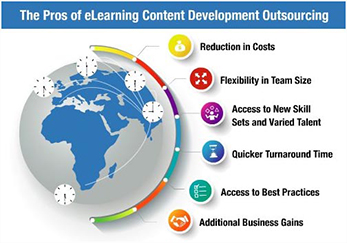 6 Pros Of eLearning Content Development OutsourcingShould you outsource your eLearning content development? Why? What benefits would accrue if you opt for outsourcing? This article tries to answer these questions by outlining the factors that trigger the need to outsource and listing out the top 6 advantages of eLearning content development outsourcing…
---
Is Outsourcing eLearning Content Development Right for You?
This article builds on the aspects covered in the first article and lists out the challenges that are associated with eLearning content development outsourcing. Being aware of the challenges will provide the right cues to craft your strategy to outsource successfully…