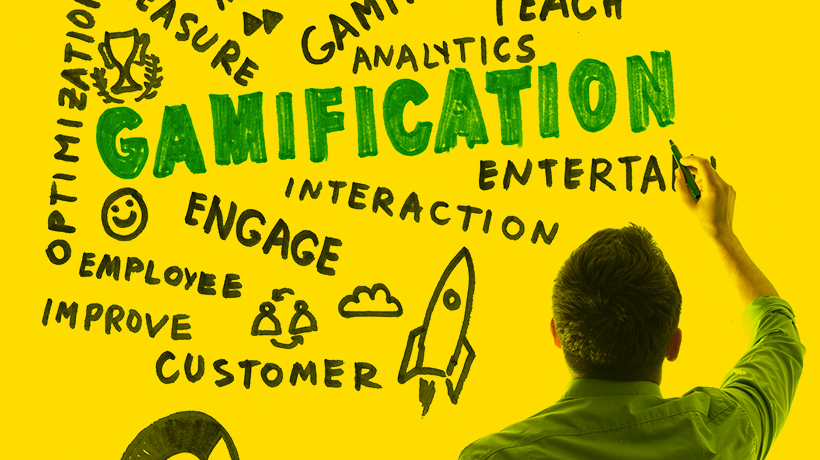 It doesn't take a genius to notice that a lot of workers are disengaged and uninterested in their work. According to the alarming Gallup's poll results, around 70% of people label themselves as disengaged or actively disengaged at work. Exploring new methods for creating more engaging workplaces is a paramount concern for today's companies.
A lack of interest within your sales team can lead to a lot of wasted potential and resources. Resulting in low and slow revenues, this can seriously hurt your company.
Adding a gamification platform can create incredible business results, such as boosting conversion rates up to 7x. The good news is, you don't have to create a gamification platform from scratch – you just have to pick the right tool for the job. There are many solutions for your troubles, ranging from extremely customizable tools to pretty straightforward. Picking the right one is hard and needless to say, a big decision for any company. Luckily for you, we've got the list of best gamification tools winning teams use to accomplish more in their everyday work.
LevelEleven
LevelEleven uses gamification to increase engagement, productivity, and employee motivation through social contests. With LevelEleven, it's easy to incentivize performance with team-wide contests and reward top performers. Their Compete platform is also a perfect tool for sales teams with high CRM adoption. If a sales parameter can be tracked, it can be turned into a competitive aspect with Compete!
LevelEleven's specialty is helping companies identify the driving principles behind productivity. And, of course, apply this knowledge to your sales teams. This is probably the most flexible and scalable gamification tool – both growing and established businesses can adopt it without a hassle.
It's really easy to use LevelEleven to streamline business processes and motivate CRM adoption. Thanks to the high customization options your company can use Compete to motivate industry-specific behaviors such as appointment scheduling or follow-up sales calls. This tool uses gamification techniques such as real-time leaderboards, point accumulation, and peer ranking to promote these actions.
Through Compete's simple admin interface, you can customize contest goals, target specific users, and choose to award tangible prizes.
A testament to the success of LevelEleven's gamification platform is the report from one of their earliest customers, BNP Media. They sought to increase adoption of SalesForce and improve their sales strategy. Besides increased sales and increased CRM usage, BNP Media increased profitable sales rep behavior by 285% with gamification.
FantasySalesTeam
A fantasy sport is a great way to pass the time. What might seem like a simple game of numbers is actually a highly addicting and guilty passion of many. Fantasy sports have a simple premise. Your goal is to assemble imaginary or virtual team of real players of a professional sport. The next step is to track their performance and ultimately convert it into points. You compete with friends and strangers for the most important prize – the bragging rights! It's a multi-billion industry and a favorite pastime of more than 56 million people in U.S.
FantasySalesTeam is an option that brings the dynamics of fantasy sports to your company's workplace. Through gamification, this platform allows your sales managers to host team-based competitions modeled after fantasy sports, making otherwise tedious work exciting and competitive.
Using sales metrics like booked revenue, calls, the percentage of quota achieved, number of opportunities, and any custom metrics you decide to track, FantasySalesTeam awards points to your teams. So instead of tracking touchdowns, runs, tackles and other statistics in sports, players can earn points by achieving company's sales goals. All statistics and metrics are tracked through FantasySalesTeam's dashboard, which any team member can access to check the scores.
Staff engagement and friendly competition are heavily encouraged by online leaderboards and discussion boards. On these boards, your sales reps can use their profiles to contribute to the discussion or monitor their rank compared to their coworkers.
The process is similar to every other fantasy sports game. Sales representatives pick their coworkers to be on their fantasy teams and use FantasySalesTeam to track their teams' standings. Your sales teams have multiple sports templates to choose from. If your agent doesn't particularly enjoy football, soccer, or basketball, he can always choose baseball or racing. A little bit of something for everyone.
One small feature that is really popular among sales teams is the "smack talking" feature (of course it is.) This feature gives a whole new dimension to the friendly banter between colleagues.
When technology leader Hewlett – Packard leveraged FantasySalesTeam in 2013, they saw a linear increase in their sales ever since.
Hoopla
If anyone knows how to bring fun into the workplace with data analytics and game mechanics, it's an award-winning SaaS provider Hoopla. This tool is built primarily on motivational psychology, helping managers drive business results, engage employees, and boost productivity. Hoopla uses a lot of different custom features to keep employees motivated and focused on company goals – something your sales reps forget once in a while.
Hoopla is a heavily competition-driven tool. It's leveraging the innate competitive spirit of salespersons to inspire and motivate your teams. This gives your sales reps ability to create contests around business objectives or challenge each other to a face-off – all in a game-like environment and friendly manner.
Hoopla's greatest tool is their "Hoopla TV" which you can use to transform any screen in the office into a broadcasting system. You can easily pull together live data, challenges, announcements, news feeds, and recognitions to transform your teams into high performing superstars.
Hoopla can be seamlessly integrated into your CRM or other business software. Thanks to these integration capabilities, you can always get quantifiable and data-driven results from your sales reps. These accurate reports help you determine incentives for top-performing employees. Also, you can continually tweak and refine rewards to boost productivity and improve the workflow of your sales teams.
A cloud-based webcasting and virtual communication company ON24 began using Hoopla in 2012. Soon they've noticed 150% increase in number of calls and staggering 525% increase in number of meetings set.
Ambition
The Ambition gamification tool uses one cumulative score to measure productivity and success across all metrics – Ambition!
This tool allows sales managers to set goals for workers, sort them according to functional roles and titles, increase transparency for both manager and employees, and measure their performance against benchmarks. It's easy to filter sales reps by job type and other metrics to identify the biggest contributors to the company. If you want a gamification tool for measuring overall score of your employees, Ambition is the right solution.
With Ambition, everything happens in real-time. Thanks to their easy-to-use platform, you can create competitions in a blink of an eye and give updates in an instant. Much like fantasy sports, you can create seasons and leaderboards to track your overall employee contributions. With the help of integrated data analysis and tools, you can create different strategies to drive your sales teams forward.
While the overall score is the main metrics of this tool, you can still measure some metrics. Everything is logged, from margins and outgoing calls to marketing and telemarketing efforts. If you're interested in your employee's performance in any part, you can check up-to-the-hour progress scores. Thanks to the CRM-compatible platform, a number of supported phone systems and CSV uploads, you can easily track the ambition score of your sales reps.
Just a couple of weeks after Coyote Logistics (then Access America Transport) started using Ambition gamification tool, the company saw its daily outbound calls go up more than 25%.
Bunchball Nitro
Bunchball has been on the marketplace for more than 10 years with their gamification software. Formed in 2005, they continually provide cloud-based gamification products to help companies improve their current customer's loyalty and gain new ones.
Their signature product, Bunchball Nitro, combines gamification, big data, and behavioral science to strengthen the connection between companies and sales reps, as well as motivate specific behaviors. You can easily bring new sales reps on board with easy challenges made just for them or engage current employees with meaningful rewards.
Different gamified activities are going to help your sales reps tackle daily challenges through teamwork, positive feedback, and recognition. Utilizing reward systems, Bunchball Nitro will increase your employee loyalty and brand awareness on many levels.
Unlike the rest of the tools mentioned in this article, Bunchball Nitro is much more than a gamification platform for your sales teams. Trusted by many different partners, such as Salesforce, IBM, SAP, and others to not only motivate their sales teams, but also to educate new users, increase social media investment, and expand their reach across all platforms.
A testament to the power of gamification with Bunchball Nitro can be seen in a quote by Natasha Oxenburgh, Social Programs Manager in Bluewolf.
"We've seen a total cultural transformation after deploying gamification from Bunchball to motivate our employees to participate in our Going Social program. We've tripled traffic to our website from social media platforms, tripled our blog readership, and have seen an eightfold increase in our blogger community. Internally, we saw collaboration increase 57 percent. Best of all, we've sustained those high levels of engagement ever since.
Every enterprise is different, each one of them with different needs. These gamification tools are some of the best on the marketplace today, with success stories to prove it and quantifiable success under their belt. That said, before making a decision, it is important you do as much research as you can. A perfect solution for one business might be the opposite of what another needs.
Related Insights