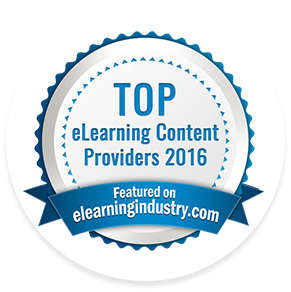 Among the best e-Learning Content Development Companies, AGAIN
EI Design is proud to retain the 2nd position in e-Learning Industry's list of Top 10 e-Learning Content Development Companies for 2016. We owe this success to our focus on Innovation and our team.
We address the entire spectrum of your training needs like Compliance, Induction and onboarding, Product training, Sales training, Soft skills, Behavioural change, Application simulations, Performance Support, Change management and many more.. with our innovative e-learning content development strategies.
WHAT SETS US APART

Focus on Performance gain

Innovation, research and exploration

An engagement model with low TCO

Learnability, data and analytics
YOU CAN PICK FROM OUR
e-Learning and mLearning
ILT/VILT and Blended
Performance Support
Migration from flash to HTML5
Localisation
Gamification
Interactive videos
Apps for learning
Decision making
Scenario based learning
Storytorials
Responsive learning portals
Social learning
Microlearning
Millennial-centric solutions
Learnability and analytics
EI Design is proud to be recognised in eLearning Industry's list of top eLearning Content Development Companies for 2015. Our focus on innovation, customer retention rate and overall performance have been instrumental in helping us emerge as a top eLearning content development company in India and this ranking seconds that.