Performance Enhancement
Today, organisations seek higher Return on Investments (ROI) on formal training. They also realise that often training alone is not enough to improve performance.
This is exactly where our enhanced services portfolio featuring specially designed Performance Support Solutions fits in. Through them, we assist transforming learners' acquisition of knowledge to application of knowledge.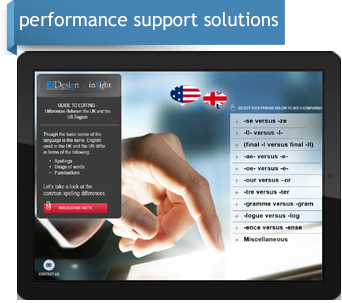 Performance Support Tools (PSTs)
Did you know that only about 10% of learning happens with formal training? This is why training alone is not enough for better performance.
Performance Support Tools, in addition to reiterating the highlights of the training are designed for learners to apply the learning in the context of the nature of their job.
The PSTs that we have designed have resulted in higher ROI for our customers re-affirming our capabilities to ensure the efficacy of learning as well as improved predictability on the ROI.
Do contact us if you would like to know more about these success stories and how we could create a few for you.
Our Recent Webinars
As part of our knowledge sharing plan, we have walked our partners and prospects through our research, focus areas and learning in the Nov-Dec'14.
For ease of knowledge sharing, we have developed collaterals featuring multiple dimensions of our exploration and strategies adapt. The outcomes that are Gamification in learning and the approaches we implemented to catalyse learning.
Do contact us if you would like us to schedule one of these especially for you and your team.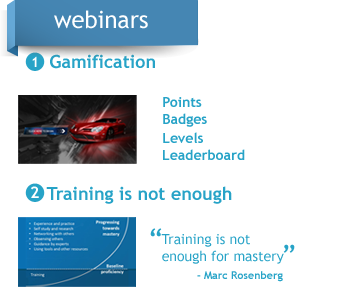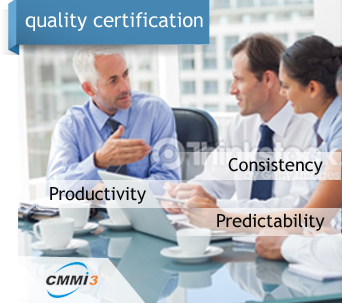 Our Corporate Quality Certification Endeavour (CMMi L3)
The quality certification initiative that we had initiated in last year has started bearing fruits in terms of the consistency in productivity and predictability in the quality of outputs at various stages of product development.
We believe this is the "icing on the cake" that will take our already mature development practice (13 years old!) to next level and enable us to grow at much faster pace over next 3 years.
In 2016, we will step this up to aim for L5 that focuses on continually improving process performance particularly through adoption of innovative approaches.
Spirit of Innovation is part of EI Design's DNA and we look forward to reaching this milestone next year.