"An investment in knowledge pays the best interest"
– Benjamin Franklin
In the competitive workspace, it is imperative to continuously invest on learning so that we can quickly adapt to changing dynamics and changing expectations. With technological advancement, the world today has diverse sources and accesses to information. However, authenticity of information remains a concern.
Our ProductLine "inSight" is an initiative intended to offer online courses for learning professionals to equip them with tools that will help them build a successful career. With this ammunition, they can quickly learn to apply the training material on the job, thereby gaining an edge over others.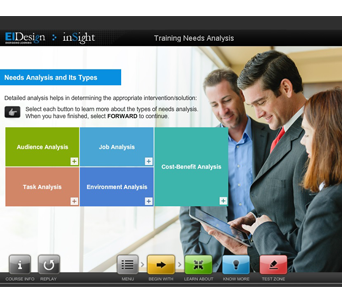 ProductLineinSight Suite #1
Our core expertise is Instructional Design. We have converted our expertise of Learning Strategy creation over the last decade into 15 online courses on Instructional Design. Through these courses, we aim to bridge the gap between Theory and its Application.
These courses are available on OpenSesame portal and on Apple AppStore as Apps under the Instructional Design category.
We stand for "Energising Learning". Have a joyful learning experience as you explore our online courses.