m-Learning or Mobile Learning Solutions
With mobile/smartphone/tablet technology taking giant strides in all spheres, including education and learning, we have formed a focus group dedicated specifically to develop m-Learning or Mobile Learning Solutions. The group includes solution architects and experts from such domains as Instructional Design, Visual Design and Technology.
Together, the group has vast experience with the following learning design authoring tools that support HTML5 output:
Articulate Storyline
Adobe Captivate
Trivantis Lectora Inspire
We have successfully completed more than 350 hours of mobile learning using customised framework based on Flash CS6 and Create JS.
m-Learning Services
Our m-Learning or Mobile Learning Solutions include migration of legacy courses to HTML5, custom and rapid mobile learning. The focus group provides input throughout the initiation, planning and implementation stages of each project. Within the initiation and planning stage of each learning design project, our team:
Assists you in creating an m-Learning adoption business case
Helps create a blueprint of m-Learning implementation
Determines whether rapid or custom m-Learning is in order
Validates your organisation's readiness for m-Learning
Works with you to identify the content most suitable for m-Learning
Defines the learning strategy
Migrates your existing Flash courses to HTML5, which includes re-design as needed
We appreciate that a customer may be interested in tracking the project progress and providing valuable inputs. That is why the customer has full access to the project workflow and open communication with the team members working on the project. We take pride in creating a collaborative and transparent working relationship.
Mobile Learning Implementation
According to Wikipedia, the majority of work-based learning happens on the job, often at the moment of need. Because of this, m-Learning is being used in a wider range of modes:
On the job training for someone who accesses training on a mobile device
Just-in-time training to solve a problem or gain an update
Performance support – immediate access to tools to streamline a work/task
Reference guides and ebooks
Checklists
Always on the cutting edge of custom learning solutions, we have responded with a strong implementation plan to transition your custom eLearning solutions to mobile learning.
The implementation stage follows the initiation and planning stage of learning design development. This stage includes:
Selection of the right tools needed to develop the m-Learning components
Creation of the courses with a single-build multi-device support
Formation of a transition plan for the material brought over from traditional eLearning to the m-Learning format
Testing of the courses across numerous platforms, screen resolutions and devices
Our team of professionals in Bangalore, India, provides consistent opportunities for customer input throughout this and all other stages of the workflow process.
At the end of the implementation process, your team has access to rapid m-Learning solutions that have been customised for smartphones, tablets and other hand-held media devices. Your employees get the benefit of training on a flexible scheduleYour employees get the benefit of training on a flexible schedule – they can easily work on their training throughout the course of their day, thanks to easy and instant access to their courses.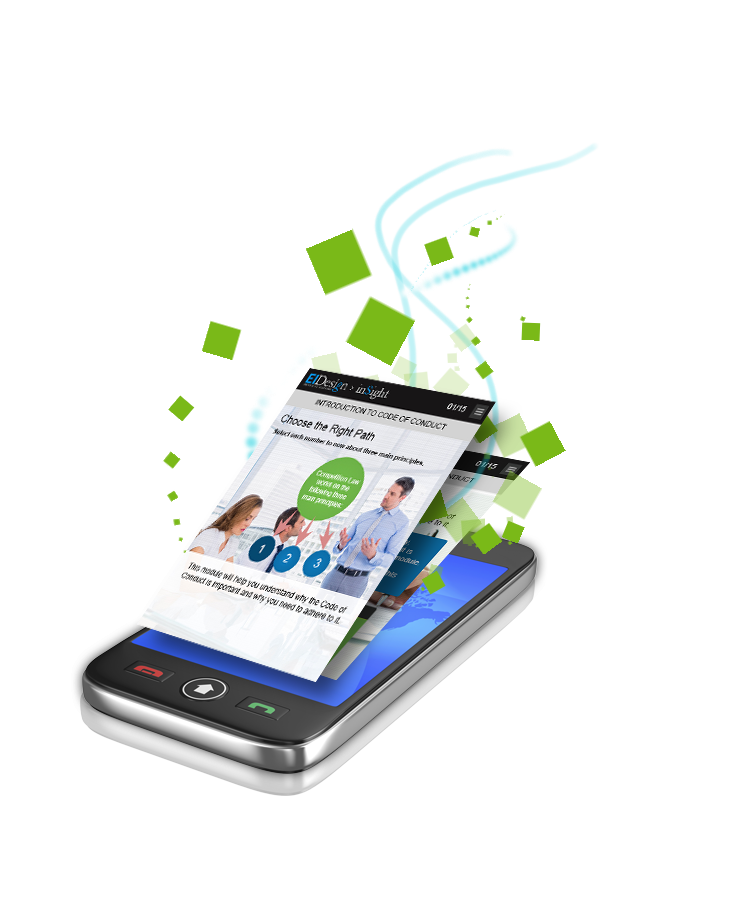 Take your learning and performance strategy global and multi-platform with EI Design. Let us know your needs and get a quote.