Custom eLearning Solutions Development
With over 5,800 hours of custom elearning development, we are just the partner you are looking for to provide efficient solutions to elevate your existing content to engaging online courses.
Our Custom elearning Solutions Development will engage your employees and produce required results.
For custom elearning development (also known as bespoke elearning), we ensure we get the content right by working closely with you and getting inputs where needed from subject matter experts, including academicians knowledgeable in the domain.
Our team uses various strategies, such as gamification, story based, scenarios, guided exploration, interactive videos and branching scenarios to create the right learning experience.
Our bespoke elearning solutions will scale to your training needs using established delivery mechanisms.
Our team brings to the table its sound Instructional Design know-how and efficient visualisation approaches to craft solutions to meet your expectations and create learning experiences that enhance the performance of the learners.
Our focus on creating quality custom elearning courses enables us to customise your classroom training and develop custom eLearning.
Our cutting-edge elearning development framework helps us provide the interactivity levels appropriate for your courses in quick time with innovative strategies.
Our rapid elearning development process can turn your PowerPoint into an online course with recorded narration, quizzes, tests and enhancement features in record time.
Our overall solutions will enable you to deliver training on any device of your learners' choice (PC, Tablets or Smartphones).
We can develop solutions for you using various authoring tools such as Adobe CS6, Storyline, Lectora, Captivate, Mohive, Claro, Articulate Studio and so on.
At the core of our bespoke elearning solutions is the learner-centric approach . In our endeavour to provide continuous innovation for effective custom elearning solutions to help customers, our Solution Architecting team constantly works on:
Evaluating emerging trends, tools and technologies
Evaluating changing learner needs and expectations
Determining how these pointers can be practically used to enhance learning experiences
In line with our learner-centric approach, our Solution Architecting team constantly provides feeders and new ideas/approaches to customers to continuously create better and more immersive learning experiences.
To address the needs of the new generation learners, we constantly upgrade our multi-device framework and devise custom mobile learning solutions that factually synchronise with the anywhere, anytime learning concept.
With our extensive experience and proficiency in adapting to rapidly changing technologies, you can count on us for an elearning solution that will fit your needs and budget.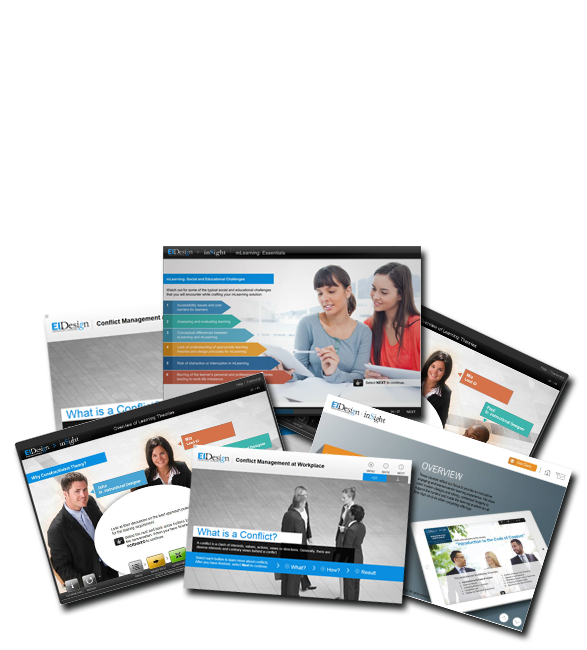 Take your learning and performance strategy global and multi-platform with EI Design. Let us know your needs and get a quote.