Learning and Performance Ecosystems
The course is done but learning does not translate into performance improvement. Employees struggle to keep up with new knowledge and technology demands. Your team is so busy that members cannot always afford to take time off for training. If any of these scenarios sound familiar, then your organisation's learning strategy needs a refocus.
It may be time to move from a limited learning strategy, one focused only on knowledge "acquisition" and external training, to one that includes knowledge "application" and considers the whole work environment.
Moving learning to the workplace recognises that just 10% of the learning comes from formal training, while 70% comes from on-the-job experience and 20% from feedback, observing and working with others (Lombardo and Eichinger).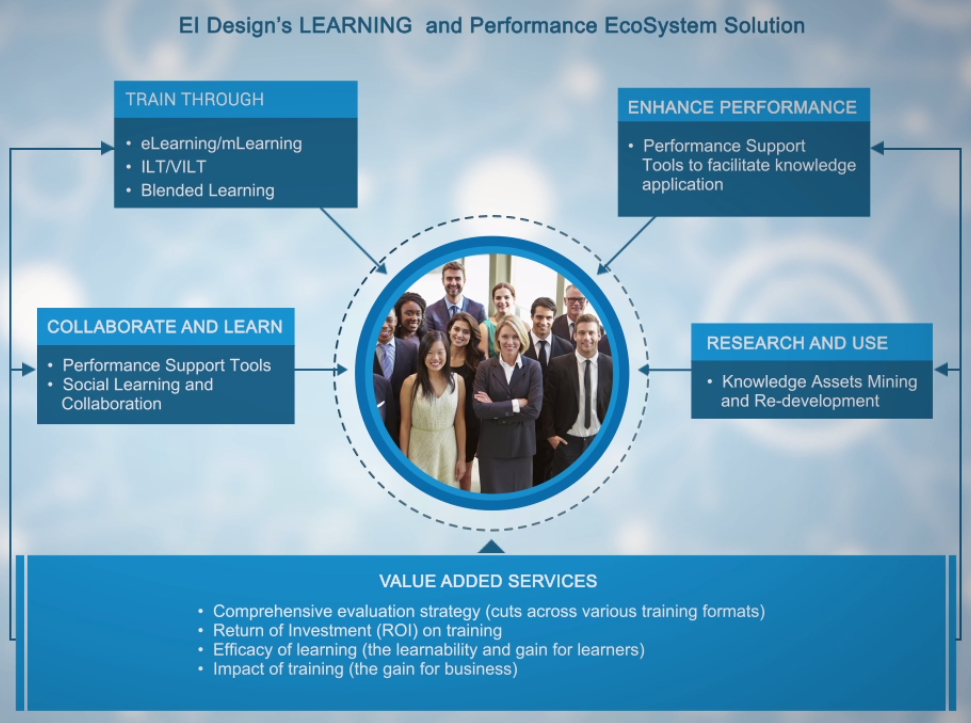 We consider learning opportunities in terms of a learning and performance ecosystem. In a learning and performance ecosystem, your people are at the centre, connected to mentors and experts and supported by a broad range of content, processes and technologies. Performance improvement is the goal and learning is often embedded in the workflow.
Tapping into Moments of Need
Your organisation needs to be efficient with its training budget. Our design methodology is inspired by Dr Conrad Gottfredson's Five Distinct Moments of Need. We help you tap into those key moments of need to help your people apply the knowledge they acquired in their workplace.
Knowledge Acquisition
When learning for the first time
When wanting to learn more
Knowledge Application
When trying to apply/remember
When something goes wrong
When something changes
Learning Hub
The Learning Hub helps learners have instant online access to the various enrolled courses and see their scheduled courses for the week/month.
It facilitates Knowledge acquisition through core formal learning. It also provides just-in-time learning aids for Knowledge application through PSTs.
It provides a self-paced learning path to the learners based on their current proficiency levels.
It provides additional benefits such as:
Easy monitoring of individual employee learning consumption and progress
Anywhere, anytime online learning access
Access to relevant data for each learner
Community discussion forums for learners on the relevant training or other courses
Provision for offline download of course-specific documents/resources
Performance Support Tools (PSTs)
Our Performance Support Solutions provide employees with tools that make it easier for them to do their jobs.
Unlike training, these tools are available to support and guide employees as they actually do their jobs. These tools are very easy to find, often directly embedded into the workflow.
These performance support solutions enable organisations to provide the right amount of task guidance, support and productivity benefits to the learners precisely at the moment of need.
What Are the Possible Performance Support Solutions?
Mobile Apps: These are among the best forms of performance support available today and just like any professional for whom "information" is the key, learners could greatly benefit from mobile app solutions.
Interactive PDF: We can convert any document into an interactive PDF with content tagging for easy navigation, richer visual experience and so on. These make factual and knowledge-based information available to learners quickly and easily. These may include top ten tips, fact sheets, checklists, practical forms, participant guides, processes and procedure documents.
eBooks: Any document can be converted into HTML5 compatible eBooks accessible on PCs, Tablets and Smartphones. These can be converted as SCORM packages too. Again, these can include key takeaways from a training program, participant guides, processes and procedure documents.
Kinetic Text/Animations: If the content is highly conceptual and difficult to illustrate or the message is nuanced, sometimes showing the text is the best approach. That's where kinetic text comes in – it's an engaging, fresh and dynamic way of bringing text content to life. Either accompanied by a music track or audio narration, kinetic text brings energy into the text content. It also enables us to highlight the key messages in the text – through the use of colour coding, font size and other effects.
Expert Videos, Webinars/Recorded Webinars: Learners respect experts. Whether it's a classroom tutor, eLearning guide or workplace mentor, we are used to listening to and respecting expert views. These can be made effective. The performance of the learners can be tracked by adding assessments with SCORM packaging.
Whiteboard animations: Create highly impactful and engaging videos using a creative story with pictures being drawn on a whiteboard along with conceptual graphics and audio. These can be used to teach employees different company policies or demonstrate a new software or product to consumers.
Webcast/Podcasts: These are short episodes of audio or video that can be downloaded to learners' own device. Episodic in nature, webcast/podcasts are the perfect example of a resource built for mobile delivery – brief, targeted and entertaining, to be watched/listened to while in a train on the way to work or to kill time before a meeting.
Do contact us to have your performance support strategy crafted.
Social Learning Solutions
We offer consulting services to integrate social learning in your learning delivery, where collaborative learning will create the right impact on business.
We can help you get the most from social learning solutions to enhance learning and performance in your organisation.
Learning from others can happen offline or online, anytime. From discussion boards to instant messaging to wiki equivalents, peer-to-peer learning is becoming a common practice in organisations worldwide.
Your organisation holds a wealth of knowledge, expertise and experience just waiting to be used. Discover the potential for social learning in your organisation – from knowledge acquisition (training) to application.
We work with our customers to create a structured social learning solutions, building on informal content from employees through learning hubs or learning management systems. Let your team benefit from useful ideas and just-in-time solutions to problems not addressed in formal curricula or training. We are also discovering ways to help you manage the influx of informal content and measure the benefits gained from it.
Value Added Services
We have a series of value-added services through which we enable our customers to determine ROI on training, efficacy of learning and the final impact on business.
We can work with you on how to create your "chain of impact" from Training > Learning > Performance gain > Positive impact on business.
You can choose from our offerings on:
Framework to capture and analyse user feedback (from learnability and user experience perspectives)
Rating of courses to understand the learners' view on the training delivery
Polling questions to understand how well the learners are being able to apply the learning to check the effectiveness of the programs
Comprehensive Assessment Strategies to support both online and classroom trainings including partial gamification in the assessments can be used to engage the learners and add fun in the learning.
Take your learning and performance strategy global and multi-platform with EI Design. Let us know your needs and get a quote.