Innovative eLearning Development Strategies
Our Innovative eLearning development is backed by our Solution Architecting team and is focused on identifying and developing immersive and engaging approaches that increase efficacy of training. Through a strong core featuring creative Instructional Design, we offer a range of innovative learning designs that help learners internalise the information better.
Some of the techniques we use in eLearning development are Gamification, Interactive videos, Decision making – Branching simulations, Story–based, Scenario–based, Guided exploration and so on.
Most of these approaches reflecting our expertise on Instructional Design are available in a series of 15 online courses for Instructional Designers branded as InSight ProductLine-Instructional Design that are designed to bridge the gap between "theory" and "application". Each course features a distinctive strategy and is a strong reflection of our decade plus expertise in Instructional Design.
eLearning Development
Goals of our Innovative eLearning development are:
Define and align solutions to organisational focus areas
Understand learner expectations and mental models
Follow a Learner Centric Design approach
Creative Instructional design
Leverage on Innovation and exploration of new ideas
Provide Creativity backed by strong technology
Provide engaging and better user experiences
In eLearning development besides, Solution Architecting team, this endeavour is supported by our Innovation and Exploration team as well as specific research on Learnability from Our Competency Lab.
Gamification
While Gamification has been applied in several domains, our focus has been on its application in serious learning. Gamification in learning provides an effective, informal learning environment, and helps learners practice real-life situations and challenges in a safe environment.
The games that we design are therefore geared to meet definite learning outcomes and our Gamification strategies broadly map to:
Tasks or concepts that are overlaid on the learning content but are not related to the content
Contextual tasks or concepts that are overlaid on the learning content
Partial gamification (notably in inline checks and end of course assessments)
Gamification elements such as awards, badges, leader boards, progress updates and integration with social media are used to gamify the course.
We offer:
Partial gamification of inline checks and assessments
Gamification of the entire course through levels, board games or challenges that are presented in the learning


Story-based Learning
We often use storytorials (from the words "story-based tutorial") to create an engaging learning experience. The story based learning approach combines two elements:
The compelling power of storytelling
Scientifically proven principles of Instructional Design
Pairing these two elements produces a learning solution that provides learners with an immersive learning experience. Storytorials feature a single fictional storyline with a beginning, a middle portion and an end. While a story may have multiple sub-plots, we take great care to keep the story focused on the content, avoiding extraneous details that don't contribute to the training.

Scenario-based Learning
As per ATD (Association of Talent Development), Scenario Based Learning (SBL) is a proven method to build expertise in tasks that are unsafe or infrequent in the workplace or to build critical thinking skills.
Our approach is to create learning activities where learners are presented with a scenario or problem and they must work through it to achieve their goals.
While most of these interactions are focused on cognitive skills, we also integrate a few emotional elements to further engage the learners. For example, we can place the learners in a real-life situation where their decisions have an impact on them or their co-workers.

Microlearning
Given the challenges of short attention spans of most adult learners, L&D professionals are using Microlearning as part of the overall online training delivery. This format features short learning nuggets (normally 3-5 mins long or shorter) that are designed to meet a narrow but specific learning outcome.
Featuring rich media formats (highly interactive and immersive learning approaches using scenarios, Gamification and videos), these trainings are typically designed for multi-device support (they would run on all devices including Desktops, Laptops, Tablets and Smartphones) providing learners the flexibility to learn on the device of their choice and at their convenient time.
Microlearning is extremely beneficial as it:
Facilitates the use of a learner-centric approach that empowers learners
Provides just-in-time training
Can be easily pulled by the learners at the time of their learning need
Can be completed quickly
Can be applied effectively as the information is designed to meet a specific outcome
Can be applied to both formal as well as informal learning (although it is more effective as a Performance Support Tool)
We have successfully used our Creative Instructional Design approaches in Microlearning. Our solutions feature scenarios (including complex decision-making), short story-based learning solutions, high impact videos, interactive videos, Gamified activities and Gamified assessments.
Our Microlearning solutions are being used to supplement or reinforce the primary (formal) training, extend formal learning through Performance Support Tools (PSTs) and trigger behavioural change (leading to a transformational gain).
Branched Scenarios
We use branching scenario simulations extensively to move the learning process from mere knowledge acquisition to its application. These simulations support the classic scenario-based approach and are used when we need learners to deep-dive into multiple related facets or handle a far more complex situation.
We use this approach to help learners:
Work in a safe environment (where they can practice and also easily recover from the mistakes they may have made)
Evaluate different facets and understand the impact of different choices
Our solutions run seamlessly on PCs/Laptops/Tablets.

We begin by presenting the learners with a problem (scenario).
The learners choose the response to the problem. This is normally presented through multiple-choice questions.
Based on the choices/selections the learners make, the scenario moves forward and branches through the learning path.
At the end of the path, we may present the learners the feedback or provide an option to retry the scenario. This helps us reinforce the right choice or sometimes give learners the control to retry and improve their scores.

Social Learning Solutions
We offer consulting services to integrate social learning in your learning delivery, where collaborative learning will create the right impact on business.
We can help you get the most from social learning solutions to enhance learning and performance in your organisation.
Learning from others can happen offline or online, anytime. From discussion boards to instant messaging to wiki equivalents, peer-to-peer learning is becoming a common practice in organisations worldwide.
Your organisation holds a wealth of knowledge, expertise and experience just waiting to be used. Discover the potential for social learning in your organisation – from knowledge acquisition (training) to application.
We work with our customers to create a structured social learning solutions, building on informal content from employees through learning hubs or learning management systems. Let your team benefit from useful ideas and just-in-time solutions to problems not addressed in formal curricula or training. We are also discovering ways to help you manage the influx of informal content and measure the benefits gained from it.
Interactive Videos
As we all know, there is no better experience than motion pictures and video. Interactive videos have a lasting impression on people. The success of YouTube clearly illustrates that learners are increasingly turning to videos to learn, particularly on their mobile devices.
We like to apply this simple principle of human behaviour in our learning solutions too. To be truly effective, the learning material should be exciting, engaging, dynamic and have a story.
Our custom courses feature extensive usage of video for:
Performance support
Quick references
Product updates
Our solutions report a high level of engagement and are a highly effective means of learning.
We also offer interactive videos that overcome the typical challenge of videos (being passive as the learner does not participate or interact).
We use interactive videos to add muscle to:
The classic scenario-based approach or branching scenarios and simulations
Gamification
Through this approach, we can create highly immersive learning experiences that are well suited for Product Training, Soft Skills, Leadership Development, Professional Skills and Compliance.
Whiteboard Animation
Whiteboard animation is a process of visual storytelling where the text and graphics are recorded and animated by a writer or artist. An excellent example of this is seen in Dr Mike Evan's extremely popular health videos series on YouTube. This style of storytelling and visual instruction enables Dr Evans to reach thousands of viewers each week – and we can achieve similar results for you.
We simulate this process on a designer/illustrator system to build engaging, short videos that enable learns to enjoy, retain and apply their lessons.
The format of this Performance Support Tool is based on building up a story or sequence of scenes with the right mix of narrator audio, visuals and animation to give learners a visual of the content. Since it is done in a fun and engaging way and avoids overloading the learner with a lot of text, retention of the content is superior to purely text-based methods.
Always on the cutting edge of learning design, we have developed expertise in whiteboard animation so you can avail this exciting learning solution that scores high on effectiveness and quick turnaround.
Take your learning and performance strategy global and multi-platform with EI Design. Let us know your needs and get a quote.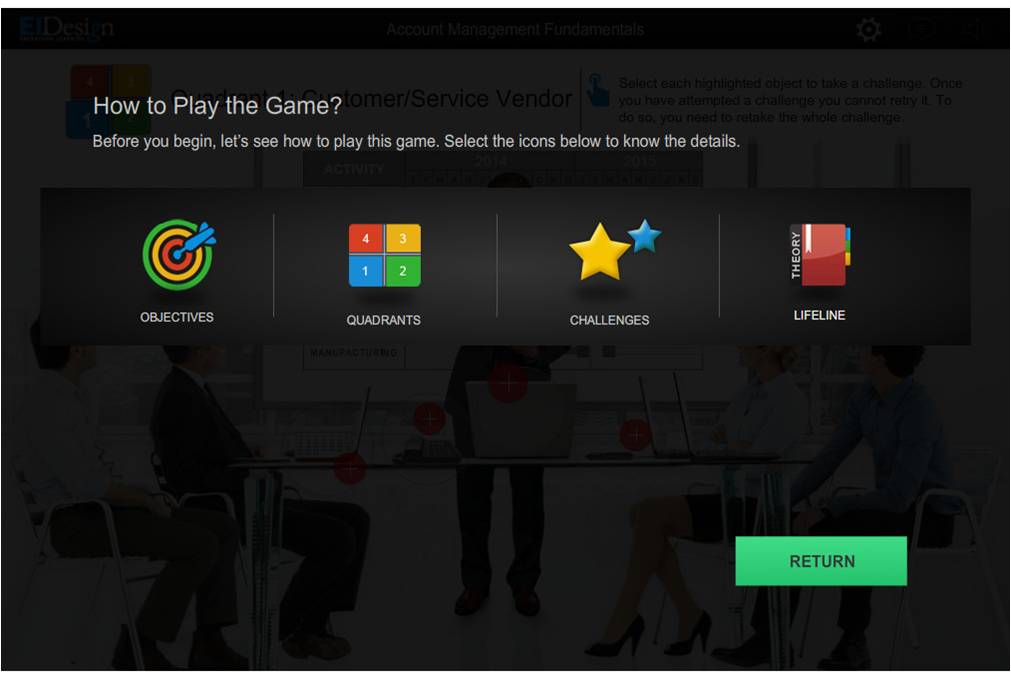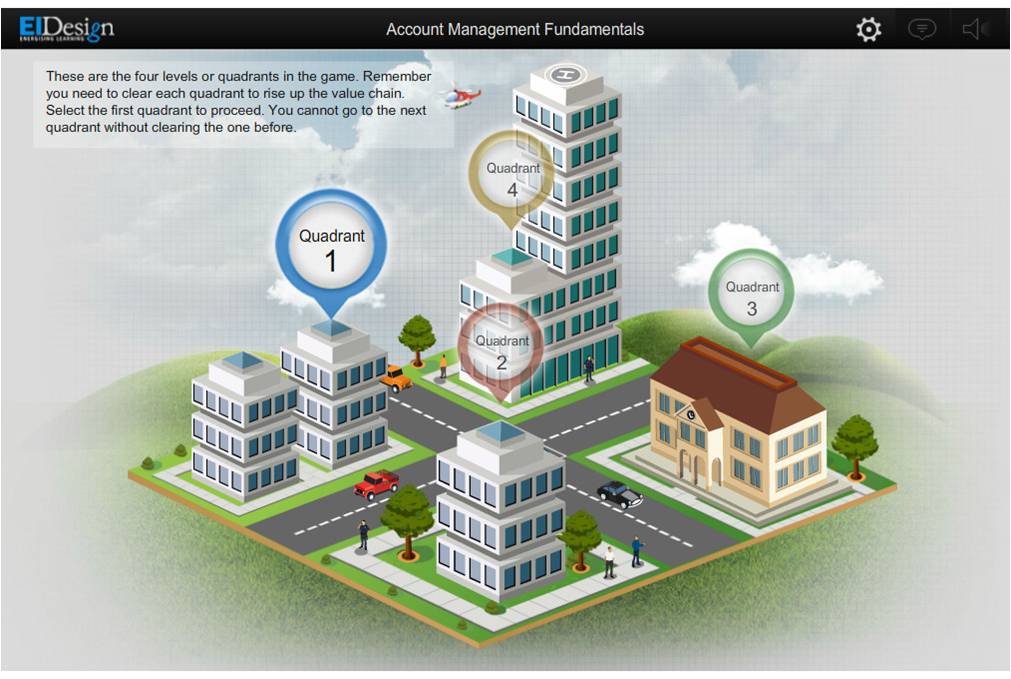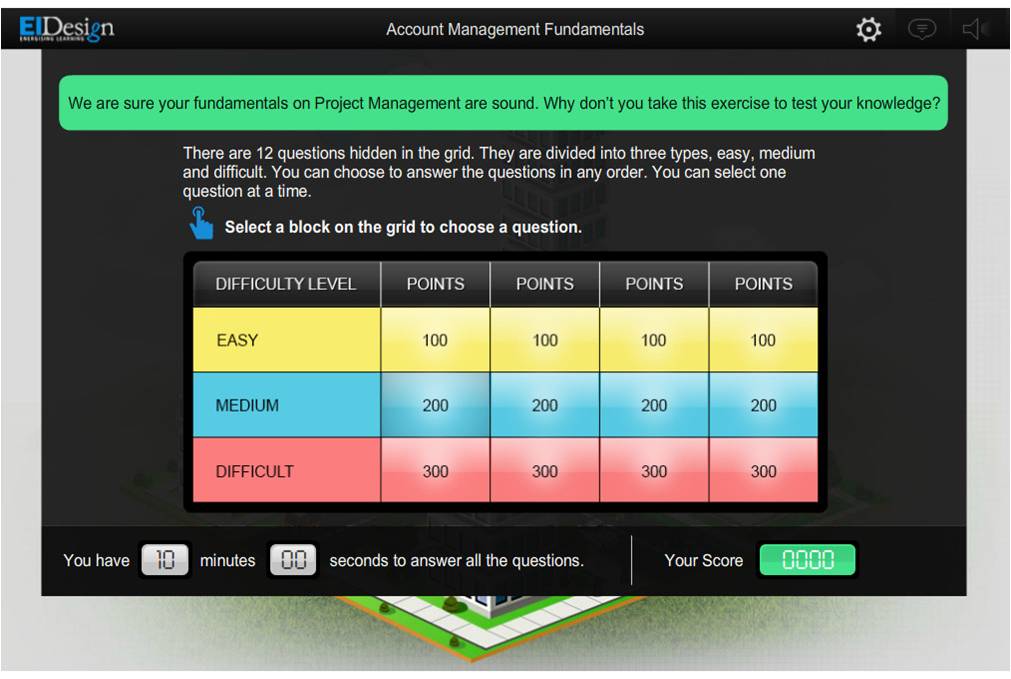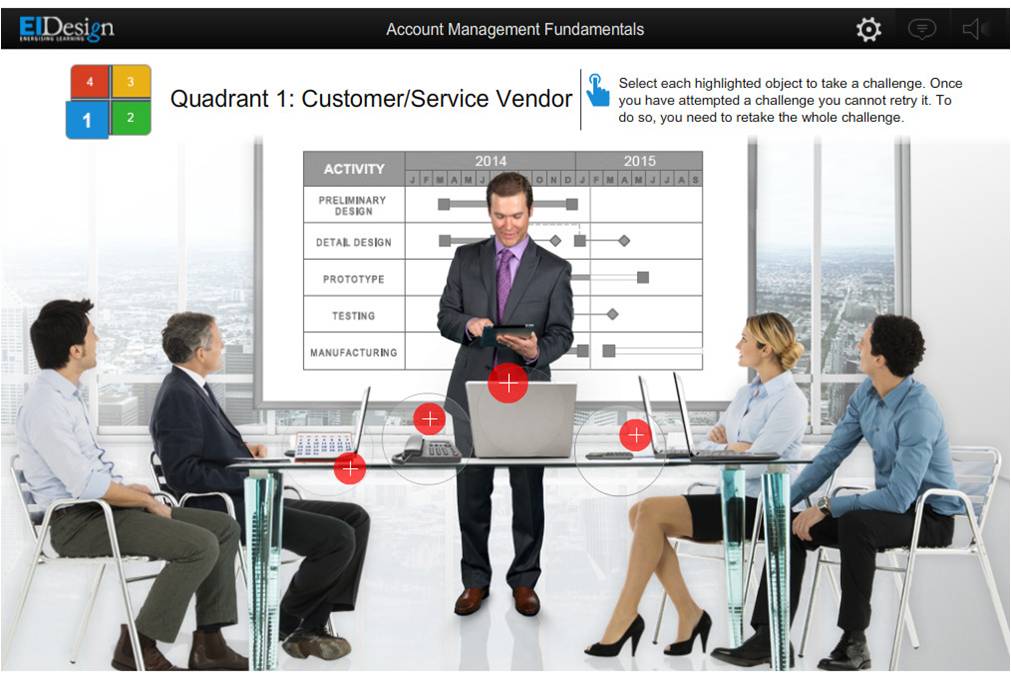 While Gamification has been applied in several domains, our focus has been on its application in learning. The games that we design are therefore geared to meet definite learning outcomes and our Gamification strategies broadly map to:
Tasks or concepts that are overlaid on the learning content but are not related to the content
Contextual tasks or concepts that are overlaid on the learning content
Partial gamification (notably in inline checks and end of course assessments)
This demo features the first strategy we used to teach Account Management Fundamentals to our Project Managers using an Avatar-based Gamification approach. The highlights of this approach were:
Creation of different learner paths and alignment of the learning and Gamification path to the proficiency of learners
Presentation of a mix of questions (mapping to four challenges) in each path (mapping to real life challenges commensurate with the proficiency level of the learners)
Non-availability of theoretical learning aids (lifeline) for higher proficiency learners to make the challenge tougher (The complexity and the nature of the challenges posed to the learners tested their cognitive proficiency to tackle the situation at hand, thereby resulting in immersive learning.)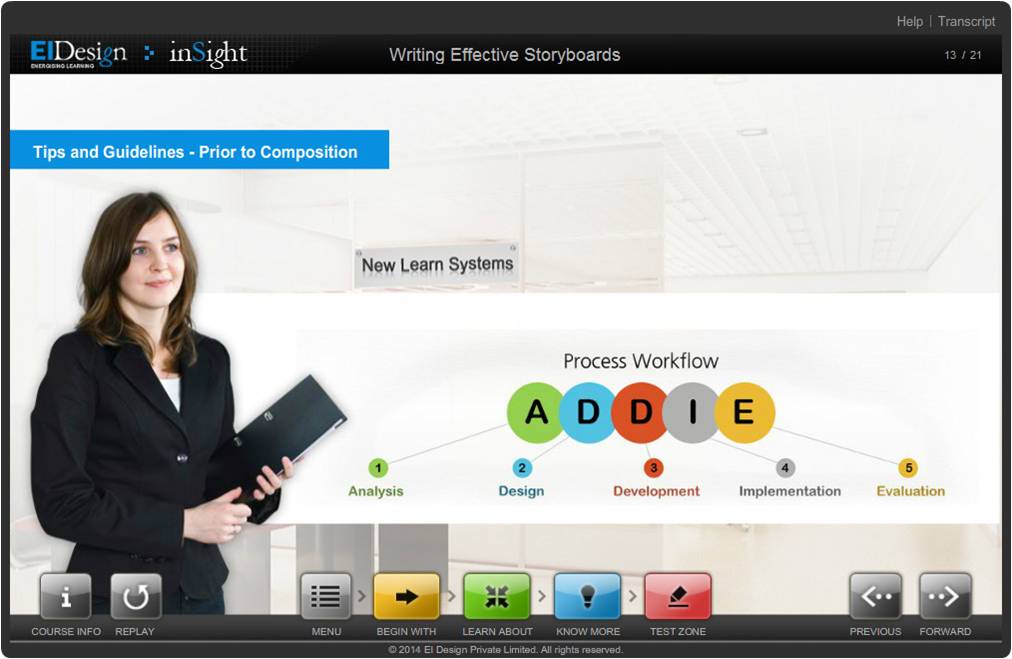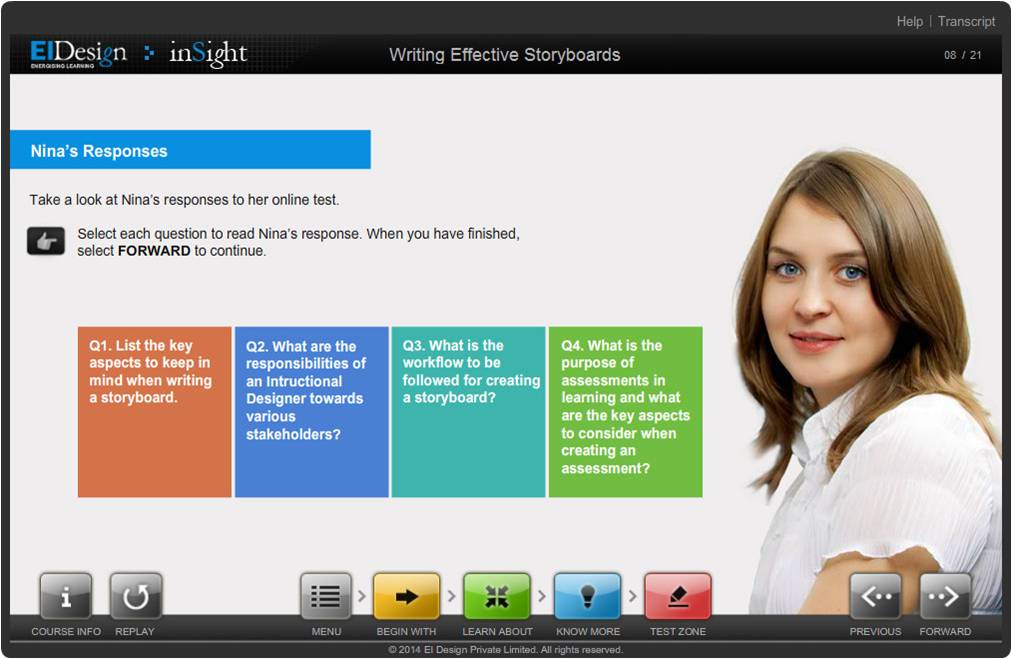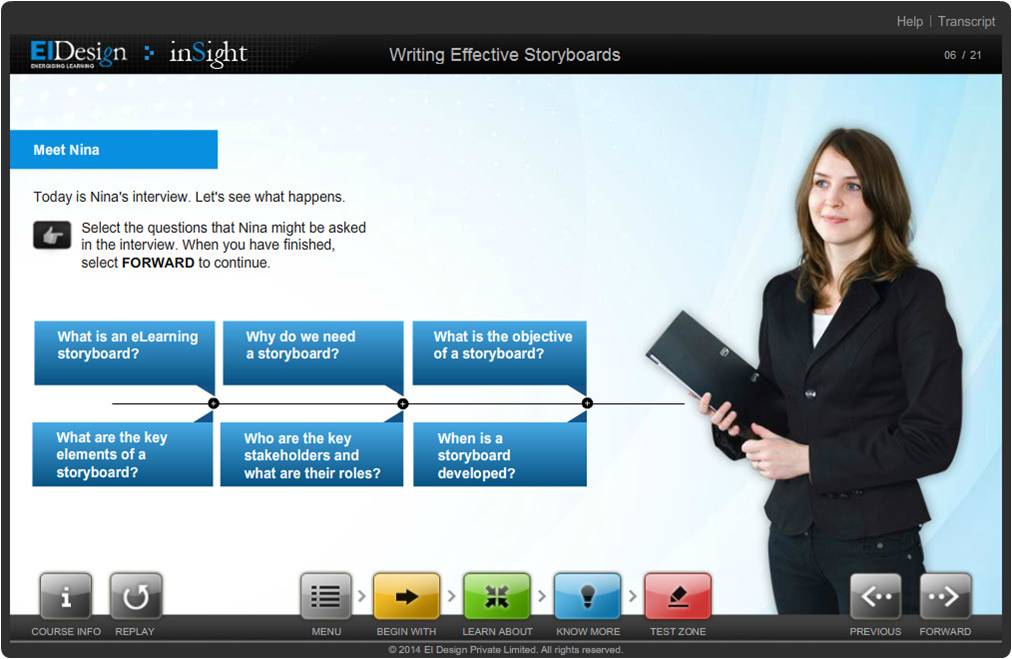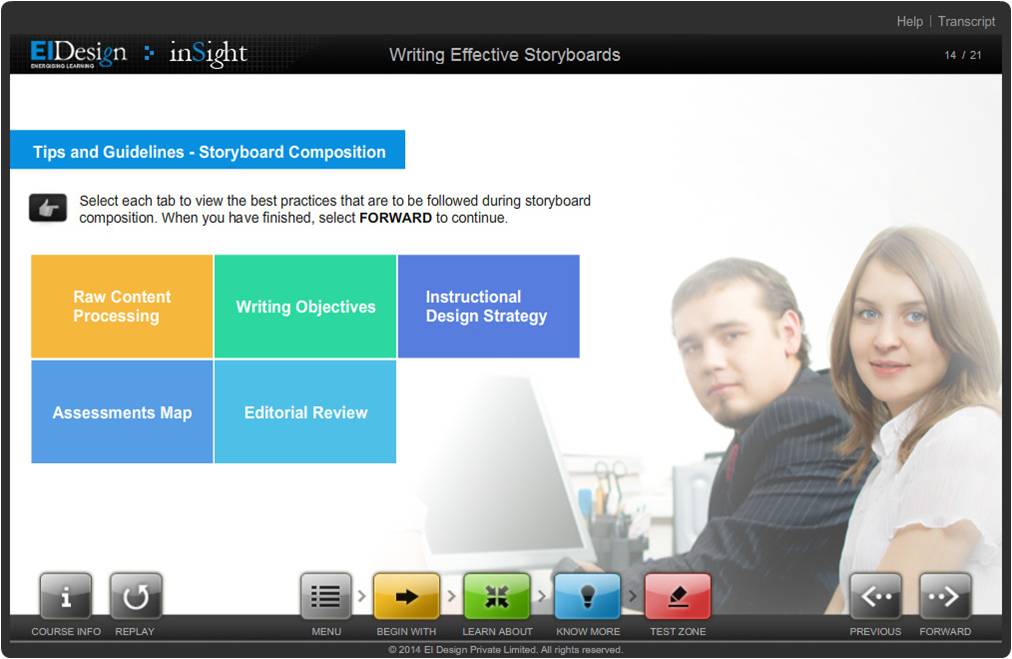 The challenge with this course meant for Instructional Designers was to present information that would hold their interest and enable them to apply this learning effectively at work.
We took a story-based approach (a storytorial) as an innovative and engaging strategy to present information that:
Serves as a refresher to most IDs in the field
Enables new IDs to apply the learning to create effective storyboards
We touched upon the key aspects of storyboard creation through the character of Nina, an Instructional Designer who has bagged her first job as an ID:
The interview process, preceded by the preparation for the interview serves as a tool to reinforce or refresh some basics of storyboarding skills.
Nina's first assignment, after bagging the job, forms the remaining part of the "story" and highlights the key aspects to remember while creating a storyboard.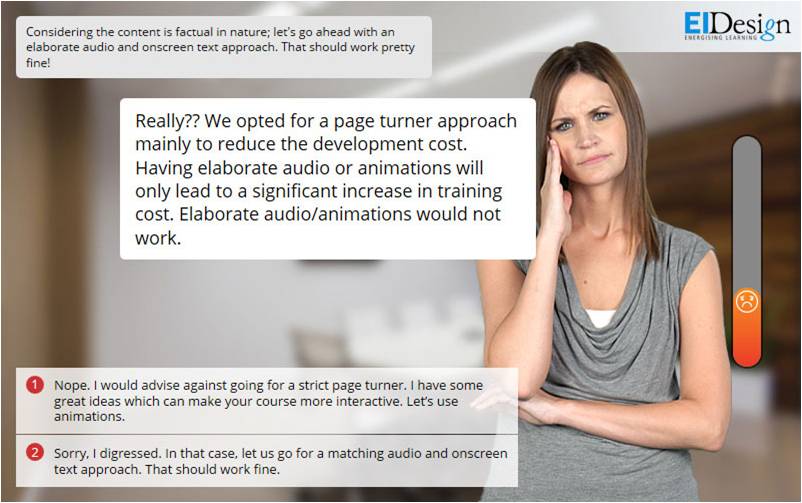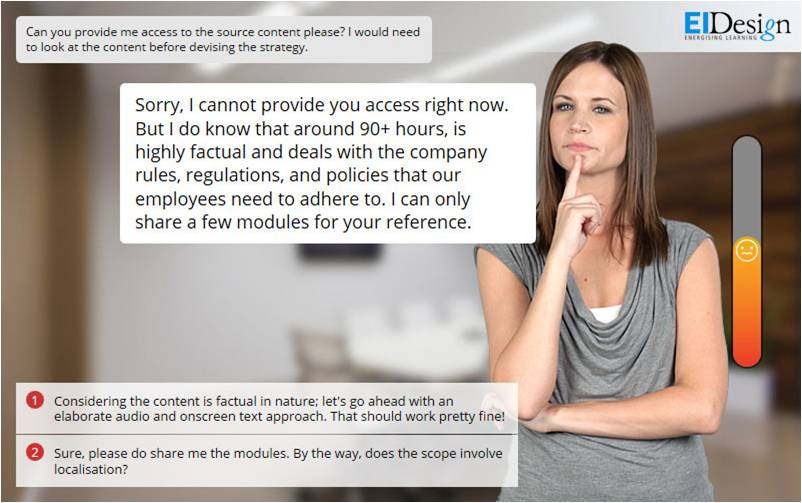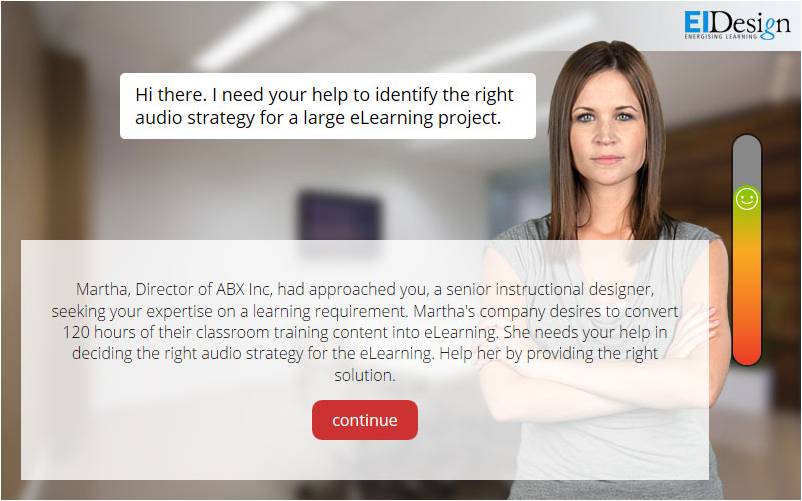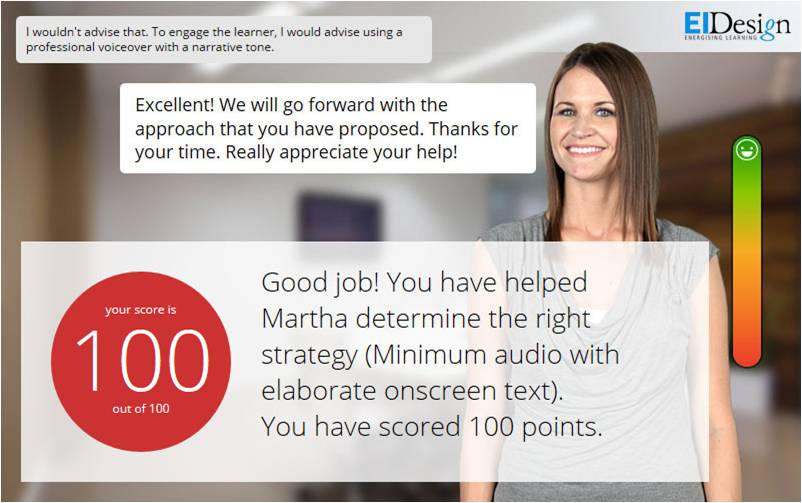 What are the different types of audio strategies that are available to us? How do we determine that a particular strategy is indeed the most relevant or apt for the course? These were the initial thoughts with which we started to structure this course for Instructional Designers.
Mere listing of the strategies would not have been effective for learners. Therefore, we built this course using branching scenarios.
These support the classic scenario-based approach and enable learners to deep dive into multiple strategy options. Through a series of choices to make, learners get to understand the nuances of each strategy.
To keep them engaged and also provide cues on how they are faring, the impact of their choices is shared visually.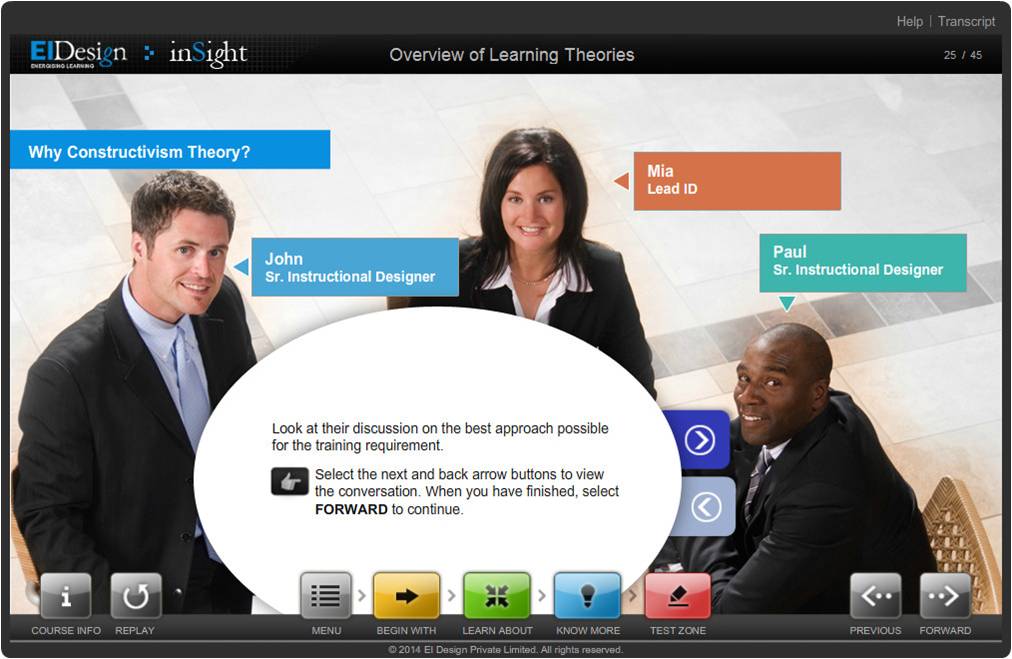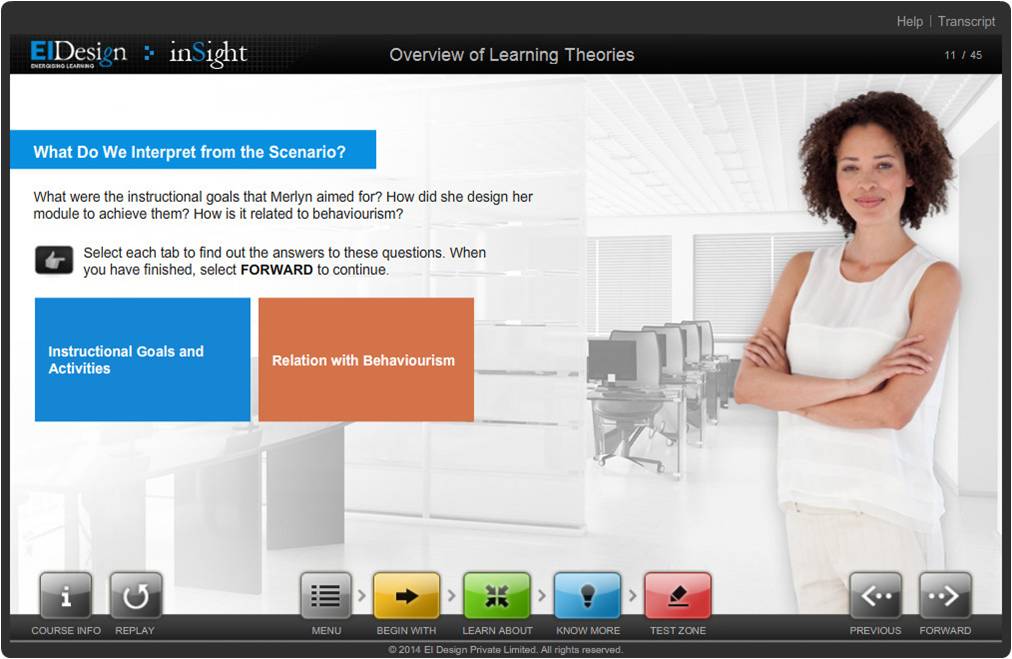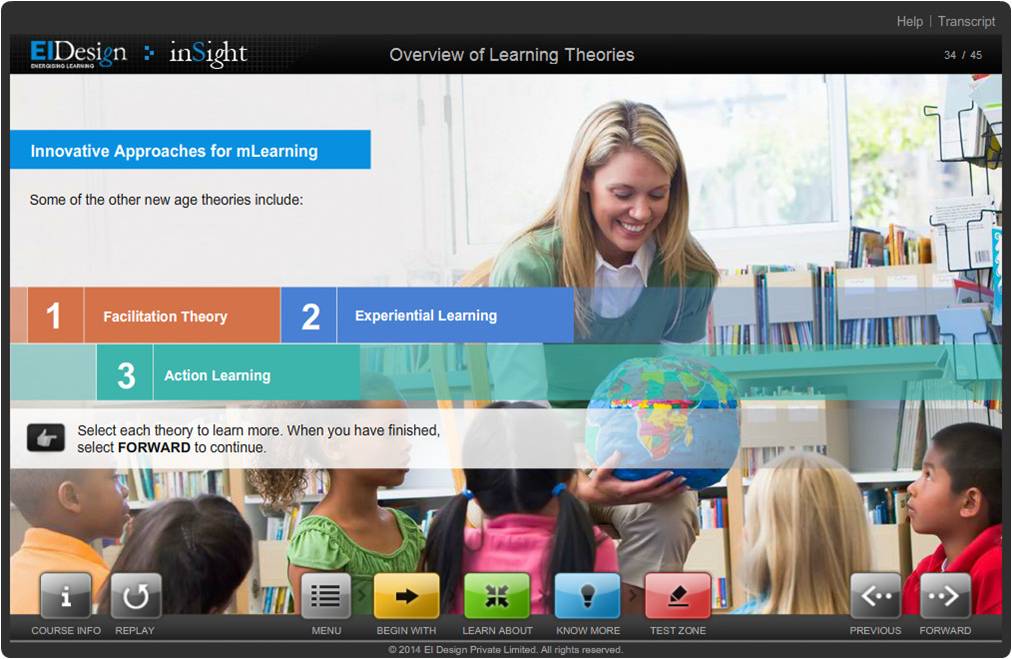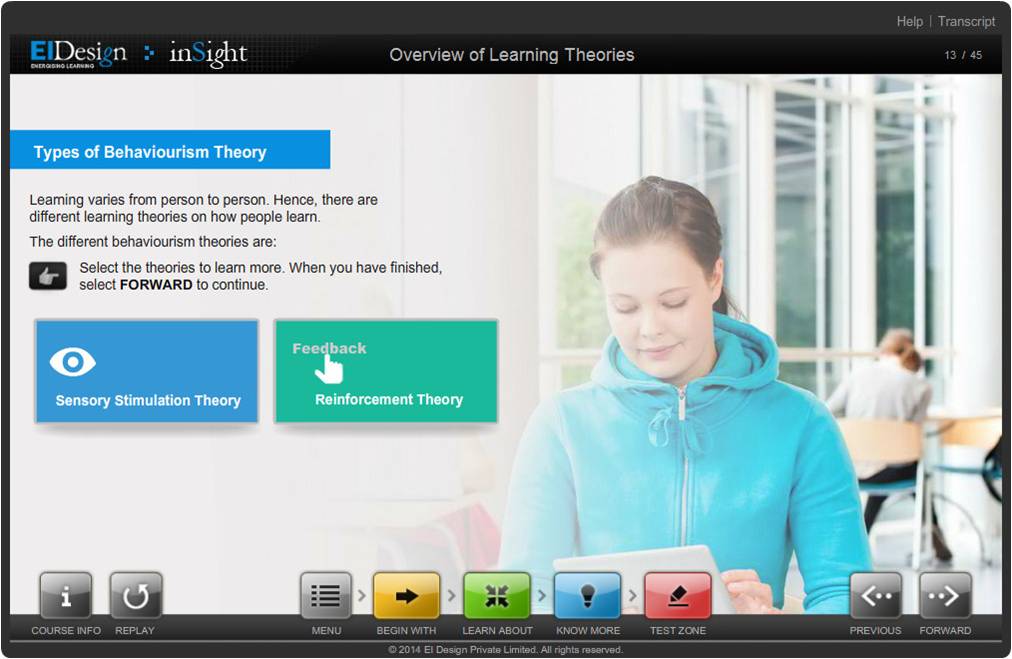 Intended for Instructional Designers, this course provides an insight on the various learning theories in Instructional Design and how these can be applied to design instructionally sound courses.
Applying theory to practice has always been a challenge. How do we explain theoretical concepts in a manner that will enable learners to apply them in the actual workplace?
We opted for a combination of scenarios and real-world examples to make it easier to relate to the content that is being taught, especially when dealing with abstract and factual data. They also help learners in visualising and translating such concepts in a realistic setting.
In this course, the scenarios and real-world examples have been used to:
Place the traditional and contemporary theories in real-world settings that are familiar to Instructional Designers
Establish the context for learning
Reinforce how the scenarios relate to the theory that is being discussed and highlight the key components of the theory
Enable learners to apply the key components of a theory in an actual course